Amaranthe announce new album for Autumn 2014 via Spinefarm Records
|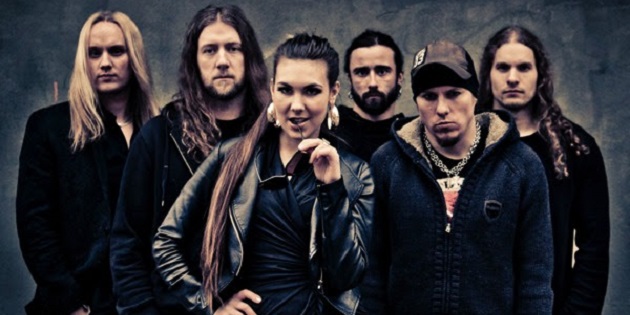 Amaranthe – the modern metal sextet from Gothenburg, Sweden – have confirmed an autumn 2014 release date for their new studio album via Spinefarm Records; as yet untitled, this latest outing will be the follow-up to 'Amaranthe' (2011, now gold in Sweden) and 'The Nexus' (2013). See a teaser pic for the new album below.
These two releases, which defined the band's approach through their signature blend of musical styles and voices, caused an international stir right from the start; not only did 'The Nexus' top the rock chart in Sweden, but it went straight to # 1 on the US iTunes Metal Chart as well, whist the videos (from both albums) have continued to clock up millions of views ('Hunger', from Album 1, is now at the 6 million-plusmark).
The success of these records saw Amaranthe playing to audiences all over the world, and now – following shows across Europe, including an appearance at the Bandit Awards in Stockholm where one of the band's three singers, Elize Ryd, received the 'Rock n' Role Model' Award – the six will head back into the studio.
According to guitarist, Olof Morck: "2014 will indeed see the release of the next Amaranthe record. We don't want to reveal any details yet, apart from this album representing a big step forward for Amaranthe musically – where 'Amaranthe' and 'The Nexus' were closely connected, this new album is bolder and more different… but, of course, with the trademark Amaranthesound throughout! See you all on tour this spring with our last 'Invincible' shows – and expect blown minds in 2014!"
European tourdates:
14.03.2014 – Ekebo Nöjescentrum – Munka Ljungby, Sweden
18.03.2014 – Zeche – Bochum, Germany
19.03.2014 – Underground – Cologne, Germany
21.03.2014 – Rockstar – Bilbao, Spain
22.03.2014 – Arena – Madrid, Spain
23.03.2014 – Salamandra – Barcelona, Spain
25.03.2014 – Z7/Gallery – Pratteln, Switzerland
26.03.2014 – Live Club – Milano, Italy
27.03.2014 – Garage Club – Bellinzona, Switzerland
28.03.2014 – Kaminwerk – Memmingen, Germany
29.03.2014 – Backstage – Munich, Germany
30.03.2014 – Szene – Vienna, Austria
01.04.2014 – Club 202 – Budapest, Hungary
02.04.2014 – Nova Chemlnice – Prague, Czech Republic
03.04.2014 – Parkschänke – Limbach, Germany
04.04.2014 – Lido – Berlin, Germany
05.04.2014 – 02 Academy Islington – London, United Kingdom
06.04.2014 – RoFa – Ludwigsburg, Germany
09.04.2014 – Slade Rooms – Wolverhamption, United Kingdom
11.04.2014 – Rescue Rooms – Nottingham, United Kingdom
12.04.2014 – Le Forum – Paris, France
24.05.2014 – Metallsvenskan – Örebro, Sweden
08.06.2014 – Underwall Festival – Zadar, Croatia
09.08.2014 – Rockpod Kamenom – Snina, Slovakia
14.08.2014 – Rockstad: Falun – Falun, Sweden
17.08.2014 – Made of Metal – Hodonin, Czech Republic
05.09.2014 – John Dee – Oslo, Norway
06.09.2014 – Brynerocken – Bryne, Norge
27.09.2014 – Bingo Entertainment – Kiev, Ukraine
---
Don't forget to follow our Spotify Playlist: