How the Beatles Conquered America
|
As Beatles' fans prepare to mark the fiftieth anniversary of the Fab Four's triumphant arrival in America, Beatles scholar Martin Lewis looks back on the band's meteoric rise and explains how it happened in a new article for Encyclopaedia Britannica's 2014 Book of the Year.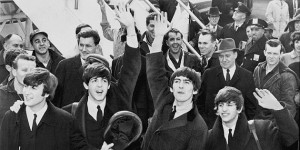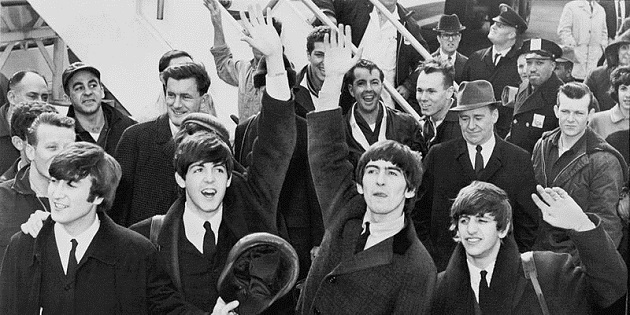 The Beatles arrived in New York City in February 1964 to a "tsunami of fervor," Lewis recounts, including three consecutive appearances on the Ed Sullivan Show, the first of which was seen by 73 million viewers. Only seven weeks earlier the group was virtually unknown in the United States. A year earlier they were unknown even in their native country and were just beginning to emerge from the obscurity of the Liverpool club scene to where they would become, by late 1963, "a phenomenon that engulfed Britain and Europe."
The band's success in the U.S. would be even greater. There the Beatles' explosive appeal created an insatiable demand for English rock, opening the door for other bands such as the Rolling Stones, the Animals and the Kinks, in what came to be known as the British Invasion.
The reasons for "Beatlemania" have been a subject of debate for five decades. To many, it seemed like magic, but Lewis explains that the Beatles' unprecedented popularity was due to a number of concrete factors that all converged at the right time.
One was the Beatles' music, which Lewis says exhibited an "insouciant energy," a sharp contrast to "anodyne American pop and its anemic British imitations." The lads themselves radiated "an authenticity, an originality, and a verve that were beyond the scope of their early influences." They had exceptional support from manager Brian Epstein, who promoted the group tirelessly, and producer George Martin, who nurtured his young charges skillfully.
On top of all that, Walter Cronkite featured the group on the CBS Evening News on December 10, 1963, in an effort to cheer a country grieving over the assassination of President John F. Kennedy just eighteen days earlier.
Martin Lewis's article "The Birth of Beatlemania" will appear in the 2014 Britannica Book of the Year in late February.
---
Don't forget to follow our Spotify Playlist: