Cray reunites with producer, and friend Steve Jordan for 2014 worldwide release 'In my soul'
|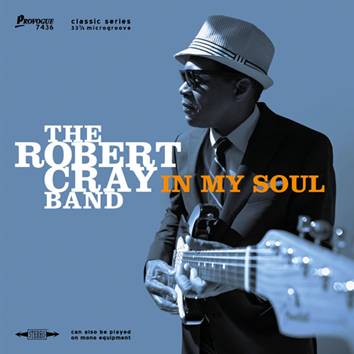 Legendary guitar musician and singer-songwriter Robert Cray releases In My Soul on March 31, 2014 on the Provogue label. This will be the seventeenth studio album for the 5x Grammy winner, 15x Grammy nominee and multi-platinum selling artist. Produced by American multi-instrumentalist, composer, musical director, Grammy Award-winning artist and longtime Cray friend Steve Jordan (John Mayer, Keith Richards), In My Soul captures Cray at his finest with an outstanding 10 song collection of Staxx and Chess influenced soul and blues that showcases his trademark guitar playing and his extraordinary vocals. A bonus track "Pillow" will also be included on the limited edition CD.
Robert Cray has written or performed with everyone from Eric Clapton to Stevie Ray Vaughan, from Bonnie Raitt to John Lee Hooker. Inducted into the Blues Hall of Fame at the age of 57, he is one of the youngest living legends to receive the prestigious honor. With over 12 million records sold and his own line of Fender guitars, Cray has established himself as a genre defining artist- breaking through the pop ceiling with his gate crashing/blues-edged trademark sound and distinct style that has become a signature blend of r&b, pop, rock, soul and traditional blues. The New York Times says, "his voice, alternately smooth and craggy, is often richer and more emotive than Mr. Clapton's, and he knows the best ways to use it," while Guitar Player Magazine noted, "Robert Cray is not only making great music he's making history…"
And while he can look back over an astonishing four-decade career (this year marks the 40th Anniversary of the formation of the Robert Cray Band!) Robert Cray is too busy moving forward on an amazing journey and embarking on yet another world tour with the Robert Cray Band. The band includes Cray (vocals/guitar), Richard Cousins (bass), Dover Weinberg (piano/keyboard) and Les Falconer (drums).
---
Don't forget to follow our Spotify Playlist: