Cyndi Lauper Celebrates her Record Breaking Debut Album with She's So Unusual
|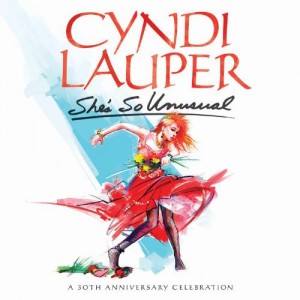 Music icon Cyndi Lauper will celebrate the anniversary of her groundbreaking, record-setting debut album with She's So Unusual: A 30th Anniversary Celebration which will be released through Legacy Recordings, a division of Sony Music Entertainment, on April 1, 2014 and is available for pre-order on iTunes and Amazon now. The 2-CD deluxe edition will feature the original album, rare demos, live concert recording as well as remixes by some of today's hottest DJs and producers including NERVO, Bent Collective and Yolanda Be Cool. The collection will also be made available as a solo CD (original remastered album and 3 new remixes) as well as a 1-LP vinyl (includes an insert for download of 3 new remixes). The NERVO remix of "Time After Time" is available for immediate download with every iTunes pre-order and is streaming now exclusively at People.com.
In addition to rare and never-before-heard recordings, the physical deluxe edition includes an unusual surprise. The collection includes a reusable sticker set, including vinyl cut outs of Lauper's cutting-edge outfits and accessories that can be arranged in different combinations on a 3D fold-out backdrop of the bedroom featured in her iconic "Girls Just Want To Have Fun" music video. Journalist and author Jancee Dunn, who worked with Lauper on her 2012 New York Times Best Selling autobiography, authored the detailed liner notes.
"I'm always looking forward, trying to do something that's new and different," said Lauper. "But every once in a while it's good to look back and celebrate. I've always been proud of this album, with the statement we made and, most importantly, what it has meant to my fans, I want to thank them for all the years of support," said Lauper.
She's So Unusual, Lauper's debut solo album, is a colorful portrait of a unique and multifaceted talent. The album, produced by Rick Chertoff and featuring Rob Hyman and Eric Bazilian of the Philadelphia band the Hooters, features some of Lauper's most well-known songs and perennial radio favorites including "Girls Just Want To Have Fun," "Time After Time," "She Bop," "Money Changes Everything," and "All Through the Night." She's So Unusual made Lauper a household name and music history, making her the first female artist to have four top 10 singles on a debut album. The release went on to sell over 16 million copies worldwide and won Lauper a Grammy Award for Best New Artist and an MTV Video Music Award for Best Female Video.
The album received kudos from all quarters. "Cyndi Lauper sounds like no other singer on the current scene," wrote Kurt Loder in his 1984 Rolling Stone review. "A wild and wonderful skyrocket of a voice… Lauper's extraordinary pipes connect with the right material, the results sound like the beginning of a whole new golden age." The album has influenced generations of boundary-pushing musicians since its release, evident in everything from the ska-infused punk of No Doubt, the attitude of P!nk, the infectious pop of Katy Perry, the fluorescent personality of Nicki Minaj and, of course, in Lady Gaga's fashion.
The anniversary celebration will continue this spring with a special performance by Lauper on the public television music performance series Front and Center (formerly Front Row Center). Recorded at New York's Highline Ballroom on December 9th, 2013 in front of a small audience of fans, Lauper performed the album in its entirety and shared intimate memories about the production and her life at the time she recorded it.
Lauper will attend this Sunday's Grammy Awards where she is nominated (her 15th nomination) for Best Musical Theater Album for her work in the Broadway musical "Kinky Boots," for which she received the Tony Award for Best Score. Lauper is also nominated alongside Madonna, John Mellencamp and Led Zeppelin's Jimmy Page and Robert Plant to join the Songwriter's Hall of Fame 2014 class which will be announced this June.
One of the most inventive and compelling performers in pop history, Lauper is equally famed for her soaring vocal range, fiery personality and tireless advocacy work. The iconic performer has been celebrating a creative renaissance as of late. "Kinky Boots," the Broadway musical Lauper composed the music and lyrics for, opened last year to critical acclaim and went on to win six Tony Awards including Best Score for Lauper herself. In 2012 she released her New York Times Best Selling autobiography, "Cyndi Lauper: A Memoir." Written with journalist Jancee Dunn and published by Atria Books, the memoir details for the first time Lauper's tumultuous years growing up in Queens, the ups and downs of a career that has spanned over three decades, her conflicted feelings on fame and her advocacy of equality for all that led to the creation of her foundation, the True Colors Fund.
A multi-talented artist and one of music's most beloved icons, Lauper has racked up global record sales of over 50 million and has won countless awards, from a Grammy, an Emmy and a Tony to numerous honors for her tireless activism. Lauper has released 11 studio albums, her most recent, the Grammy nominated "Memphis Blues," ruled the Billboard Blues chart for 14 consecutive weeks to become the best-selling Blues album of 2010. Overall, during her storied music career, Lauper has been nominated for 15 Grammy Awards, 2 American Music Awards, 7 American Video Awards and 18 MTV Awards.
---
Don't forget to follow our Spotify Playlist: