French-Brazilian Guitar Virtuoso Marcelo Paganini to release Two Behind The Scenes Videos featuring Deodato and Gary Husband
|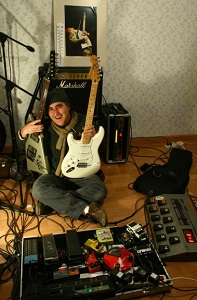 It took 35 years to finally make the album French-Brazilian guitar virtuoso Marcelo Paganini dreamed about in 1979, when he wrote the song "Lost Secrets". The album '2012 Space Traffic Jam', which will be released on January 25, 2014, was written in the stars and had to happen, no matter how impossible it seemed to be. To make the impossible possible is Marcelo Paganini's full time job. He was called a crazy man, a fool, a dreamer… but the album now is a reality. Recorded Fall 2012 and Winter 2013 at Phil Bagenal's Eastcote Studios in London by George Murphy, this is a big international production most indie labels only dream about. "Your band is just as good as your drummer". Gary Husband plays drums on the entire album. Eumir Deodato plays keys on three songs. Marc Madore plays bass on nine songs. And two ex-YES members (now in CIRCA:) Tony Kaye and Billy Sherwood play on the song "Somewhere Somehow", which is featured on the covermount CD included in the latest issue if UK's PROG Magazine available on January 8, 2014. "The song is in 7/4 and my picture is on page 7, reality is magical if you know how to look at it". Marcelo is a happy man Mode: ON.
The album version of "Somewhere Somehow" is actually more than two minutes longer than the version released on the PROG magazine covermount CD and features a brilliant drum solo by Gary Husband and a burning Hammond solo by Tony Kaye. Says Marcelo, "If my band on the song 'Somewhere Somehow' is not a supergroup I don't know what is. In my book any band with Deodato and Husband is a supergroup too, by the way. The song is a big 'I love you' to English prog rock that completely changed my musical vision forever. In my hometown of Belo Horizonte we have a strong prog rock tradition since the 70's, heavily influenced by ELP, Gentle Giant, Genesis, King Crimson and of course YES… But we also have an even older tradition in dense harmony and counterpoint going back to the 18th century. Some of the best jazz musicians in Brazil live there, Milton Nascimento and the Corner's Club (Clube da Esquina) put the town on the musical map. And of course Belo Horizonte is also the place where Sepultura came from, some call it the metal capital of the world. And I was lucky enough to have assimilated and linked all these influences together in my own music".
The lyrics are also very important… "If your heart were bigger my ego would be smaller", "Can't autograph your mp3", "There is only now and we are here forever", "Act as if you had a brain" and so forth… The lyrics will surely resonate in your head for a while. "This record changed my life forever, maybe it will change yours too…", says Marcelo with a laugh. And about the album title, it started as a joke: "Eumir Deodato was number 2 in the USA in 1972/73 with his historical Grammy awarded jazz funk version of 'Also Sprach Zarathustra (2001)', an arrangement of the theme from '2001: A Space Odyssey'. Forty years later there were so many UFOs coming our way at the same time that the infamous 2012 Space Traffic Jam happened on the other side of the galaxy and we saw nothing here…so far. Now it is coming to earth on January 25th".
Gary Husband has invited Marcelo to record one song on his next album 'Dirty & Beautiful' volume 3.
The two videos being released today are trailers from a forthcoming Marcelo Paganini documentary about the 'making of' the album. On the first video drum legend Gary Husband recorded a groove so deep it became hot to the point of making the fire detectors scream!!!
Let's take a London cab with Eumir Deodato (legendary Brazilian jazz producer, arranger and keyboardist with 16 platinum albums, 25 million records sold in the USA alone, who has recorded with Frank Sinatra to Bjork and everyone in between, as well as having a successful solo career) going to Eastcote Studios to record three songs on the album. He remembers some of the great guitar players he worked with, and reveals how he used to call Sinatra back in the day…
Marcelo Paganini first started performing back in 1975, and has worked with the likes of renowned guitarist Tiberio Nascimento in New York City, as well as legendary Belo Horizonte ensemble Tribo de Solos. In 1985 Marcelo made a guest appearance on the album 'Four French Forms' released on Luc Mariani's Delphes Records in France, which has become a cult classic amongst progressive rock fans. His one-man Midi band show 'Marcelo Paganini is the Band' was one of the first Brazilian live electronic acts back in 1986 and had influenced countless musicians and bands. He has his own studio in the countryside close to Le Mans in Normandy and leads the only Brazilian funk/rock band in France that has played at some of the best clubs in Paris: New Morning, Divan du Monde, Cithéa, La Java, Flèche d'Or. Over the past 30 years Marcelo has written over 300 songs, and in 2004 he composed his first symphony titled 'Belo Horizonte'. From 2003 to the present Marcelo has been active in film making and has received the Oddball TV 69 Hours Film Challenge at the Portobello Film Festival in London in September 2011.
---
Don't forget to follow our Spotify Playlist: