The Cult Announced As Alt-fest 2014 Final Main Stage Headliner
|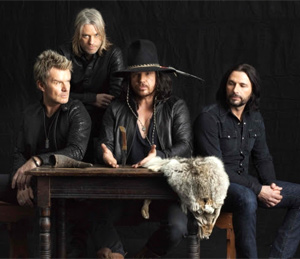 Alt-Fest are celebrating the New Year in style by announcing The Cult, set to appear onSunday 17th of August as the final headliner for the festival. This is an exclusive UK 2014 performance that will take place over the weekend of 15th – 17th August at Boughton Estate, Kettering. Also confirmed is Gary Numan who has been added to the Saturday main stage line-up, playing alongside recently announced Saturday headliner Marilyn Manson. His booking further solidifies the festival's promise to deliver alternative bands as requested by the fans. Tickets are available now at the early-bird price of o85
Co-Founder Missy commented:
"It is important to us that we listen to who our customers want to see play at their festival, the fans are in control and we are doing all we can to deliver the bands they asked for. Both The Cult and Gary Numan were heavily requested by fans in our polls. Gary Numan is a big act for us, we've grown up with him and I'm also personally really chuffed that The Cult have confirmed us as their only UK show, it'll be awesome, see you down the front!"
The festival will be announcing further acts throughout the start of the year to add to the stellar line-up. With artists including Marilyn Manson, Arch Enemy, Peter Hook and The Light, as well as Cradle of Filth, Fields of the Nephilim and more on the bill, Alt-Fest is shaping up to be the highlight of festival season 2014 for misfits of all descriptions. Tickets are currently available at the super early-bird price of o85 now from Alt-Fest.com.
About Alt-
Alt-Fest has already caught the attention of both the UK alternative scene and the media through a hugely successful Kickstarter campaign.  The event, a five-day, multiple stage festival covering Alternative, Industrial, Metal, Goth and Steampunk music, lifestyle and more not only reached its target of o30,000 but went on to double the target, receiving over o61,000 from fans via the Kickstarter UK platform. 150 acts across the Metal, Goth, industrial and Steampunk genres are now booked. Most importantly Alt-Fest, which is operating a strict policy of 'run by the fans, for the fans', is engaging their audience in every aspect of the planning process making Alt-Fest not just crowd-funded but also crowd-led.
---
Don't forget to follow our Spotify Playlist: