Brand X to release 3 lost gems
|
Although typically considered an off-shoot band for Genesis legend Phil Collins, UK prog-fusion group Brand X was much more than that. Featuring several virtuosic musicians (as well as Collins), Brand X took the genre of fusion to a whole new level of expertise. Along with Collins on drums, the band featured Percy Jones (bass), John Goodsall (guitar) Robin Lumley (keyboards), and Morris Pert (percussion), with sometimes Mike Clark, Kenward Dennard (drums), and John Giblin (bass). Active from 1975-1980, Brand X was another one of those bands who were beloved by other musicians, and the more discerning critics, but despite everything never had the commercial success they deserved. The band released several critically acclaimed albums on the Charisma label in the UK and Passport label in the US, including 'Unorthodox Behaviour', 'Moroccan Roll', 'Livestock' and 'Product'. Now much to the excitement of Brand X fans and fusion music fans worldwide, Gonzo Multimedia is releasing 3 rare Brand X titles on CD (Missing Period, Live At The Roxy LA 1979, Is There Anything About?), as well as bassist Percy Jones' hard to find solo offering from 1989 'Cape Catastrophe'.
Says Percy Jones, "I'm really happy that Gonzo is releasing this stuff. It was recorded over 25 years ago, so it's great that it's still available to anyone who is interested."
The 3 gems that are being released are 'Missing Period', 'Live At The Roxy LA 1979' and 'Is There Anything About?'.
'Missing Period'
This album represents the earliest known recordings of Brand X circa 1975-76. Recorded shortly before the group's debut album 'Unorthodox Behaviour', the source tapes for this material were recently recovered by John Goodsall from family members in England, who presented John with a box containing all sorts of Brand X memorabilia. At the bottom of the box were some old reels of tape of unknown origin. Upon review John and Percy realized that they had uncovered a long lost treasure – excellent quality recordings of Brand X's classic lineup performing previously unreleased material. This documents a period of the band's history which has been missing for over 20 years.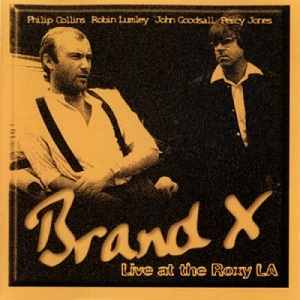 'Live At The Roxy LA 1979'
Recorded at the Roxy Theater in Los Angeles, CA on Sunday, September 23, 1979 shortly after the release of 'Product'. This is a previously unreleased soundboard recording of Brand X captured live at the peak of the band's career.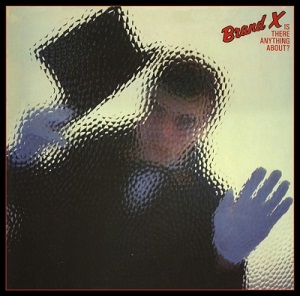 'Is There Anything About?'
Not long after Brand X released their 1980 album 'Do They Hurt?', the band members went their separate ways (until their comeback in 1992 which only featured Goodsall and Jones). However, they still owed their record label one more album. The solution? Release a rarities album! The problem was that there was very little unreleased material in the vaults – about three or four tracks at the most. But with a little doctoring and remixing of tapes, keyboardist Robin Lumley extended that number to six tracks and the label released Brand X's appropriately-titled collection 'Is There Anything About?' in 1982.
It is the last album to feature Phil Collins on drums and includes some absolutely gorgeous slices of Brand X at their very best. This is a peculiar album; at the time many critics panned it, often because it didn't sound anything like the anodyne pop music that Phil Collins was making elsewhere in his career. However, in my opinion and that of thousands of fans worldwide it acts as a satisfying coda to a body of work which has very few parallels in the world of jazz fusion.
---
Don't forget to follow our Spotify Playlist: