The Allman Brothers Band Unveil Classic Live Set
|
Epic/Legacy Recordings, a division of Sony Music Entertainment, has announced the release of Play All Night: Live At The Beacon Theatre 1992 , a new two-disc set from the one and only Allman Brothers Band. The collection highlights the Rock & Roll Hall of Famers' first-ever extended run at the venerable New York City venue, an annual residency that has since become a certifiable rock 'n' roll tradition. Play All Night: Live At The Beacon Theatre 1992 arrives on February 18 th. Celebrating their 45th anniversary this year, the band will return to the venue for ten dates beginning March 7.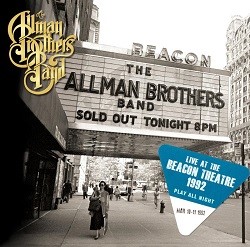 Epic/Legacy Recordings will also release on February 18 Live At Great Woods , a feature-length concert DVD filmed at Massachusetts' Great Woods Center for the Performing Arts in September of 1991. Long requested by fans, the upcoming reissue showcases the original long form video version of the concert, previously only available on DVD with band interviews edited into the main feature.
The band's 1989 reunion revivified the Allman Brothers Band, leading to a pair of acclaimed studio albums and a full-fledged return to the road. The addition of percussionist Marc Quinones in 1990 finally brought to life the triple percussion ensemble Duane had envisioned when first uniting the band and by 1992, The Allman Brothers Band were definitely in an unstoppable groove.
The Brothers' 1992 spring itinerary saw the band carry on its special relationship with New York City by settling into the landmark Beacon Theatre for an extended 10-night run.
Specifically selected for coming closest in spirit to Bill Graham's long gone Fillmore East, the beloved Upper West Side venue had previously hosted the ABB during their 1989 reunion tour and felt to the band like a place they could call home.
Kicking off on March 10 th, the Beacon shows blended recent fan favorites like "Get On With Your Life," "End Of The Line," and "Nobody Knows" with such stone cold classics as "Statesboro Blues," "Blue Sky," "Jessica," "Revival," and of course, "Whipping Post," all played with the distinctive invention and muscularity that defined this particular ABB line-up.
Highlights include an elongated "In Memory Of Elizabeth Reed" – complete with incendiary Betts and Haynes solos, roaring Woody bass and a thunderous percussive break by Jaimoe, Trucks, and Quinones – as well as a stunning "Dreams," Gregg's immediately identifiable voice infusing every lyric with history, nuance, and soulful emotion.
As ever, the setlist features a number of classic blues, spanning obscurities to staples such as "Hoochie Coochie Man," here marked by Haynes' lead vocals and snarling slide work. Furthermore, Play All Night sees the Brothers unplug for a three-song acoustic interlude encompassing bare-boned renditions of Betts' "Seven Turns" and Allman's "Midnight Rider," as well as a buoyant take on the Robert Johnson standard, "Come On In My Kitchen."
"1991-92 was a period of great creativity for that configuration of the Allman Brothers," Haynes says, "and these shows capture a true moment in time for the group. It's cool that the acoustic set is included, because it gives the fans a chance to hear some rare versions of particular songs. All in all, I think Play All Night represents how on fire that band could be on any given night at that point in their history."
Play All Night: Live At The Beacon Theatre 1992 was produced for release by Warren Haynes; originally captured by legendary producer Tom Dowd. The collection will feature liner notes by John Lynskey (editor of the official ABB magazine, Hittin' The Note) as well as never-before-seen photos by longtime band photographer Kirk West.
---
Don't forget to follow our Spotify Playlist: