Progressive-rock super-group Transatlantic reveales info for new album and tour
|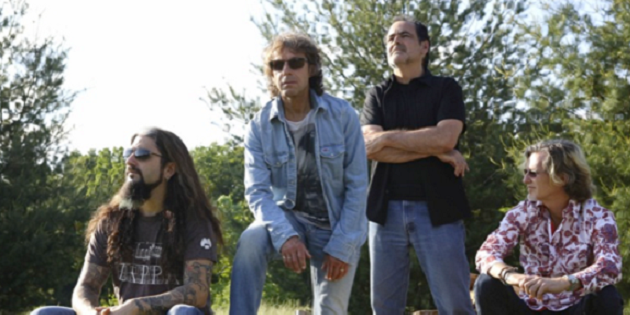 Progressive-rock super-group Transatlantic, featuring Mike Portnoy, Neal Morse, Roine Stolt and Pete Trewavas will release their brand new fourth studio album Kaleidoscope on the 27th January 2014, and they are now very pleased to be able to bring you the band's first ever music video for the track Shine. Mike Portnoy had this to say: "Here it is…the very first Transatlantic music video! We shot this video this past Sept in London the day after the Progressive Music Awards. What a beautiful setting it was to shoot in! Picking a song to do a video for wasn't easy as most TA songs are about 30 minutes…hahaha! But Shine was a cool choice as it's such a beautiful song with all 4 of us sharing the vocals. Enjoy!"
It can also be revealed now that 'Kaleidoscope' will be released on four different formats, including a limited edition Deluxe Artbook with 2CDs, DVD and Bonus 5.1 Mix DVD-Video in an LP-sized book with loads of pictures, liner notes and a lenticular card cover. There will also be 2CD & DVD Mediabook, Standard 2CD Jewelcase and a 3LP & 2CD in slipcase. Pre-orders for the album will begin on the InsideOutShop on the 27th December. The full tracklisting for both discs can be found below:
CD1:
1. Into The Blue (25:13)
2. Shine (7:28)
3. Black As the Sky (6:45)
4. Beyond The Sun (4:31)
5. Kaleidoscope (31:53)
CD2 (Bonus CD):
1. And You And I (Yes cover) (10:45)
2. Can't Get It Out Of My Head (ELO cover) (4:46)
3. Conquistador (Procol Harum cover) (4:13)
4. Goodbye Yellow Brick Road (Elton John) (3:20)
5. Tin Soldier (Small Faces cover) (3:22)
6. Sylvia (Focus cover) (3:49)
7. Indiscipline (King Crimson cover) (4:45)
8. Nights In White Satin (The Moody Blues cover) (6:13)
The band will embark on a 6-week World Tour that will see them joined once again by Pain of Salvation's Daniel Gildenlöw as a 5th touring member. As part of the extensive tour, the band will also headline the Progressive Nation At Sea 2014 Cruise from the 18th till the 22nd February alongside 22 other leading Prog acts including Adrian Belew Power Trio, Devin Townsend Project, King's X, Anathema, Spock's Beard and many more. This unique performance will see the band performing a very special encore of classic Yes material with the legendary Jon Anderson on vocals.
An Evening With Transatlantic 2014 World Tour:
Jan 31st – Los Angeles, CA – El Segundo Performing Arts Center
Feb 1st – San Francisco, CA – The Regency Ballroom
Feb 2nd – Everett, WA – Everett Music Hall
Feb 4th – Chicago, IL – The Arcada Theater
Feb 5th – Quebec City, Canada – Theatre Du Capitole
Feb 6th – Montreal, Canada – L'Olympia
Feb 8th – Philadelphia, PA – Keswick Theater
Feb 9th – New York City, NY – Highline Ballroom
Feb 11th – Mexico City, Mexico – Teatro Metropolitan
Feb 13th – São Paulo, Brazil – Carioca Club
Feb 14th – Buenos Aires, Argentina – Teatro Vorterix
Feb 15th – Santiago, Chile – Caupolican
Feb 18th to 22nd – Progressive Nation At Sea
Feb 27th – Madrid, Spain – La Rivera
Feb 28th – Barcelona, Spain – Razzmatazz 2
March 2nd – Milan, Italy – Alcatraz
March 3rd – Rome, Italy – Orion
March 5th – Pratteln, Switzerland – Z7
March 6th – Karlsruhe, Germany – Substage
March 7th – Munich, Germany – Muffathalle
March 8th – Berlin, Germany – Astra
March 9th – Cologne, Germany – E Werk
March 11th – Antwerp, Belgium – Trix
March 12th – London, England – The Forum
March 13th – Tilburg, Holland – 013
March 14th – Tilburg, Holland – 013
March 15th – Paris, France – Le Bataclan
June 4th-7th – Sweden Rock Festival
---
Don't forget to follow our Spotify Playlist: