Lita Ford reunites with Cherie Currie for christmas duet
|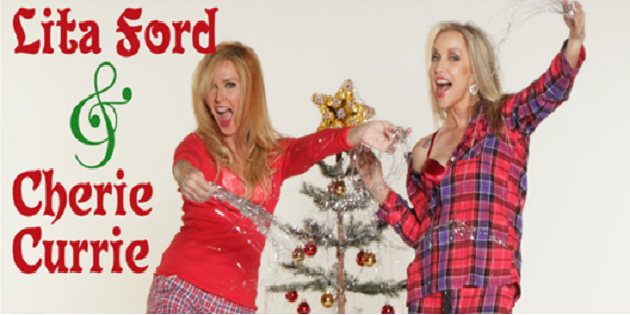 Two of the most influential women in Rock and Roll have reunited for a special holiday song. Lita Ford has partnered up with her former Runaways band mate Cherie Currie for what is sure to be a new Christmas Classic. The song "Rock This Christmas Down" is the first time Lita Ford and Cherie have recorded new music together since 1977. The digital single is available for pre-order and will be released worldwide tomorrow, December 3rd.
Tired of the same old Christmas songs Lita Ford was ready for something new: "I thought the world could use a new Christmas song. The song was Written by Mitch Perry, my guitarist and Michael Dan Ehmig, my lyricist, along with Marty O'Brien on bass, and Rodger Carter on drums. We so rocked it! What I didn't know is that I'd be singing it as a duet with my long lost sister, Cherie Currie. I am blessed to have her back in my life, and what an appropriate time and song to rehash an old friendship. CHRISTMAS!!! Cherie hopped a plane from Chicago to L.A., and drove straight to the studio and threw down her vocal track on this rocking song! Needless to say, it was magic and history in the making. We were left with such a smoking track for everyone to hear, every Christmas, every year! Let's ROCK THIS CHRISTMAS DOWN!!!"
Cherie Currie herself was equally as excited to reunite and work with Lita Ford again: "I have dreamed, literally, of seeing Lita again for over three decades. Even after all that time I still thought of her often. The Runaways was something that was always left unfinished to me. Especially when it came to Lita, but I only knew her as a child. What floored me more then the unbelievable gift of working with her again was the woman she had become. She is the bravest, kindest, strongest, most loving human being I have met. Lita asking me to be a part of this amazing song and a part of her astonishing life has filled that void, that hole I had in my heart that maybe we both shared. It is now filled with love, support and admiration for a dear and wonderful friend whom I am so proud to say is Lita Ford. "Rock This Christmas Down" has the flare of our Runaways legacy but its pure Lita. It rocks like only she can. We took a dim, negative and unfinished past and turned it into a positive future. It doesn't get any better then that. I know this will be the best Christmas I have had in decades. Thank you sister!"
What does "Rock This Christmas Down" signify? Possibly more collaborations between the former Runaway members in the future…only time will tell.
---
Don't forget to follow our Spotify Playlist: