Cleopatra Records Taps Modern Psych-Space Bands For A Psychedelic Themed Christmas Album
|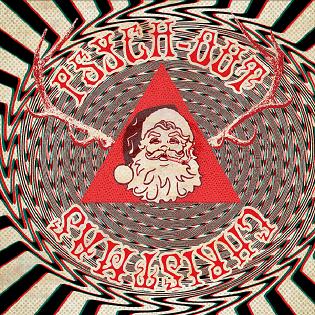 The 2013 holiday season is about to get a whole lot trippier with the release of Cleopatra Record's Psych-Out Christmas, a brand new compilation of spaced out, psychedelic interpretations of Christmas classics and new holiday favorites performed by a team of current psych-space rock bands from around the globe! The compilation is available now on both CD & vinyl at all fine music retailers as well as for download at iTunes and other digital music retailers.
Canadian indie rockers Elephant Stone kick things off with a sitar-infused version of the beloved Beatles' holiday singalong "Christmas Time (Is Here Again)," followed by Sweden's own Dark Horses turning in an original piece composed specifically for this compilation, the wintry, ethereal ballad "Jul Song." Another Swedish band, The Movements, whose new album was released earlier this year by Cleopatra, offer a uniquely drumless take on "Little Drummer Boy" that swirls with fuzzy guitars and dreamy synths to create a headswimming sugar plum hum.
The vibrant psychedelic rock scene blooming on American shores is well represented here by the likes of Sleepy Sun, who thoroughly deconstruct the 19th century carol "What Child Is This?" and The Vacant Lots, who bring a Spiritualized twist to a long buried holiday treasure written by the band Suicide called "No More Christmas Blues." The band explained their selection, "After spending many hours overdosing on the more familiar Christmas tunes, we gravitated towards the obscure Ze Christmas album track by Suicide. As big fans of the band, 'No More Christmas Blues' seemed the perfect choice. The song also deals with the sadder side of the holidays, which we could relate to. It was a lot of fun to reinterpret the song in a new light and be part of a record with many other great bands."
Florida-based trio Sons Of Hippies chose the unconventional yet wholly appropriate cover of The Zombies' "Time Of the Season," for what is Christmas if not "the season of loving"? Singer Katherine Kelly explains, "'Time Of The Season' was fun to cover. We replaced the organ parts on the original Zombies version with layers of distorted guitar leads and gave the drums an eerie, echoed intro. The Psych-Out Christmas compilation is unique and spooky and we wanted to be a part of that vibe."
New York band Psychic Ills, currently on tour with Mazzy Star, got their Christmas wish when they were given the opportunity to record a version of Chuck Berry's rollicking "Run Rudolph Run." Guitarist/vocalist Tres Warren proclaims, "I always liked 'Run Rudolph Run' because it was a song that I'd actually want to listen to regardless of what time of year it is, and Chuck Berry is as mythical as Santa Clause in my mind."
Alongside these newcomers, a few veterans join in the mix, including long time garage rock heroes The Fuzztones, and the original wild man himself Iggy Pop! Fans of these great artists, as well as anyone looking for a break from the traditional ho-hum Christmas album, is sure to find stocking full of surprises on this great release!
1. Christmas Monster Party (Intro) – Len Maxwell
2. Christmas Time (Is Here Again) – Elephant Stone
3. It's Christmas Day – Cosmonauts
4. Silent Night – Quintron & Miss Pussycat
5. Jul Song – Dark Horses
6. What Child Is This? – Sleepy Sun
7. No More Christmas Blues – The Vacant Lots
8. Time of the Season – Sons of Hippies
9. Santa Claus – The Fuzztones
10. Christmas Tears – Eli Cook
11. Little Drummer Boy – The Movements
12. Jingle Bell Rock – Quintron & Miss Pussycat
13. Frosty The Snowman – The Candy Store
14. Run Rudolph Run – Psychic Ills
15. Mele Kalikimaka – Dead Meadow
16. Jingle Bells – He 5
17. White Christmas (Guitar Stooge Version) – Iggy Pop
---
Don't forget to follow our Spotify Playlist: