Pet Shop Boys Announce First 2024 Tourdates
|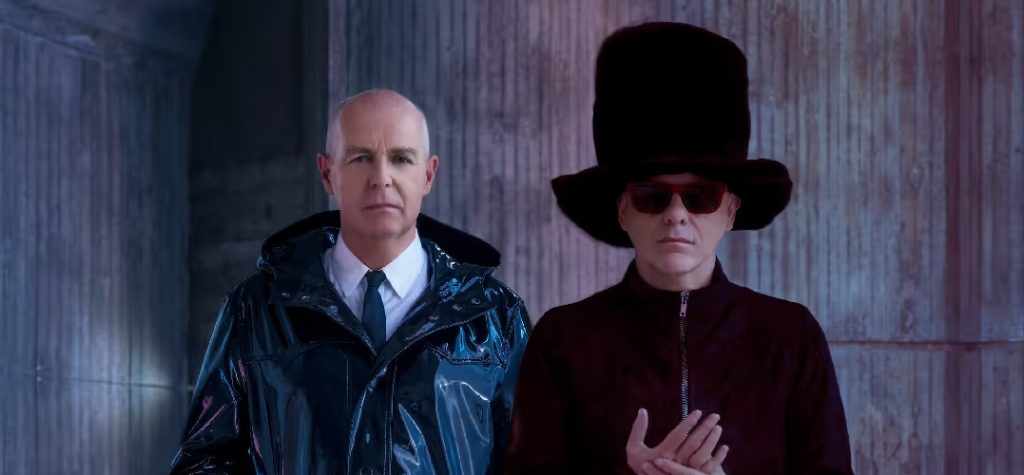 Pet Shop Boys are excited to announce more Dreamworld dates across the UK, with new shows in June 2024 confirmed for Glasgow, Nottingham, Birmingham, Manchester and Belfast (the first Pet Shop Boys show there since 1991). The band will also headline the Isle of Wight Festival later that month.
In the vast realm of electronic pop, few acts have left an indelible mark as profound and enduring as the iconic Pet Shop Boys. Comprising the dynamic duo of Neil Tennant and Chris Lowe, this English synth-pop powerhouse has not only defined the genre but has consistently pushed the boundaries of musical innovation for over three decades.
The Birth of a Sonic Revolution (1981-1985)
Formed in London in 1981, the Pet Shop Boys burst onto the music scene with a unique blend of catchy melodies, poignant lyrics, and cutting-edge electronic production. Neil Tennant, a former editor at the iconic music magazine Smash Hits, joined forces with keyboardist Chris Lowe, and the duo quickly became synonymous with the burgeoning synth-pop movement.
Their debut single, "West End Girls," catapulted them to international stardom in 1984, marking the beginning of a journey that would redefine the sound of the '80s. The subsequent album, "Please" (1986), showcased Tennant's distinctive baritone vocals harmonizing seamlessly with Lowe's synth wizardry, setting the stage for a revolutionary musical career.
Flamboyant Expression and Chart Domination (1986-1990)
The Pet Shop Boys' sophomore album, "Actually" (1987), cemented their status as pop visionaries. Tracks like "It's a Sin" and "What Have I Done to Deserve This?" not only dominated the charts but also solidified their reputation for thought-provoking lyrics layered over infectious beats. The flamboyant and theatrical aesthetic they embraced in both their music and visuals became an integral part of their brand.
With subsequent albums like "Introspective" (1988) and "Behaviour" (1990), the Pet Shop Boys continued to explore new sonic landscapes, seamlessly incorporating elements of dance, house, and orchestral arrangements. Each release was a testament to their ability to evolve while maintaining an unmistakable and distinctive sound.
Global Recognition and Enduring Relevance (1990s – Present)
As the '90s dawned, the Pet Shop Boys refused to rest on their laurels. They embraced collaborations with artists ranging from Liza Minnelli to Dusty Springfield, proving their versatility and willingness to experiment. The hits continued with albums like "Very" (1993) and "Bilingual" (1996), further solidifying their global appeal.
In the new millennium, the Pet Shop Boys continued to captivate audiences with albums like "Fundamental" (2006) and "Electric" (2013), showcasing an ability to stay relevant in an ever-changing musical landscape. Their live performances, characterized by elaborate visuals and theatrical flair, have become legendary spectacles, reaffirming their status as one of the most influential acts in pop history.
Awards, Honors, and Ongoing Innovation
The Pet Shop Boys' influence is not only measured by chart success but also by critical acclaim. With multiple Brit Awards, Grammy nominations, and an enduring presence on the global stage, they have carved out a niche that is uniquely theirs.
As we look forward to the next chapter in the Pet Shop Boys' illustrious career, it's clear that their legacy is not just a reflection of past achievements but a testament to their ongoing commitment to artistic innovation. Their influence continues to resonate in contemporary pop, making them not just icons of the '80s but eternal pioneers of electronic music. The Pet Shop Boys remain a beacon of creativity, proving that their sonic odyssey is far from over.
Pet Shop Boys Tourdates:
TUESDAY, 4 JUN OVO Hydro, Glasgow
THURSDAY, 6 JUN Motorpoint Arena, Nottingham
SATURDAY, 8 JUN Utilita Arena, Birmingham
SUNDAY, 9 JUN Co-Op Live, Manchester
TUESDAY, 11 JUN SSE Arena, Belfast
SATURDAY, 22 JUN Isle of Wight Festival, Newport

---
Don't forget to follow our Spotify Playlist: