Last day of Sziget ends with wonderful acts
|
Sadly, this Tuesday was already the very last day of Sziget 2023. This anniversary edition also had to come to an end at some point. Exactly thirty years after the festival first took place, this was a week never to be forgotten.
Hannah Grae
The first act on this final day was Britain's Hannah Grae. With her song "Time Of Your Life", she entered the stage twenty minutes later than planned. Although the singer only released her first music in 2022, she was very confident on stage. Her first real EP came out earlier this year, so she didn't have very many songs to play yet. This included playing a cover of "What's Up?" by 4 Non Blondes.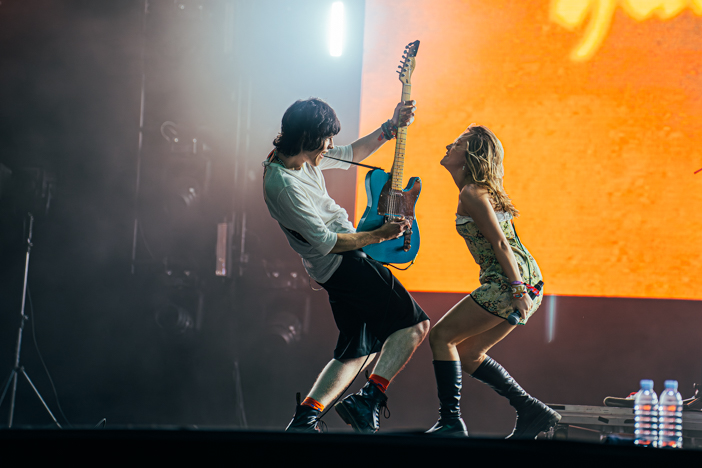 After a few songs, she announced the next song she was going to play. This was "Jaded". This was the first time she would play this song live. For her single "Propaganda", she asked the audience to help her with the choruses by singing 'It's probably propaganda' along. This created a lot of enthusiasm among the people who had come to watch, with everyone singing along.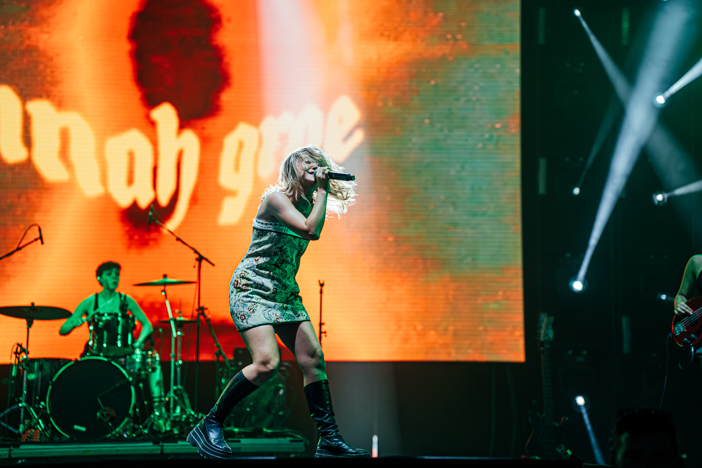 Dzsúdló
As Yung Lean's performance was unfortunately cancelled, a number of other performances on the Main stage were rescheduled. As a result, Hungarian rapper Dzsúdló (pronounced Jude Law) now started at 5.30 pm.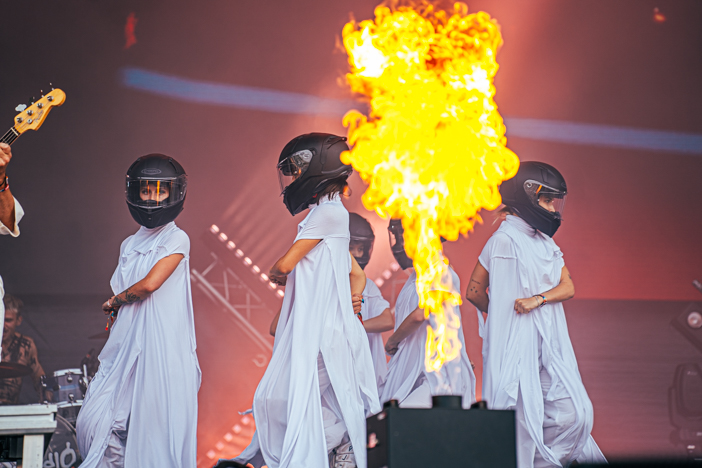 Before the rapper himself took the stage, about eight dancers first walked onto the stage. They were all dressed up in gowns and motorbike helmets, so you couldn't see their faces. As flamethrowers went off, they began their explosive choreography.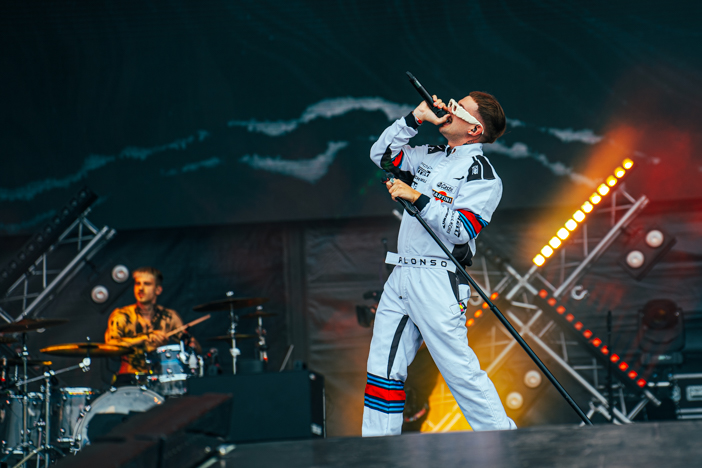 While they were still at it, Dzsúdló entered the stage. A huge crowd had already gathered in front of the Main stage. Although his entire repertoire is in Hungarian, and thus not understandable to most international visitors, it did not matter. All Hungarian visitors seemed to have gathered and were singing along.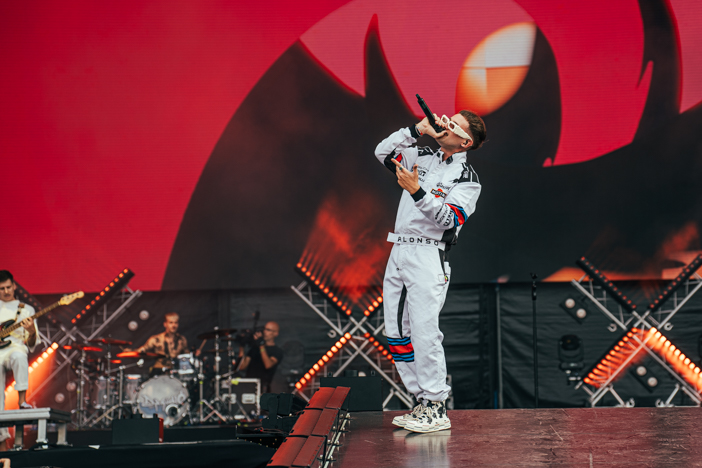 Krúbi
The next act in the Freedome was also a Hungarian rapper. Krúbi started his set at a quarter to seven. Although the Sziget festival is one of the most international festivals in the world, both in terms of visitors and performances, it was nice to see that there was also so much focus on Hungarian artists. On this day and this performance, this was fully evident. The Freedome was bursting at the seams, that's how busy it was.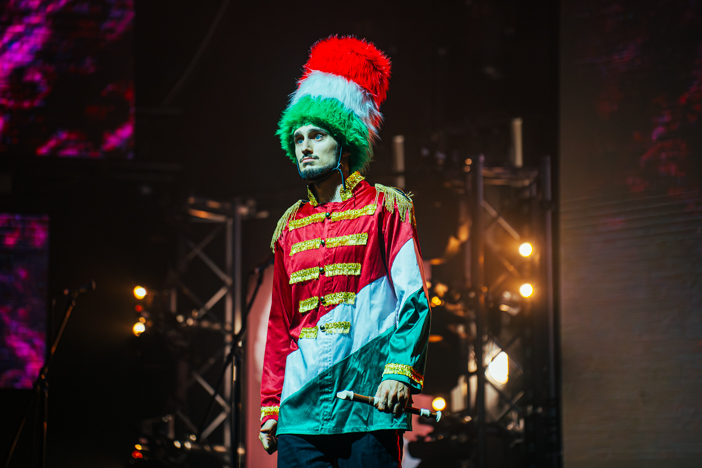 Krúbi came on stage in a very special outfit. He wore a Hussar uniform with the colours of the Hungarian flag. The screens near the stage showed a huge image of some sort of Queen Victoria, a female version of Orbán, Hungary's prime minister. It became immediately clear that this rapper had strong opinions about the Hungarian government. Although his set was also entirely Hungarian, it was still clearly noticeable that he made fun of many well-known figures.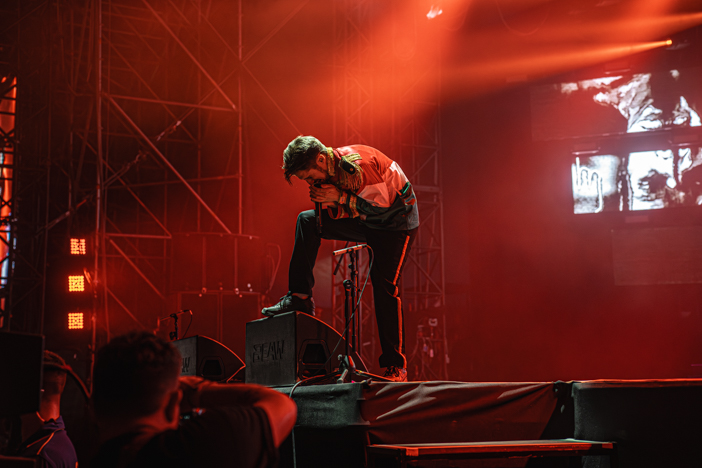 For instance, at one point he also pulled out an Orbán doll, which he kissed with great difficulty on its face. The audience cheered. A set full of energy and tremendous cheers from the audience, this performance was one not to be soon forgotten.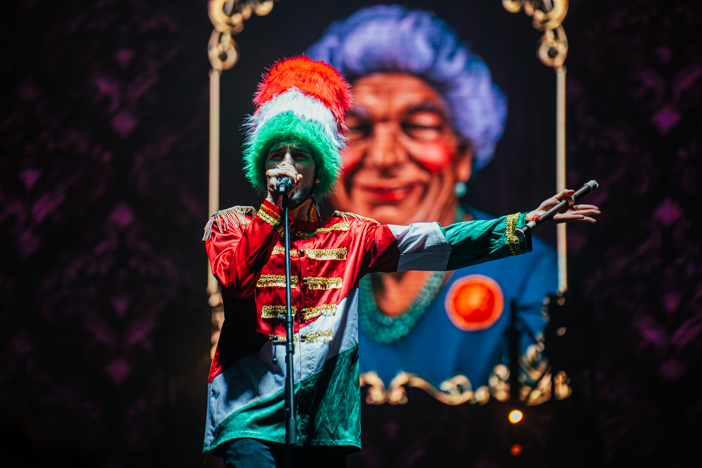 girl in red
Just before the second-to-last act on the Main stage was due to start, it started to rain. Fortunately, this was the only rain that had fallen all week. Nicely refreshed by the brief shower, the audience was all set. The moment girl in red, aka Marie Ringheim, started her performance, the crowd was deafening. Although most people at the front were waiting for Billie Eilish, there was also a very large turnout for this Norwegian singer.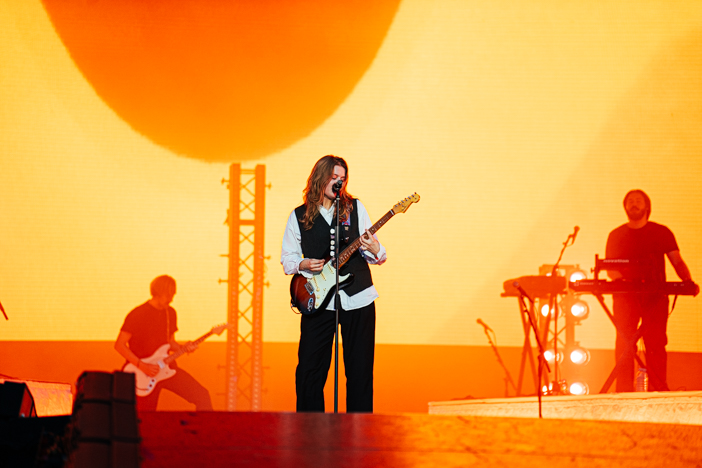 Ringheim was clearly looking forward to her performance as well. She was jumping and dancing across the stage, while occasionally headbanging as well. With songs like "Girls" and "I wanna be your girlfriend", there were plenty of songs in which the singer sang of her love for women. Very relatable for much of the audience, who all ran around waving rainbow flags.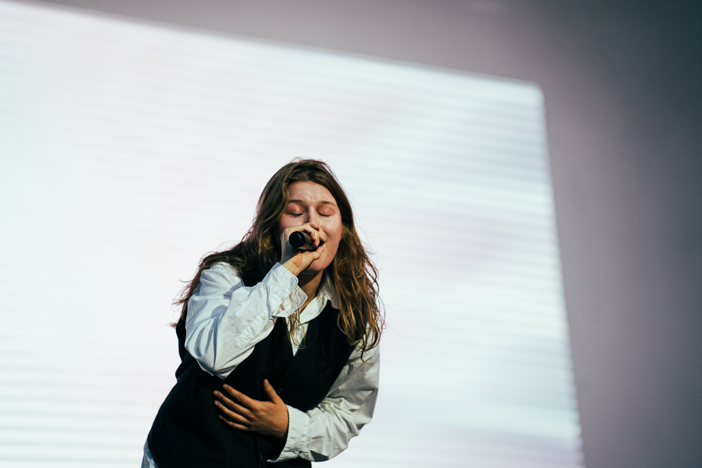 Sleaford Mods
A special performance was scheduled for later in the evening. English duo Sleaford Mods came to perform at the Freedome. This duo, consisting of singer Jason Williamson and musician Andrew Fearn, took their places on stage and went wild.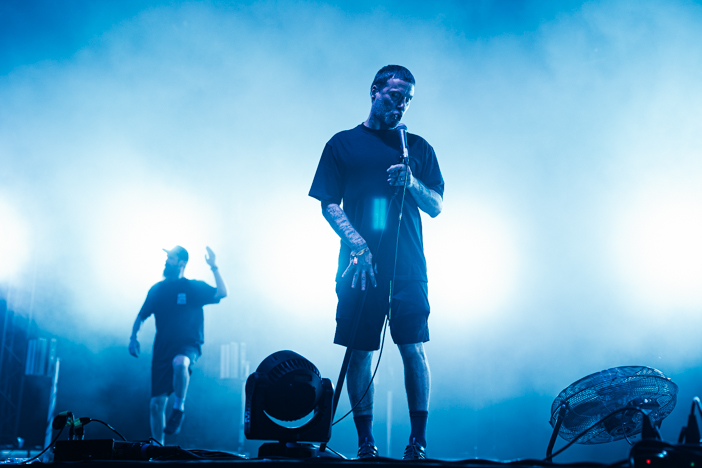 Williamson turned a quarter turn, facing the side of the stage, and remained that way for the rest of the concert. Fearn remained at the back of the stage, jumping back and forth a bit. These two, so alone on stage, looked a bit goofy but that didn't seem to bother the audience. They were dancing to it.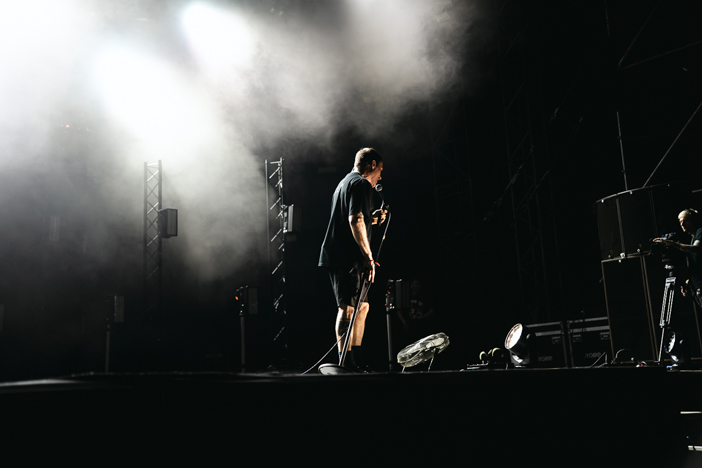 Billie Eilish
Then it was finally time for the very last show on the Main stage, something many people had been looking forward to all week. From around five o'clock in the morning, the real fans were waiting in front of the stage. They hoped to get the best spot and hold out for the whole day. Throughout the day, this group grew larger and larger, making it a lot busier than the other shows on the Main stage. When she finally arrived, the whole area around the stage was packed. From the roads on the sides to the Ferris wheel at the back, it was completely packed. During a musical intro, she suddenly jumped into the air from the centre of the stage. After this special entrance, she started her set with the song "Bury a friend". After playing several upbeat songs, she sang a medley of "Idontwannabeyouanymore" and "Lovely". She also sang her brand new single "What Was I Made For?", which she wrote for the new 'Barbie' movie.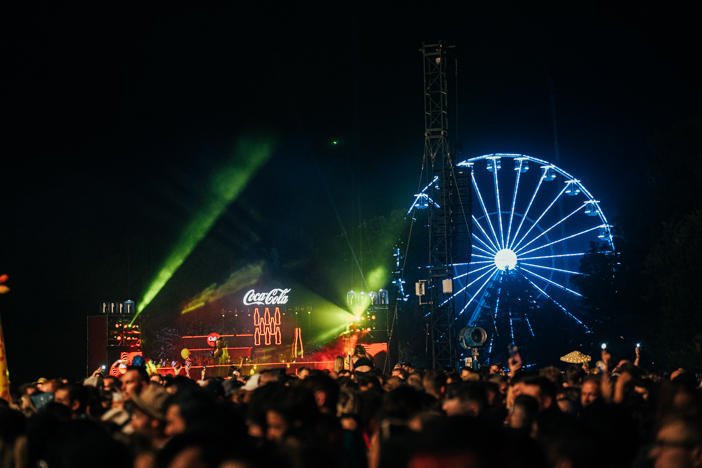 Although Eilish could sing beautifully live and this could really be heard, it was unfortunate to hear how much she leaned on her backtrack. In some songs, it was even very difficult to distinguish her own voice from this backtrack. Thankfully, later in the performance, this got a lot better. Especially when she started the acoustic part of her performance. She took a seat on a chair on stage, together with her brother Finneas who played guitar. There they played three songs. Because there were only two of them on the huge stage, it gave a very intimate atmosphere to the songs. For the song "TV", they played guitar together. They closed the song "Lost Cause" very special. Until that moment, the singer had not really danced except to jump back and forth a bit. Suddenly, she jumped in a split, right in the middle of the stage. The fans screamed at it. Her set ended with her two biggest songs. First came the megahit "Bad Guy", which ended in a huge confetti rain. When she ended her set, she sang "Happier Than Ever", and all were. With a set of ultimately twenty-five songs, this was a wonderful end to Sziget.
Photo's (c) Wyona Latupeirissa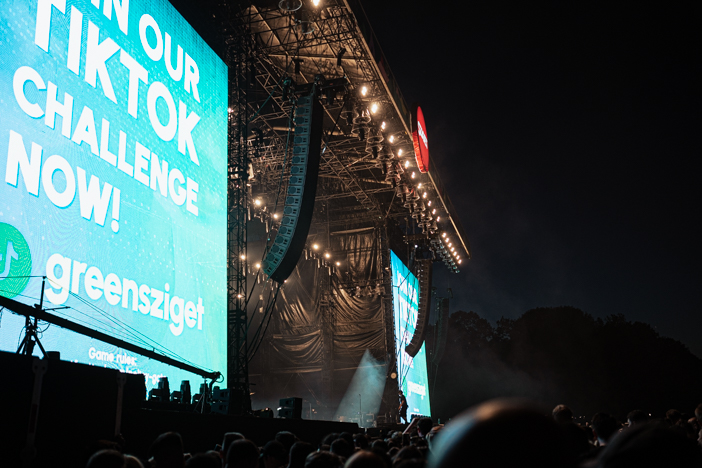 ---
Don't forget to follow our Spotify Playlist: