Buena Vista Social Club's star Eliades Ochoa announce new album "Guajro" 
|
Legendary Cuban singer, guitarist and songwriter Eliades Ochoa today announces his brand new album "Guajiro", due for release on May 26th via World Circuit Records. Ochoa is well known and loved worldwide as one of the original members of Buena Vista Social Club, having famously lent his vocals to that album's iconic opener "Chan Chan". In the wake of Buena Vista's phenomenal reception, Ochoa has released 9 albums, won 4 Latin Grammys and received a Grammy nomination (for 2010's Afrocubism). Produced by Demetrio Muñiz and featuring guests Rubén Blades, Joan As Police Woman and Charlie Musselwhite, "Guajiro" cements his reputation as one of the most vital artists to come out of Cuba in the last century.
The rugged features, the signature hat, the cowboy boots and the iconic 'man in black' image… The songs from the school of life are imbued with the sort of hard-earned, country-tinged wisdom that can't be bought. You don't have to look or listen too hard to understand why Eliades Ochoa is often called 'Cuba's Johnny Cash'. Yet if parallels abound, his new album Guajiro also shows him to be a singular voice with his own unique style and sound, rooted deep in the Cuban tradition but with an appeal that is as timeless as it is universal.
Back in 1997 when he shot to international recognition as a member of the Grammy-winning Buena Vista Social Club, Eliades was the young gun. True, he was by then in his 50th year and had already been leading Cuba's leading band Cuarteto Patria for 18 years – but he was still in the flush of youth compared to legendary veterans Compay Segundo and Ibrahim Ferrer, who had been playing since before he was born and with whom he duetted unforgettably on classic songs such as "Chan Chan" and "Candela".
A quarter of a century later, Eliades is now a veteran with a legendary back story of his own and Guajiro presents Eliades as we've never heard him before. The songs on Guajiro – most of which are his own compositions – are the most intimate and personal Eliades has ever recorded.
'The album tells a lot about me and my history. It's really the story of my life and each song has a lot of meaning.'

Eliades Ochoa
In making Guajiro he called upon an array of sympathetic collaborators. Producer Demetrio Muñiz represents a direct link to Buena Vista, having acted for many years as the musical director of the touring band that spun off from the original project. But others are drawn from far beyond the shores of Cuban music, including the Mississippi blues harmonica player Charlie Musselwhite, Fania All-Stars legend Rubén Blades and indie-rock auteur Joan Wasser, who records as Joan As Police Woman. 'It's different from the albums I've done before, taking me outside my comfort zone', Eliades notes. 'I've been playing traditional son cubano for many years and at this point in my life I wanted to do something a little different – and I've always loved collaborating and being open to other rhythms and working with different artists.'
What triggered his late blossoming as a songwriter he isn't entirely sure – other than a feeling that the time was ripe, the inspiration was strong and that life's journey had provided him with insights which cried out to be shared. 'It's a different stage of my life from when we made Buena Vista,' he says. 'People like Compay and Ibrahim had a big history and lots of stories and making that album with them opened doors to the entire world. Now it feels like the right time for me to tell my stories. I'm in a good place and these songs are close to my heart. You could say it's my manifesto.'
With the release of Guajiro, he adds a new and revealing chapter that weaves together all the threads and strands of his storied life and career into a definitive and compelling personal testament that honours his past while ambitiously taking his music into pastures new.
"GUAJIRO" TRACKLIST
Vamos a Alegrar el Mundo
Soy Guajiro
Creo en la Naturaleza (feat. Joan As Police Woman)
Pajarito Voló (feat. Rubén Blades)
Ando Buscando una Novia
Abrazo de Luz
Anita Tun Tun Tun
Canto Para Ti Guajira
Se Soltó Un León
West (feat. Charlie Musselwhite)
Loso Ejes de Mi Carreta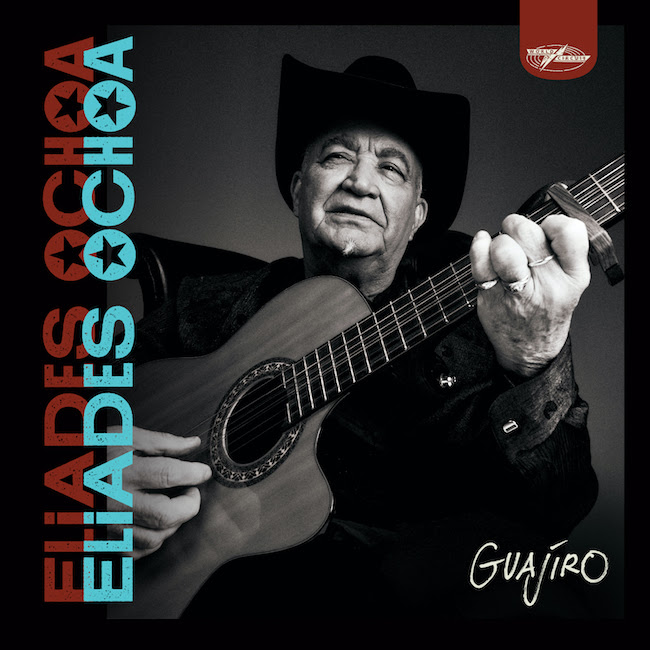 ELIADES OCHOA'S 'GUAJIRO' TOUR
April 30th – Cheltenham, UK – Cheltenham Jazz Festival
May 4th – Ibiza, ES – SDL Festival
May 13th – Coutances, FR – Festival Jazz Sous Les Pommiers
May 17th – Sion, CH – PALP Festival
May 28th – Manchester, UK – Manchester Jazz Festival
May 31st – Paris, FR – Le Trianon
June 2nd – Bergen, NO – Natjazz
June 16th – Chiasso, CH – Festate
June 20th – Bloemendaal, NL – Caprera
June 23rd – Essaouira, Morocco – Essaouira Festival
July 2nd – Malaga, ES – Teatro Cervantes
July 6th – Rudolstadt, DE – Rudolstadt Festival
July 13th – Pisa, IT – MusicaStrada Festival
July 15th – Pesaro, IT – Lonely Planet UlisseFest
July 22nd – Chanac, FR – Festival Détours du Monde
July 25th – Riga, LV – Green Theatre Mezaparks
July 29th – Sète, FR – Fiest'A Sète
August 10th – Segovia, ES – Noches Magicas de La Granja
October 29th – London, UK – Koko
---
Don't forget to follow our Spotify Playlist: