'Concert for George': One-night-only Celebration of the life and music of George Harrison
|
Abramorama, in association with Craft Recordings, announces a very special one-night-only screening of 'Concert for George', taking place on 29 November in selected cinemas across the world. Coinciding with the 20th anniversary of the momentous 2002 concert, the theatrical event will celebrate the life and music of George Harrison. First released in 2003, the GRAMMY®-winning concert film features performances by Eric Clapton, Paul McCartney, Tom Petty, Ravi Shankar and Ringo Starr among many others. Fans will now have the opportunity to re-experience the concert in immersive Dolby Atmos® Audio, newly remastered by GRAMMY-winning engineer Paul Hicks. The anniversary screenings will also feature a brand-new introduction by Olivia and Dhani Harrison.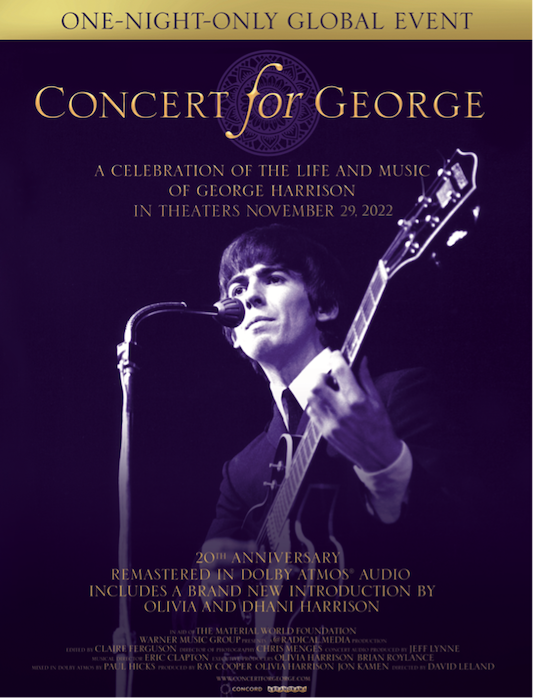 Hicks also brought his artistry to the film's accompanying Concert for George album, which is available in Dolby Atmos®, starting today, on digital platforms. Certified 8x Platinum by the RIAA, the acclaimed 27-track album can also be found in a variety of existing physical formats, including a 180-gram 4-LP box set, 2-CD/2-DVD and 2-CD/2-Blu-Ray packs, and a 2-CD package.
On 29th November 2001, the world lost one of its greatest musical talents, George Harrison. Rising to meteoric fame with the Beatles, the British artist wrote some of the 20th century's most enduring hits, including "Here Comes the Sun," "While My Guitar Gently Weeps" and "Something". A deeply introspective being, Harrison wove his love of Indian culture into his work and was instrumental in introducing the country's rich musical traditions to the West.
Following the breakup of the Beatles, the breadth of Harrison's work grew exponentially, as he embarked on a highly successful solo career, releasing such universally beloved albums as All Things Must Pass (1970), Living in the Material World (1973) and Dark Horse (1974). In the late '80s, meanwhile, Harrison found a new generation of fans with his No.1 hit "Got My Mind Set on You", while he formed the popular supergroup Traveling Wilburys, alongside Roy Orbison, Bob Dylan, Tom Petty and Jeff Lynne. When Harrison lost his battle with cancer at the age of 58, he left behind an inimitable body of work and a hugely influential musical legacy.
Exactly one year after his death, on 29 November 2002, Harrison's life and music were celebrated during a historic evening at London's Royal Albert Hall. Organized by the late artist's longtime friend and collaborator Eric Clapton and his widow, Olivia Harrison, Concert for George brought together a star-studded line-up of talent to perform highlights from Harrison's four-decade-long career plus his favourite music. Among the participants were Gary Brooker, Joe Brown, Dhani Harrison, Jools Holland, Jeff Lynne, Paul McCartney, Ringo Starr, Tom Petty and the Heartbreakers, Billy Preston, members of Monty Python, Ravi and Anoushka Shankar, and Clapton, who also served as the evening's musical director.
"A long time ago, imagining his ideal gig, George had said, 'I could do something like that someday… [it's] the perfect idea… I mean if I had a "special" I would like to have a few people who mean something to me.' And he was right, he was so prescient and so right. It went from the sublime Ravi & Anoushka Shankar Orchestra to the ludicrous Monty Python. The most deeply moving songs written by George, whose meanings were potentised by his absence, were played with heart and soul by a core group of friends. It is a joy to be able to relive that incredible evening again, on a big screen, 20 years on."
Olivia Harrison, November 2022
"20 years ago, I stood on stage beside my father's dearest friends and celebrated his life and music. It was one of the most beautiful things we could've done on that day to mark his passing. There was a lot of love involved in that show, which has been preserved in this Concert for George film. I hope you dig it."

Dhani Harrison, November 2022
Abramorama's Richard Abramowitz and Evan Saxon shared, "Abramorama is honoured to continue our long and fruitful relationship with the George Harrison Estate and Craft Recordings. Fans will once again share in the joy of Concert For George on the big screen, with the Dolby Atmos immersive presentation taking it to a new level."
All audio from the event was produced by Harrison's close friend, collaborator, and Traveling Wilburys bandmate Jeff Lynne, while Concert for George was filmed by director David Leland (Wish You Were Here, HBO's Band of Brothers and the Traveling Wilburys' "Handle With Care" video). The evening was filled with memorable performances, including moving renditions of "While My Guitar Gently Weeps" (featuring Eric Clapton on guitar, Paul McCartney on piano and Ringo Starr on drums), "Taxman" (Tom Petty and the Heartbreakers), "The Inner Light" (Lynne and Anoushka Shankar), "My Sweet Lord" (Billy Preston), "Give Me Love (Give Me Peace on Earth)" (Lynne) and "Handle With Care" (Tom Petty and the Heartbreakers with Lynne and Dhani Harrison).
CONCERT FOR GEORGE ONE-NIGHT-ONLY THEATRICAL SCREENING IN UK CINEMAS 29 NOVEMBER 2022
Addlestone – The Light Cinema Addlestone
Ashford – Ashford Picturehouse
Birmingham – The Mockingbird Cinema
Bolton – The Light Cinema Bolton
Bradford – The Light Cinema Bradford
Bromley – Bromley Picturehouse
Cambridge – The Light Cambridge
Edinburgh – Cameo Picturehouse
Henley-on-Thames – Regal Picturehouse
Kidderminster – Lume Cinema
Liverpool – Picturehouse at FACT
London – Brixton Ritzy Cinema and Cafe
London – Crouch End Picturehouse
London – Finsbury Park Picturehouse
London – Hackney Picturehouse
London – The Chiswick Cinema
Norwich – Cinema City
Sheffield – The Light Cinema Sheffield
Sittingbourne – The Light Sittingbourne
Stockport – The Light Stockport
Thetford – The Light Cinema Thetford
Wallasey – The Light Cinema New Brighton
Walsall – The Light Cinema Walsall
Wisbech – The Light Cinema Wisbech
Woodhall Spa – The Kinema In The Woods
---
Don't forget to follow our Spotify Playlist: