Simple Minds – Direction of the Heart
|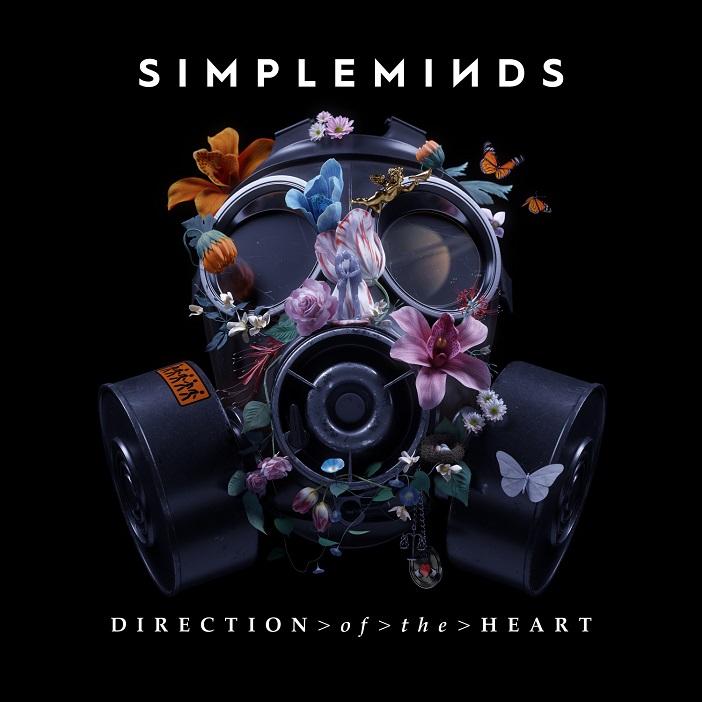 "Direction of the Heart", the new album by the Scottish band Simple Minds comes four years after the last album "Walk between Worlds". This last album did reasonably well. Simple Minds was plagued with personnel issues and now, a few years later, what was once Simple Minds is little left than frontman Jim Kerr and guitarist Charlie Burchill. Besides these two original simple souls, the band now consists of Ged Grimes (bass guitar), Cherisse Osei (drums), Sarah Brown (backing vocals), Gordy Goudie (additional guitar & keyboards) and Berenice Scott (keyboards). The latter can probably still be recognized from her work with Heaven 17 and Level 42's Phil Gould. Berenice was born into music, as Berenice is the daughter of none other than Robin Scott, aka M (Popmusic).
"Direction of the Heart" is now the band's 19th studio album, spanning more than 40 years. The band then managed to get the world to its feet with their worldwide breakthrough albums "New Gold Dream" and "Sparkle in the Rain". "Direction of the Heart" is not a second "New Gold Dream"; far from. Simple Minds in 2022 is just a faint shadow of the band it once was. With producer Andy Wright, the band has done its utmost to make the album sound exactly like how the band sounded in 1983. With that, they have got the right person in Wright, because he has been personally responsible for a large part of the reverb-soaked English pop productions of the mid-'80s. Why do Simple Minds still want to sound the way they did 40 years ago? Perhaps it is a form of nostalgia for the good old days. In 2022, however, this sound is dated and obsolete. A wrong choice.
The song material on 'Direction of the Heart' is weak. Below level for a tie with this history. The opener "Vision Things" is an upbeat song, probably intended as a nice live stamper. However, the melody is so boring that it gets boring halfway through. The sound, intended as retro, immediately gets in the way of a good experience. Why not just put on "Somewhere in Summertime" if you want to hear good Simple Minds music?
"Human Traffic" is also a sing-along at Dora the Explorer level. The compositions on the album are just too simple. There is no build-up, there is no tension, and an arrangement is simply absent. Jim Kerr's voice is recognizable but lacks any urgency or drive. As if after 18 albums he has now made one too many. Unfortunately.
On "Solstice Kiss" the band seems to want to revive the times of "Belfast Child". The verdict is clear. Simple Minds have nothing new to report in 2022 and revels in the same glittering reverberation that made them great 40 years ago. As a result, they disqualify themselves. It turns out that they can't reinvent themselves, there is a lack of development and with it the need to make a new album. I honestly think the band would have pleased the fans more with an extended re-release of "Sparkle in the Rain".
So the band misses the mark with "Direction of the Heart". If they go on tour, I'll go though. Not for this material, but I want to hear the almighty Jim Kerr flatten a room one more time with "Don't you (forget about me)". Sing along with what has remained beautiful, despite being forty years old. "Direction of the Mind" is a weak album that does not live up to expectations in any way. The band sounds uninspired and dated. The song material is subpar. (5/10) (BMG)
---
Don't forget to follow our Spotify Playlist: