Wishbone Ash: A Concert in Three Acts
|
Wishbone Ash is no stranger to Seattle's Triple Door. This venue, replete with a field of stars and gold-gilt stage, also served as the final stop for Wishbone Ash's 2020 tour supporting "Coat of Arms". Tuesday's show concluded a reprise of their 1972 album "Argus" in fitting fashion.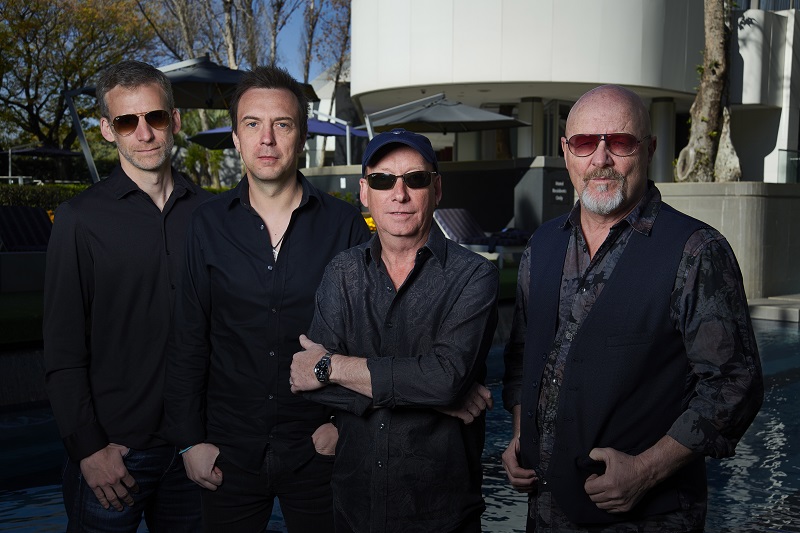 Andy Powell describes the first side of "Argus" as inspired by the experience of driving down an open American road – free of care. Starting into a thirteen-minute rendition of "Time Was" brings you immediately into twin-lead guitar harmony (Powell and Mark Abrahams) that became part of their sonic signature. Driving through the song into the bridge gives Powell the opportunity to shine through with his flying-V guitar into the bridge before dialing-back the overdrive into "Sometime World". The second song of the night starts off in a measured ballad before bassist Bob Skeat takes over the melody with drummer Mike Truscott, on his freshman tour with the band, keeping the song driving ever forward. "Blowing Free", the closing tune for the first side, perfectly evokes the inspiration of the American road.
In contrast, the second side of Argus harkens back to themes from the bandmate's upbringing in England. While "Argus" wasn't conceived as a theme album, the second side certainly gives a nod and wink to their contemporaries who did. "The King Will Come" and "Leaf and Stream", arguably the most popular songs of the band's long career, elicited rousing applause from the attendees, and Skeat's bass solo in the former demonstrating his technical chops was also roundly appreciated. Wishbone Ash's prog rock bona fides were on full display as they fired up "Warrior" followed by "Throw Down the Sword"- the richly evocative lyrics and soaring guitar harmonies of the latter drawing even louder applause from those in attendance.
Not willing to leave the crowd wanting for more, the band brought a third act to the performance to round out the tour. The instrumental "Bona Fide" kicked off the third act and foreshadowed to the audience there was a lot of music still to be had that night. The hard driving "Eyes Wide Open" had the audience dancing in their seats and clapping along with the beat. Shifting gears back to the Bona Fide album, the band headed straight into "Enigma" with the harmonies set up between Powell and Skeat, on backing vocals, that are later echoed between the guitars. The third act was rounded out with the downbeat "Way Down South" followed by "We Stand As One", dedicated to the people of Ukraine, and concluding with "Phoenix". The applause from the audience brought the band back to the stage for an encore of "Jail Bait" before bidding the crowd a good night.
Wishbone Ash takes a short break before playing a handful more American dates, beginning with the Surf Ballroom in Clear Lake, Iowa, on July 14, 2022, and then back East across the pond.
---
Don't forget to follow our Spotify Playlist: