As an eighteen-year-old adolescent, the musician was thrown to the limelight when he was hired by none other than Frank Zappa as a transcriber to transcribe the music played by the maestro and his band. Moments later, he joined Zappa's band, which affectionately referred to him as 'stunt guitarist'. "Inviolate" is his 10th album.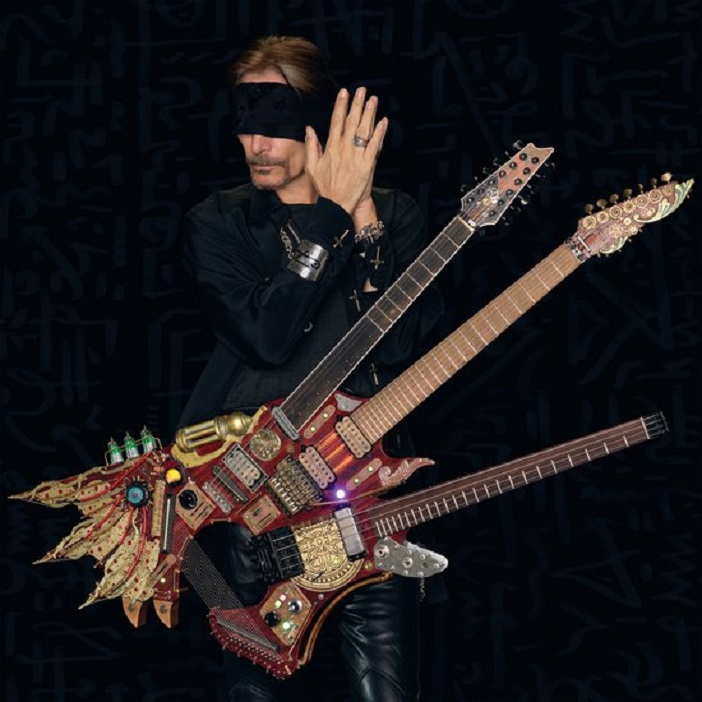 Steve Vai is known as a technically very advanced and talented guitarist, whom all girls and boys who want to master the noble instrument look up to. The man has built up an enormous track record, especially in the rock idiom. He played in David Lee Roth's band, Whitesnake, where he replaced the injured Ad Vandenberg with flying colors, and a short stint as successor to Yngwie Malmsteen in the band Alcatrazz. Then you have an idea in which corner to look for it, if the name doesn't set off alarm bells.
In 1990, Vai released his second solo album "Passion and Warfare", establishing his name as a guitar god for good. That the man may be quite special derives from the anecdote that for the song "For the love of God" he decided to fast for ten days, and that he recorded the song on the fourth day of the fast. Whatever. The fact is that Vai is one of the most influential musicians of his generation, and for that reason alone it will be interesting to hear what his new album is like.
"Inviolate" has 9 titles and clocks in at the classic LP length of just over three quarters of an hour. A first spin leads to the conclusion that with this album he equals the production perfection of "Passion and Warfare". The piece sounds heavenly. That is the result of months and months of working as a hermit on such an album, and you actually know what all those knobs are for.
Musically the album is quite surprising. Vai moves further away from metal, and rock, and more and more gravitates towards jazz-fusion. Take a track like "Little Pretty". Here we hear Vai play a hollowbody Gretsch for the first time, a typical jazz guitar. Typically Vai solos over his ever-changing harmonic structures. Of course you hear that the Gretsch sounds different, but Vai has mastered the instrument completely. It won't get more fusion than this, and partly thanks to Vai, the hollowbody has found a new heritage that leaves "Rock around the clock" far behind.
The album is full of technical and musical highlights. Candlepower has the most potential to make people drop their lower jaw on the table. The song has become a real showcase of where Vai is now in his musical development. Miles above mere mortals. Melody lines are intersected with brilliant riffs and licks. Could someone like Wolgang Amadeus Mozart have sounded like this if he had the technical capabilities that Vai has at the time? A tantalizing thought. On this track, Vai showcases a new technique of 'joint shifting' in which he can bend multiple strings at the same time, but in opposite directions. David Blaine can't do better magic
In summary, "Inviolate" is the best album Vai released since 'Passion and Warfare' more than 30 years ago. A new generation of girls and boys will also continue to worship the man as if he were a Greek god descended to earth. Yet the album does not qualify as masterpiece, although it comes extremely close. The innovation lies more in the technology than in the music, and that is very clever, but an instant masterpiece? It will need just a little more. I would like to know how this material holds up in a live setting with a Jimmy Haslip on bass, or would he choose a Billy Sheehan anyway? A William Kennedy on drums, or Simon Philips? It will be a beautiful evening anyway. (8/10) (Favored Nations/Mascot Label Group)
---
Don't forget to follow our Spotify Playlist: