Vaasa festival 2021, let the sun shine!
|
Due to the current wave of Covid-19 cases, it was a bit uncertain whether Vaasa Festival 2021 could be held this year. Fortunately, the organizers have taken many safety measures, such as giving free masks to the supervisors, providing disinfecting hand gel and providing safety distances. There were 5000 visitors on a 43,000 square meter festival site. Unfortunately, not all visitors have taken into account the measures that the organizers had foreseen. There were hardly any masks to be seen and people had no distance between each other. It was weird going out and enjoying the music, while also thinking about the Corona. However, now it is time to party!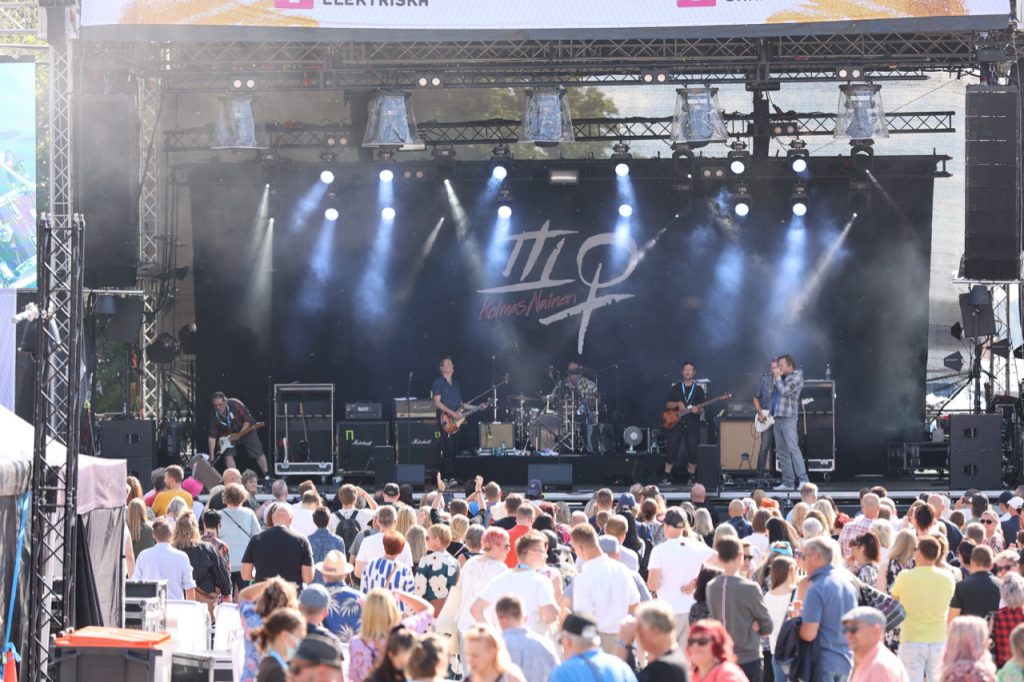 Vaasa festival is a three day festival in the city of Vaasa. The festival was held by the beautiful sea. Many people were seen in their boats listening from the sea. It was good the festival had two separate stages so people could switch during the breaks. It was amazing that there were cans and bottles sold at the festival, without these being shattered in the audience. There were also no major accidents or disturbances during the festival. The festival ended a bit earlier, at midnight. This was due to the Corona restrictions, but that did not lower the atmosphere at all.
Ida Paul and Kalle Lindroth, opened with low paced music on the smaller stage, warming up the crowd; last week they performed on the (only) bigger stage in Kokkola. Their music was a better fit here, as their music is personal and gets more attention when played in a smaller setting. The performers themselves didn't seem to care as they had a good time with one of the most beautiful views from the stage, overlooking the crowd and the sea. Their music went hand in hand with the sun and the warm weather.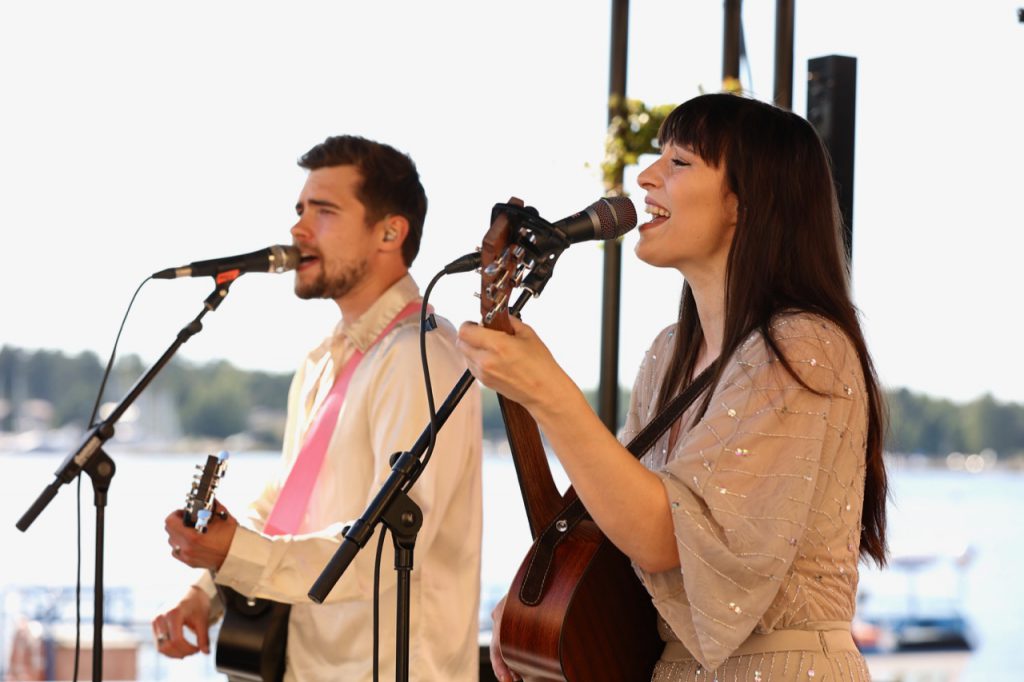 Kolmas Nainen is a band from Alavus, near Vaasa, that hadn't performed for a long time. They even had to cancel their two previous performances at festivals in Oulu and Kokkola due to quarantine. Kolmas Nainen is a veteran Finnish rock band from 1982. The band broke up in 1994 but rejoined in 2009. Pauli Hanhiniemi, a multitalented musician and the lead singer, played the harmonica and sang. He was accompanied by three guitarists, a bass guitar and a drummer. It was fun to hear and see them play. The guitarist Sakari Pesola, looked a bit like – maybe his idol – the guitarist of the Rolling Stones, Keith Richards. The band could be "compared" with them as they also are "old" rockers.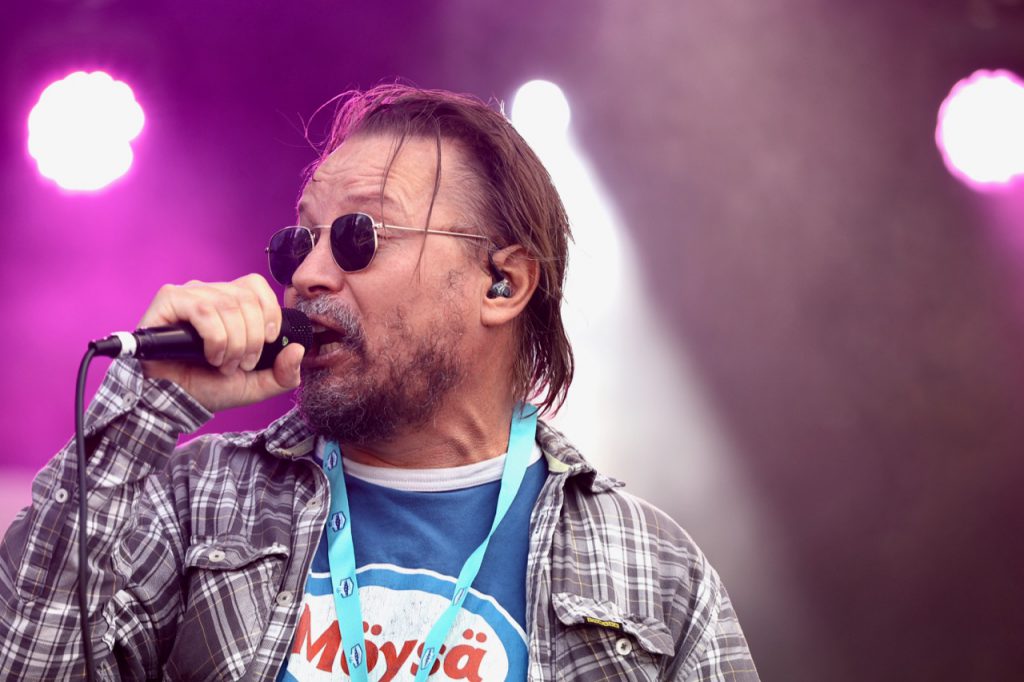 Eppu Normaali is one of the most popular bands in Finnish pop music. The band started as a punk band in 1976, but nowadays they merely play some pop music. From the beginning there has been the singer Martti Syrjä, his brother Mikko "Pantse" Syrjä (guitarist), his cousin Aku Syrjä (drummer), Juha Torvinen (guitarist), nowadays accompanied by Sami Ruusukallio (bassist). Eppu Normaali said their last performance was also in Vaasa a year ago before the corona restrictions went into effect. In Vaasa they now had a guest musician; one of the best jazz pianists from Finland, Iiro Rantala. The audience enjoyed Iiros great jazzy piano solos. Marttis and Mikkos parents are rewarded authors and perhaps that's why their songs are not only funny but also ironic lyrics that rhyme. One of their records is Finland's second most sold album ever. They had a lot of songs that everyone knew the lyrics to and the audience sang them all along.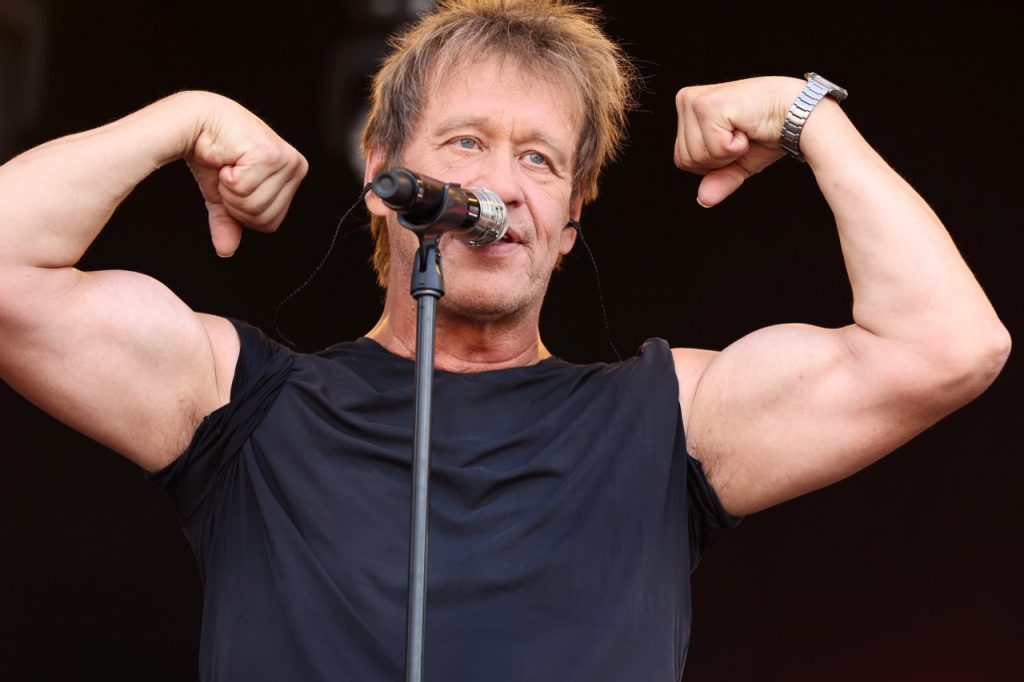 Kuusikoski is a band that just fitted on the terras stage, had an impressive blowing section that made a good impression on the crowd with their jazzy/bluesy sound. The bass player made all kinds of moves during his play. Our ears were on cloud nine when we listened to their music. They were not afraid to play a piece of the Finnish legend J. Karjalainen, "Silly young heart" that added a Jazzy extra vibe to their performance.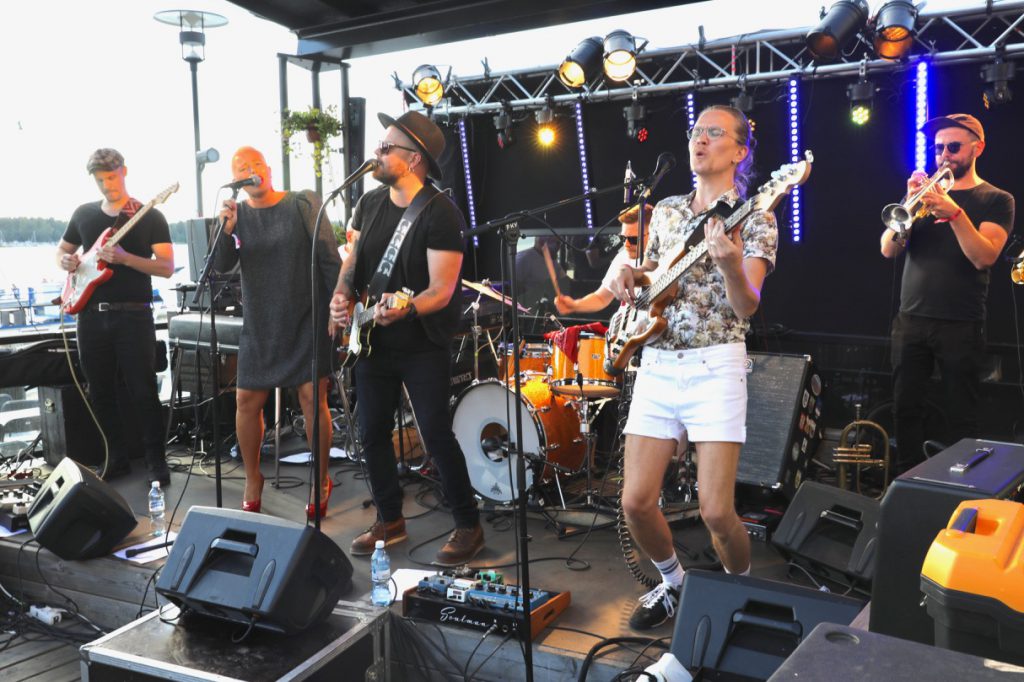 KAJ, the famous local band from Vörå, a small community just north of Vaasa, is a humorous band founded by three young men K(evin) A(lex) and J(akob). They were surprised that their turn to play was between the two popular bands Eppu Normaali and Lauri Tähkä. All of KAJ's songs are written in a funny-sounding Swedish dialect from Vörå. Swedish is the second official language in Finland. Vaasa has a 25% Swedish-speaking minority and in surrounding small communities such as Vörå, the majority of the population's native language is Swedish. KAJ played their popular and funny songs from the past, but also presented a song from their new musical "Botnia paradise", which will start in September. Their songs made people laugh with joy and dance along.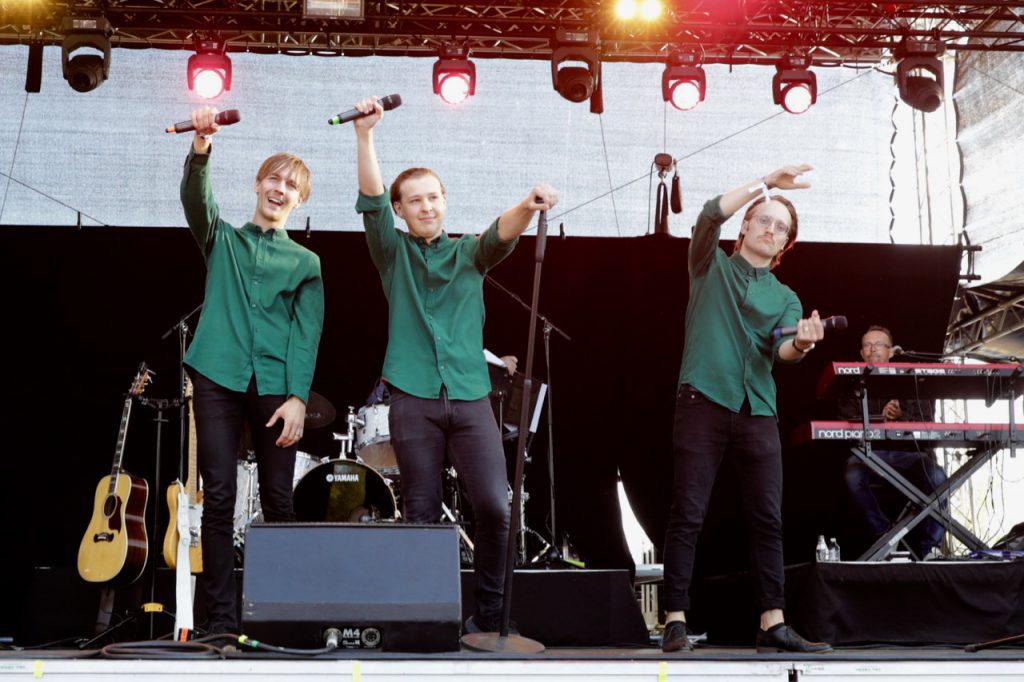 Petra Gargano, the former singer of the popular band Tiktak (1998-2007), sang along with her guitarist. At the age of 13 she had her very first record deal, so a lot of experience on stage. Today, she writes her own music and participates in numerous TV shows. She was very successful in her early years but still maintains a high standard. Her music was pleasant with a glass of wine on the terrace.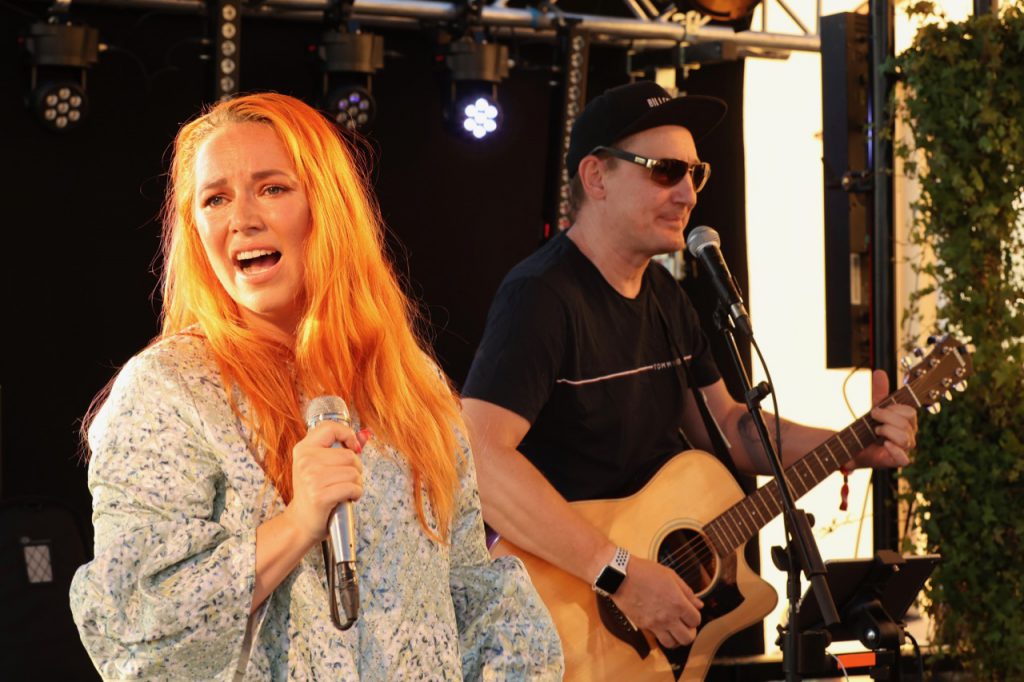 Before Lauri Tähkä started his performance, there was a special moment on stage. Festival promoter Tommi Mäki came on stage and wanted to thank someone special. He suddenly fell to his knees and proposed to his girlfriend Sari Somppi, one of the presenters of the festival. And she said 'Yes!' And as firecrackers hit the stage, everyone cheered at the kiss when she said "Yes."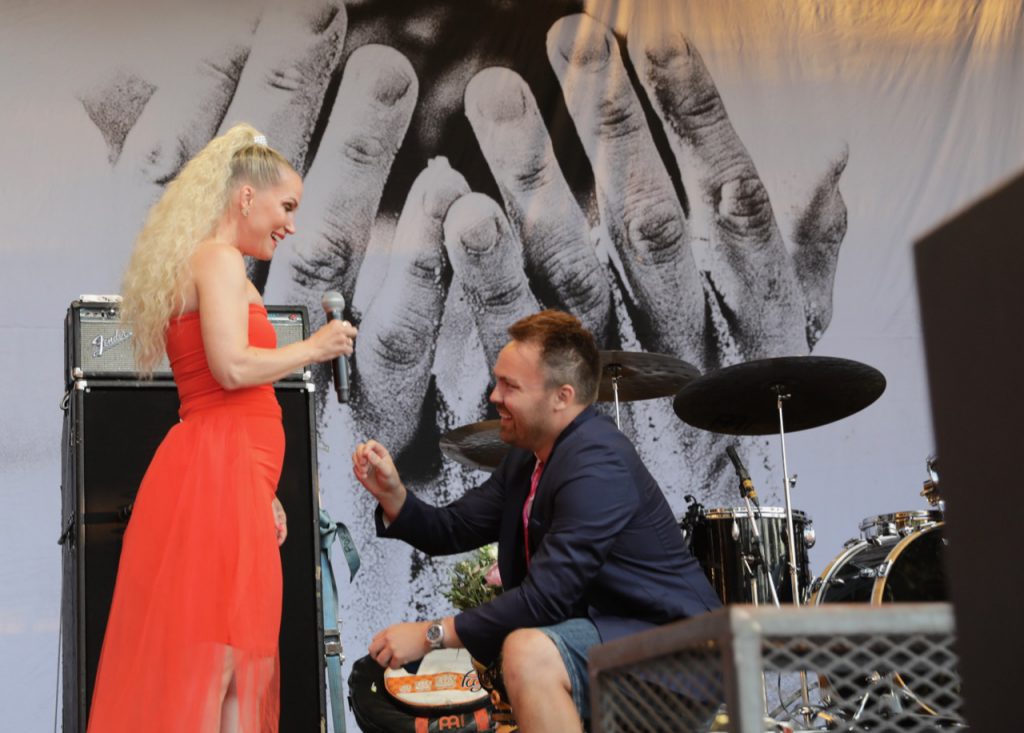 Lauri Tähkä was on a roll with his performance last week in Kokkola. At this year's festival, there were even more boats at sea listening than last year. There were about 80 boats enjoying his music. Long before his show, even more people gathered in front of the stage and the audience was packed. Lauri Tähkä performed herself in the same outfit as last week, with tight leather pants and a black vest around his impressive build. He was born in Vaasa and spent much of his childhood here. He sang "Morsian Bride", of course, which fitted very well with the marriage proposal. This time he didn't have a chance to throw flowers at the audience because the audience kept asking for an encore.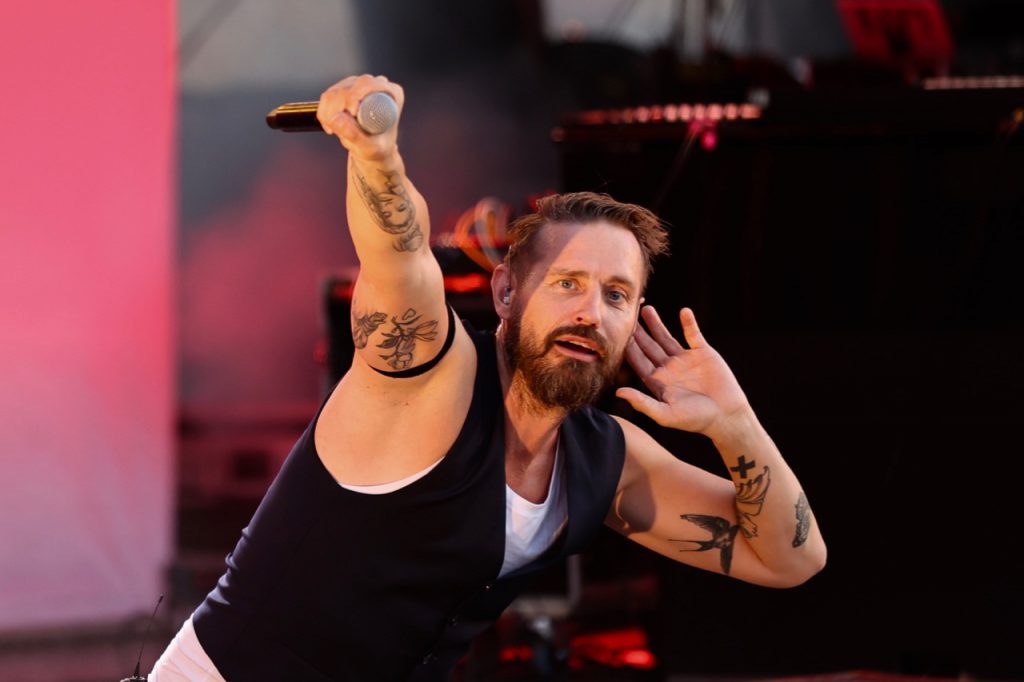 The closing act of the terrace stage was Faija, Finnish for father. His DJ started to warm up the crowd with nice beats. When Faija took the stage, the crowd went wild and he probably felt like a king. His first rap song "Tobleronea" provided the perfect atmosphere for dancing and flirting. Especially the girls in the front rows enjoyed his music, but it felt a little awkward watching his show. But hey, the audience loved it after all.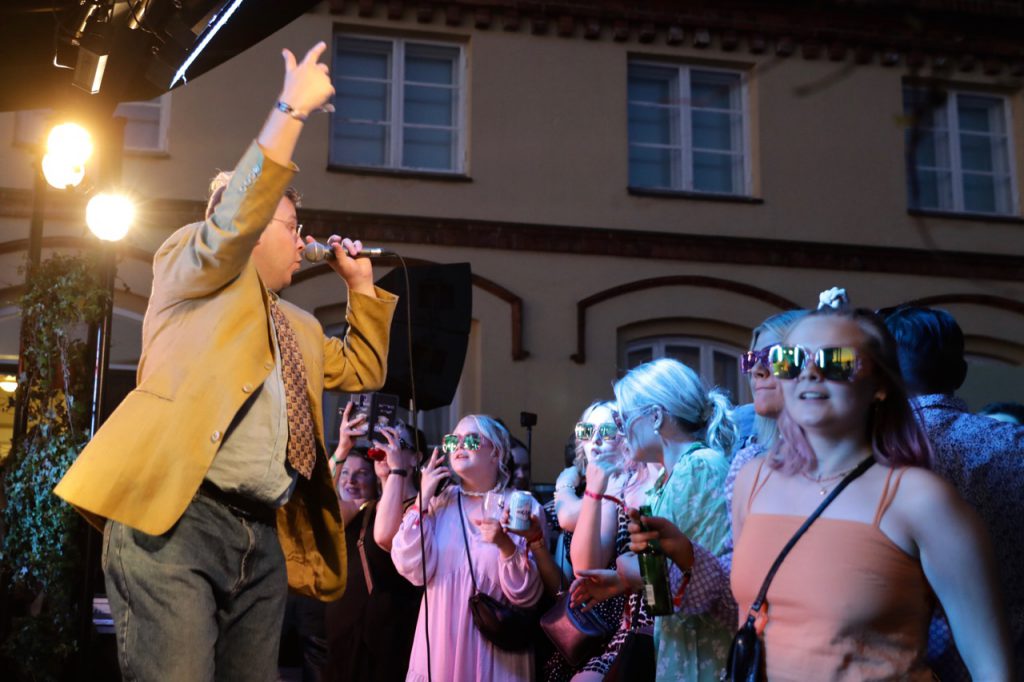 Paula Vesala was the last performer of the day. Vesala is a 39-year-old beautiful blond woman who performed in a tight white suit with decorated laces. She looked and sang like an angel. Her career started in the band PMMP, but she started her solo career in 2015. She writes the songs herself and also plays the guitar. The songs take a stance on the difficulties of love, life and discrimination against women. One of her most famous songs is called "Girls don't play guitar", where she herself plays a solo on her guitar at the end of the song, just to set an example. As always there was a digital drum kit on stage where she showed that she can also play the drums well. The audience was captivated and sang and danced along. Unfortunately, it was even hard for her to get the mood even higher after Lauri Tähkä's great performance, but at least she tried.
The audience had a perfect nightcap, sung by Vesela, to end the day. All in all it was a musically interesting and sunny summer day, exactly what you want when going to a festival.
Photo's (c) Hans Kreutzer, www.kreutzer-fotografie.nl
---
Don't forget to follow our Spotify Playlist: