The Big Feastival is coming to Canada
|

The Big Feastival, the United Kingdom's favourite food, music and family-fun festival, is coming ton Canada for the first time this August 18-20, 2017 at Burl's Creek, Oro-Medonte. The Big Feastival will showcase award-winning music on one stage, the country's best chefs cooking live on another and family entertainment throughout.
With more than 20,000 expected festival attendees, this weekend getaway for families and friends will host all-star experiences from the food, music and children's entertainment worlds. Jam out and dance the night away at the Main Stage and Band Stand, discover rides and games for all ages at The Village Green, visit The Big Feastival's signature Vintage Funfair, while enjoying camping and 'glamping' facilities for festival-goers wanting to chill out and get back to nature with a night under the stars.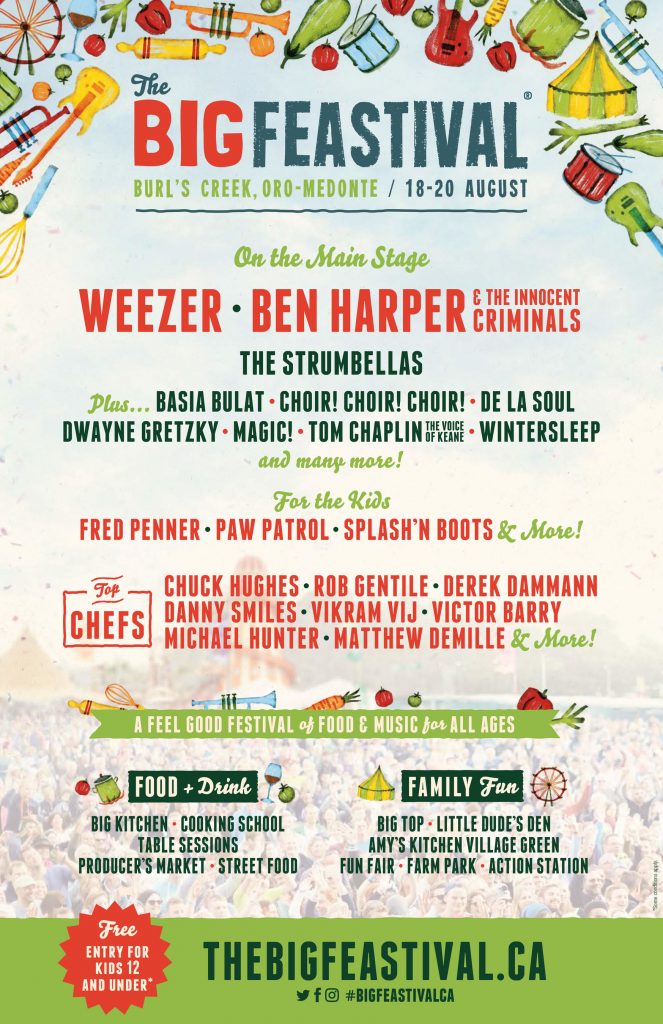 A weekend destination unlike any other, headlining the inaugural Canadian event will be world-renowned rock heroes Weezer and Grammy-award winning and multi-instrumentalist superstar Ben Harper & The Innocent Criminals. In addition to these award-winning dynamos, the festival will feature celebrated musical acts The Strumbellas, Basia Bulat, Choir!Choir!Choir!, De La Soul, Dwayne Gretzky, Magic!, Tom Chaplin (the voice of Keane), and Wintersleep.
Known for its focus on gourmet street food, this is the ultimate foodie experience with the country's top culinary talent, including Canadian celebrity chef, television personality, and restaurateur Chuck Hughes. Take part in culinary workshops and informative talks at the Table Sessions, enjoy live cooking demonstrations in the Big Kitchen, and indulge in a wide variety of artisanal products at the Producer's Market. Joined by other notable Canadian chefs including Rob Gentile of Buca and King Street Food Company, Vancouver restauranteur Vikram Vij, Prince Edward County's Matt Demille, Derek Dammann of Montreal's Maison Publique, Michael Hunter of Antler Kitchen Bar, Le Bremner's Danny Smiles, and Piano Piano's Victor Barry, The Big Feastival will offer a selection of food experiences from pop-up restaurants to cook-offs as families and friends enjoy all types of cuisine from Queen Margherita's wood burning pizza to fish tacos at Buster Sea Cove (to name a few).
The little ones of the family will always be catered for at The Big Feastival. With a multitude of children's entertainment from dynamic performances such as PAW Patrol, Splash'N Boots and Fred Penner to family-focused fun areas including the Little Dude's Den, Little Kitchen and The Farm to Fork garden that will teach kids about growing-your-own and healthy eating, The Big Feastival is designed to provide both entertainment and education for kids of all ages.
The Big Feastival was conceived by world-renowned chef and restaurateur, Jamie Oliver. Hosted by Blur bassist and award-winning artisan cheesemaker Alex James, The Big Feastival is a celebration of fabulous food, magnificent music and family activities for all ages, held annually on James' family farm in the Cotswolds.
"The Big Feastival is a very special event that engages music and food lovers of all ages", says Alex James. "As a cheesemaker, musician and family man, I love being part of a festival that engages the local community through food and music, two of my favourite things."
---
Don't forget to follow our Spotify Playlist: