Styx – Crash Of The Crown
|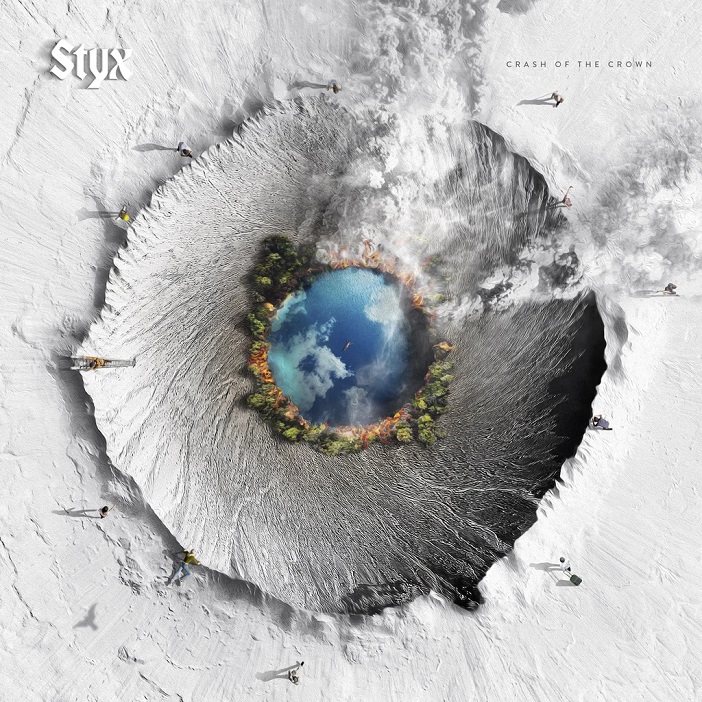 'We won't give in'; with that sentence, Styx's new album begins. Styx, the band that had a series of hits in the late 1970s and early 1980s, of which "Babe" was probably the best known. Fortunately, Styx was not only a band of ballads, but the band actually did a bit of everything. From ballad to uptempo rocker to prog to folk. The previous album "The Mission" was the first album in 12 years. Luckily, we only had to wait 4 years for it this time.
Styx has been around for quite some time. The first album was released in 1972. From the album "The Grand Illusion" from 1977, the popularity of the group increased enormously with the hits "Come Sail Away" and "Fooling Yourself (The Angry Young Man)". This album is often seen by fans as their magnum opus. Between that album and "Killroy Was Here" Styx has had big hits.
Band members from the very beginning James Young (guitar/vocals) and Chuck Panozzo (bass) are still there. Tommy Shaw (guitar/vocals), who has been with the band since 1975, is also still active. The band also consists of Todd Sucherman (drums), Lawrence Gowan (keys/vocals) and Ricky Philips (bass).
Starting with the album opener "The Flight Of Our Lives" it is immediately clear. This new "Crash Of The Crown" is classic Styx. It takes you back to the time of their greatest successes. If you still have doubts during the intro, that doubt is completely gone when the well-known polyphony opens the vocals. Shaw still sounds like old times, just like the record itself.
Then there are songs like "Reveries", which would probably just be a hit back in the day. Again classic Styx here. You will find keyboard licks and guitar solos throughout the album, such as the wonderful solo on "Hold Back The Darkness", polyphony, fat riffs. On the title track, you can find some more prog elements. Everything you expect from this band can be found on this new gem. Even Winston Churchill makes a guest appearance on "Save Us From Ourselves".
Where the previous album "The Mission" still had a few songs of which you thought: "Well, okay", there is no filler on this album. A very strong concept album about the pandemic time and the hope for better times. At a moment when the end of that era seems to be slowly approaching, the release is also at the right time. For the Styx fans, this new 'Crash Of The Crown' is a must-hear! The classic rock fans can actually buy this blind. Styx, like many other classic bands (Blue Öyster Cult, Kansas, Cheap Trick) proves that writing off bands like this is far from necessary. (9/10) (Alpha Dog 2T/UMe)
---
Don't forget to follow our Spotify Playlist: