"RAM ON: A 50th Anniversary Celebration of Paul & Linda McCartney's RAM" Out on 14th May
|
For the 50th anniversary of "Ram" by Paul & Linda McCartney, over 100 musicians have come together to celebrate this much-loved seminal album. With Sir Paul McCartney's blessing, they have re-recorded all of the "Ram" songs to create "RAM ON: The 50th Anniversary Tribute to Paul & Linda McCartney's RAM," released on 14th May 2021 through Spirit of Unicorn Music (distributed by Cherry Red Records).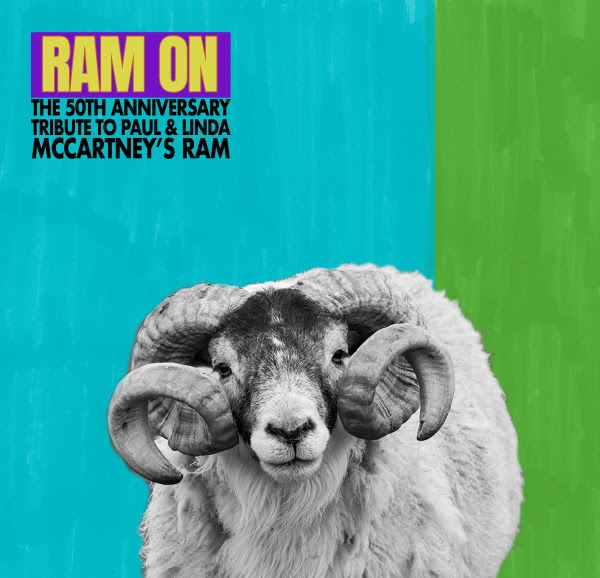 It is a testament to the enduring love and affection for "Ram" that so many artists across three generations should want to be a part of this recreation of a classic album. The idea was born in 2020 from a discussion between producer/multi-instrumentalist Fernando Perdomo and Denny Seiwell, the original drummer with Paul McCartney & Wings, who performed on "Ram." Original guitarist David Spinozza returns to reprise his parts on the album along with Marvin Stamm who played flugelhorn on "Uncle Albert/Admiral Halsey." They are joined by their musical contemporaries Davey Johnstone (Elton John Band) and Will Lee (The Fab Faux).
A second generation of musicians includes Brian Wilson's daughter Carnie Wilson (Wilson Phillips), Dan Rothchild (Heart, Sheryl Crow) Pat Sansone (Wilco), Joey Santiago (Pixies), Eric Dover (Jellyfish) and Durga McBroom (Pink Floyd, Blue Pearl).
The latest cohort of musicians with this love of "Ram" includes Dave Depper (Death Cab For Cutie), Lauren Leigh, Cindy Wassermann and Frank Drennan (Dead Rock West) and multi-instrumentalist Timmy Sean.
"RAM ON" includes warm and sensitive re-recordings of all the original tracks on "Ram" plus two non-album tracks from the "Ram" sessions: McCartney's first single after his departure from The Beatles, "Another Day," was a huge global hit in 1971 and the single's B-side "Oh Woman Oh Why," is also included. The tribute closes with a reprise of the opening track "Too Many People (Slight Return)."
"RAM ON" is produced by Fernando Perdomo and Denny Seiwell. 'From early on I wanted this to not be a typical tribute record,' says Fernando Perdomo. 'Every musician on this record loves 'Ram' with all their heart and I think it shows. This record was made with pure love.'
"RAM ON" Track Listing:
Too Many People feat Dan Rothchild
3 Legs feat The Dirty Diamond and Durga McBroom
Ram On feat Pat Sansone
Dear Boy feat Adrian Bourgeois
Uncle Albert/Admiral Halsey feat Bebopalula
Smile Away feat Timmy Sean
Heart of the Country feat Dan Rothchild
Monkberry Moon Delight feat Timmy Sean
Eat At Home feat Dead Rock West
Long Haired Lady feat Rob Bonfiglio and Carnie Wilson
Ram On Reprise feat Pat Sansone
Backseat of My Car feat Brentley Gore
Another Day feat Gordon Michaels
Oh Woman Oh Why feat Eric Dover and Lauren Leigh
Too Many People (Slight Return)
"RAM ON" is released in CD format on 14th May 2021 via Spirit of Unicorn Music.
---
Don't forget to follow our Spotify Playlist: