Skunk Anansie announces European Tour
|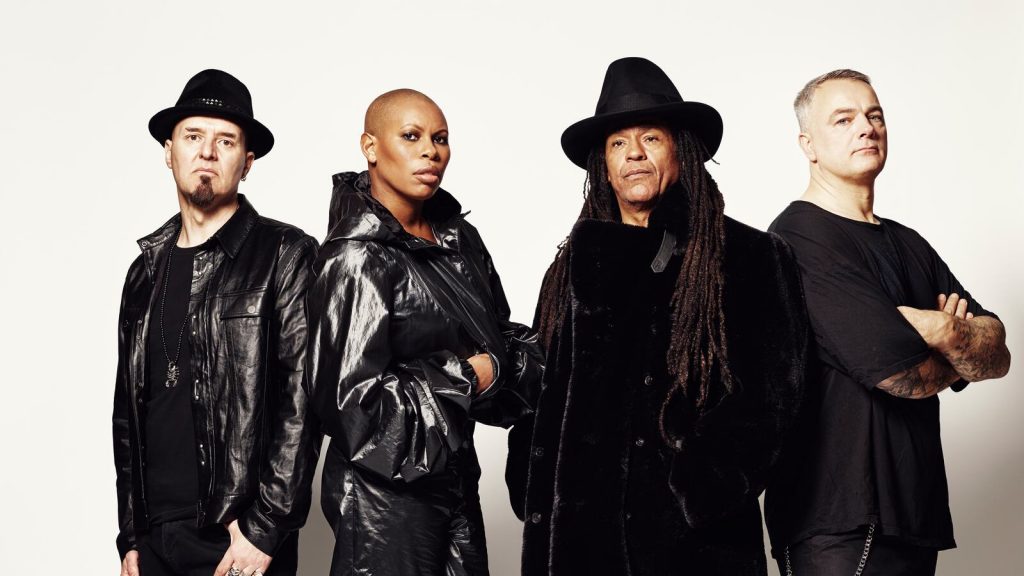 Skunk Anansie, whose electrifying sound delivered a shot of adrenaline to London's decadent 1994 music scene is as radical as ever. Their performance at Meltdown crowns an incredible 25th anniversary, marked with their most recent release: "25LIVE@25" – the 25 greatest songs from their six studio albums.
Their music slips effortlessly between the confrontational and the tender, the politically charged and the nakedly emotional, the upfront and attention-grabbing and the quiet and restrained.
Releasing debut album "Paranoid & Sunburnt" in 1995, swiftly followed by "Stoosh" and "Post-Orgasmic Chill", they sounded and looked like nothing that had come before them. And more than 25 years later, every other band is still playing catch-up.
Few bands inhabit the stage like Skunk Anansie. Their exhilarating live shows are a hurricane of energy, noise and personality, an exhortation to become part of something much bigger that's impossible to resist.
Skunk Anansie announced their new world tour:
UNITED KINGDOM Wednesday, June 17, 2020 NORWICH The Nick Rayns LCR, UEA
UNITED KINGDOM Friday, June 19, 2020 SHEFFIELD O2 Academy Sheffield
UNITED KINGDOM Saturday, June 20, 2020 BIRMINGHAM O2 Academy Birmingham
ICELAND Saturday, October 24, 2020 REYKJAVÍK Laugardalshöll
UNITED KINGDOM Monday, October 26, 2020 GUILDFORD G Live
UNITED KINGDOM Tuesday, October 27, 2020 LEICESTER O2 Academy Leicester
UNITED KINGDOM Wednesday, October 28, 2020 FOLKESTONE Leas Cliff Hall
FRANCE Friday, October 30, 2020 PARIS Casino de Paris
BELGIUM Saturday, October 31, 2020 ANTWERP Lotto Arena
NETHERLANDS Sunday, November 1, 2020 AMSTERDAM AFAS Live
GERMANY Tuesday, November 3, 2020 HAMBURG Sporthalle
GERMANY Wednesday, November 4, 2020 WIESBADEN Schlachthof
SWITZERLAND Thursday, November 5, 2020 LAUSANNE Les Docks
SPAIN Saturday, November 7, 2020 BARCELOÑA Sala Razzmatazz
SPAIN Sunday, November 8, 2020 MADRID La Riviera
PORTUGAL Monday, November 9, 2020 PORTO Porto Coliseum
PORTUGAL Wednesday, November 11, 2020 LISBON Lisbon Coliseum
SPAIN Thursday, November 12, 2020 SANTIAGO DE COMPOSTELA Sala Capitol
SPAIN Friday, November 13, 2020 BILBAO Santana 27
ITALY Sunday, November 15, 2020 MILAN Fabrique Milano
ITALY Monday, November 16, 2020 MILAN Fabrique Milano
GERMANY Tuesday, November 17, 2020 MUNICH TonHalle
CROATIA Thursday, November 19, 2020 ZAGREB Dom Sportova
POLAND Saturday, November 21, 2020 WARSAW Progresja Music Zone
POLAND Sunday, November 22, 2020 GDANSK Stary Manez
POLAND Monday, November 23, 2020 WROCLAW CK, A2
GERMANY Wednesday, November 25, 2020 BERLIN Columbiahalle
GERMANY Thursday, November 26, 2020 COLOGNE Palladium (Cologne)
UNITED KINGDOM Saturday, November 28, 2020 LINCOLN Engine Shed
UNITED KINGDOM Sunday, November 29, 2020 NOTTINGHAM Rock City
UNITED KINGDOM Tuesday, December 1, 2020 GLASGOW O2 Academy Glasgow
UNITED KINGDOM Wednesday, December 2, 2020 NEWCASTLE O2 Academy Newcastle
UNITED KINGDOM Thursday, December 3, 2020 LEEDS O2 Academy Leeds
UNITED KINGDOM Saturday, December 5, 2020 Cardiff University Great Hall
UNITED KINGDOM Sunday, December 6, 2020 BRISTOL O2 Academy Bristol
UNITED KINGDOM Monday, December 7, 2020 MANCHESTER O2 Victoria Warehouse
UNITED KINGDOM Wednesday, December 9, 2020 BRIGHTON Dome
UNITED KINGDOM Thursday, December 10, 2020 CAMBRIDGE Corn Exchange
---
Don't forget to follow our Spotify Playlist: