Armory, Saboter & Sacral Rage all together in Oldenburg, Germany
|
How often does it happen: in one and the same year (2018) you review the latest albums of three different bands, which you also like all three, and those three bands come over for a concert in your neighborhood all three together? Very rarely and if it happens, you want to be there. On Friday, March 8th, the Swedish band Armory and the Greek bands Saboter and Sacral Rage perform in record store MTS in Oldenburg, Germany.
The MTS – we've been there before – remains very special, because metal concerts are regularly held in a record shop. The disadvantage of this location is that the stage is small and the lights are also moderate, a bit dark, but the atmosphere between thousands of CDs and LPs has something.
Armory starts around 21.00, and the Swedes give full throttle with their thrash metal. It goes on for the full 45 minutes with some short rest points in some tracks. Of the last record, 'The search', six songs are played, and three from the debut album 'World peace … .cosmic war'. If you do not know their music or hardly at all, at a certain point in time you get the impression that quite a few songs start to look alike. Singer Konstapel also appears to sound a little bit flat live on stage, but over all a reasonable performance.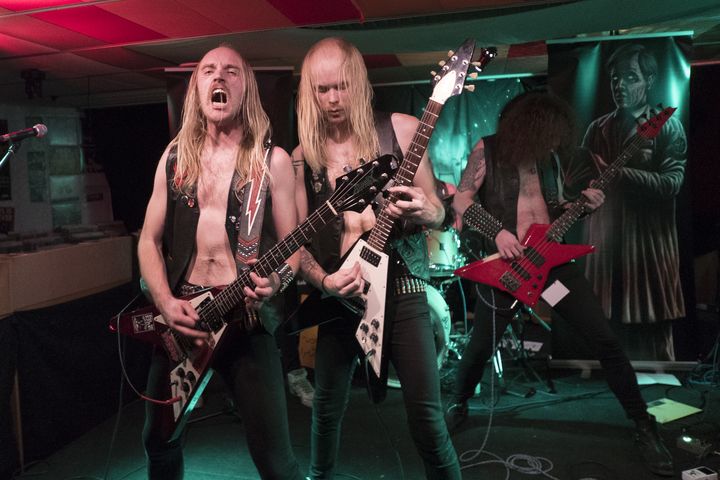 Just after 22.00 (all bands play on the same drum set, so a long conversion time is not necessary) Saboter comes on stage. Except for the drummer they all have red painted faces. Saboter plays seven songs, all from their second album 'Architects of evil', debut 'Mankind is damned' is not discussed. Despite the fact that the band has not performed for some time, the band comes across like a well-oiled machine and with a good sound it is enjoying their heavy metal in the style of Judas Priest, Manowar and Iced Earth. Striking is the theatrical performance of singer Antonis.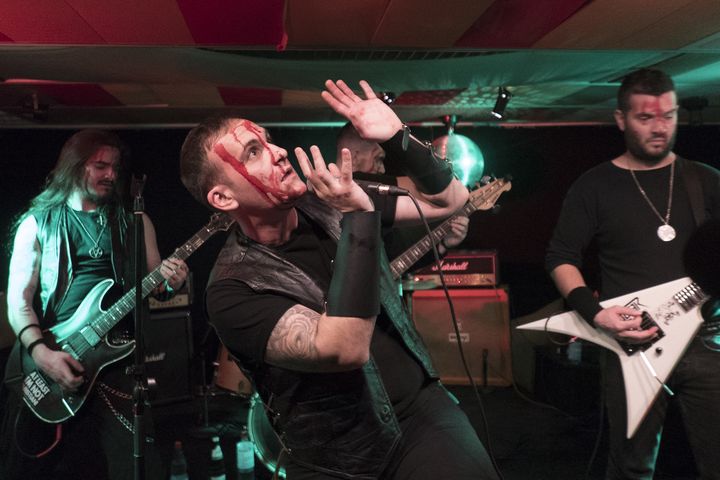 Closer to midnight is Sacral Rage and we wonder if they can perform their techno-thrash live just as well as on their albums. From their latest album 'Beyond celestal echoes' four songs are played, unfortunately not the great 'The glass', which is because the incumbent bassist can not (yet) played this very technical song. But also the first full-album 'Illusions in infinite void' and debut EP 'Deadly bits of iron fragments' are amply discussed. Live the band ortunately is just as good as on their albums, which is a great achievement given the many chilling vocals on the albums, and the fact they are on a mini-tour with a raid-bassist. Also for Sacral Rage the theatrical performance of singer Dimitris is striking, which sometimes seems almost maniacal.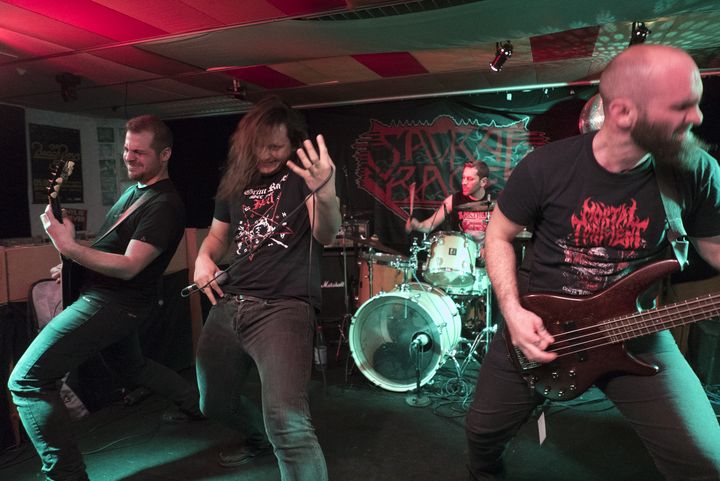 Unfortunately the mini-tour is limited to the head of Germany with, among others, Sunday March 10, performances of the same bands in Hamburg. It is to be hoped that certainly Saboter and Sacral Rage will come back for a slightly more extensive tour through Western Europe, as we can recommend to any metal fan.
Photos (c) Ronald van Bruggen
---
Don't forget to follow our Spotify Playlist: