Little Steven And The Disciples Of Soul Set To Get Underway Again In October
|
Just back from a European tour, Little Steven and the Disciples of Soul blew away audiences with their scorching concerts that included headline shows and stage-stealing festival performances across the United Kingdom, Germany, the Netherlands, Spain, Belgium, Ireland, and Norway. "There are some shows that reach up to another level altogether, and this was one of them. If you were at this gig, and didn't come out punch-drunk with enjoyment, and your face tired from smiling, then what the hell do you want from life?," exclaimed Blues Enthused about one of the much-talked about shows. "Playing a two and a half hour set of scintillating soul classics, deep cuts from his back catalogue and hot new songs from his most recent Soulfire album, he supplied maximum enjoyment to his dedicated fans," raved London's Express, adding, "if music is where everybody can find a common ground to share and enjoy their listening tastes, then tonight Little Steven produced a joyous connection to humanity with his Soulfire show." Hot Press enthused, "With a full brass section, Youngblood's Lowell 'Banana' Levinger on keys, Andy Burton doing his wizardly multi-instrumental thing and three of the funkiest soul sister singers to ever step outside of New York City, it really is a feast for the ears," before declaring it "a shoo-in for Club Gig of the Year."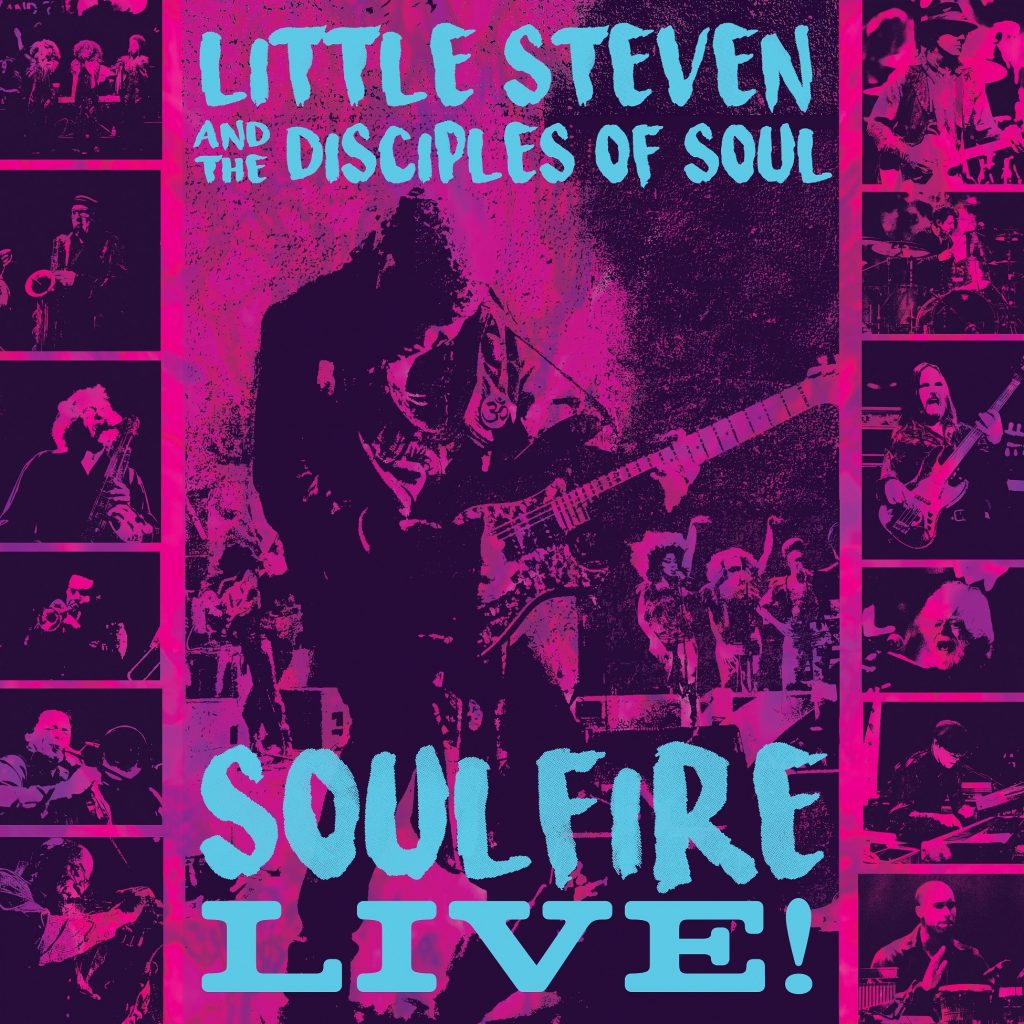 Little Steven and the Disciples of Soul will rev up again this fall to celebrate SOULFIRE LIVE! with the final leg of their Teacher Appreciation Tour, set to get underway this October. The tour will once again benefit TeachRock, Van Zandt's Rock and Roll Forever Foundation's national initiative to bring music curriculum into middle and high schools across the country. At each stop of the tour, teachers will get in free to the concert and TeachRock will host workshops before the show to educate teachers on how to implement music education into their classrooms.
SOULFIRE LIVE! follows last year's acclaimed release of Little Steven's sensational SOULFIRE, available now via Wicked Cool/Big Machine/UMe. The album is available as CD, digital download, and 180-gram black vinyl, the latter presented as a double LP housed in a gatefold sleeve with the music on Sides 1-3 and a unique etching of Little Steven on Side 4.
Stevie Van Zandt's first solo album in close to two decades, SOULFIRE is without question his purest and most uniquely personal artistic statement thus far. The album sees the Rock & Roll Hall of Famer revisiting songs that span the length of his career as artist, performer, producer, arranger, and songwriter, focusing directly on the hugely influential "soul horns-meet-rock 'n' roll guitars" approach he first pioneered on Southside Johnny and the Asbury Jukes' classic first three albums.
SOULFIRE quickly drew rapturous applause from fans and critics alike, with Rolling Stone declaring, "Rock's ultimate sideman reclaims the Jersey Shore sound he helped invent." "Cynicism, irony and cultivated hip detachment have taken their toll on rock 'n' roll," raved USA Today. "With SOULFIRE, Van Zandt aims to blow all that out and lead listeners back to its more passionate essence." "It's hard to imagine a more joyous and revelatory contemporary blue-eyed soul recording," enthused American Songwriter. "The appropriately titled SOULFIRE is a tough, tight and clearly inspired project as well as a most welcome return from the musical shadows for Steven Van Zandt." SOULFIRE "hearkens back to Van Zandt's classic first solo album of gritty, greasy, horn-accented '60s-style rock and soul," noted Billboard, while Paste proclaimed, "Rockier than Motown or the Sound of Philadelphia, this a joyous invitation to live and love."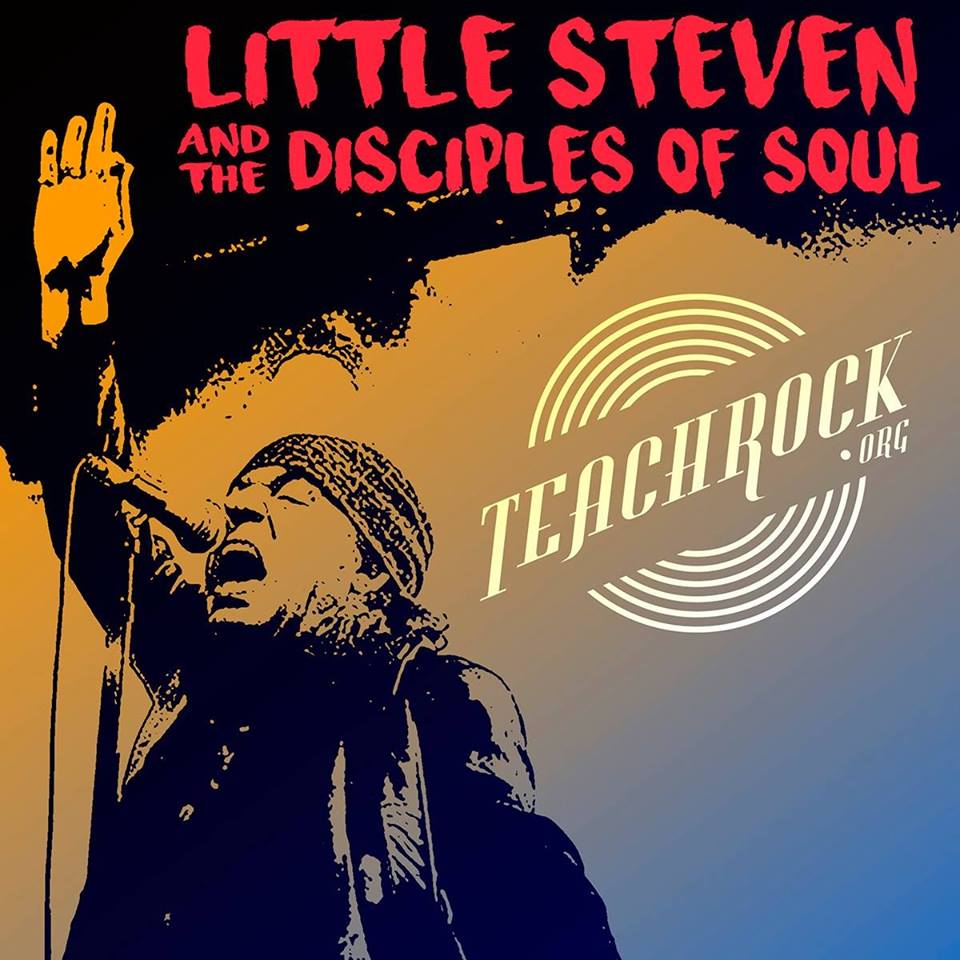 SOULFIRE was arranged and produced by Van Zandt at his own Renegade Studios in New York City, co-produced and recorded by GRAMMY® Award-winner Geoff Sanoff (Fountains of Wayne, Stephen Colbert) and co-produced and music directed by guitarist Marc Ribler. The album was mixed and mastered by Van Zandt's career-long collaborators and friends Bob Clearmountain (Rolling Stones, David Bowie, The Who, Bryan Adams), and Bob Ludwig (Led Zeppelin, Nirvana, The Band, Sly and the Family Stone).
Little Steven Van Zandt is of course known around the world for his utterly personal songwriting and an ambitious adventurousness that has fueled much of his creative output these past two decades. In addition to his ongoing role as a touring and recording member of The E Street Band, he has also expanded his artistic parameters to include landmark work as an actor on The Sopranos and Lilyhammer as well as host, historian, and rock 'n' roll advocate on Sirius XM's one-and-only "Little Steven's Underground Garage" (not to mention creator of Sirius XM's long-running "Outlaw Country" format). Van Zandt has also expanding his musical boundaries to include composing the score for all three seasons of Lilyhammer and additional work as producer and songwriter, lending his distinctive craft to records from an array of international garage rockers.
LITTLE STEVEN AND THE DISCIPLES OF SOUL: SOULFIRE TOUR 2018
OCTOBER
18 – Wilkes-Barre, PA – Kirby Center
20 – Rochester, NY – Kodak Theater
23 – Atlantic City, NJ – Hard Rock
24 – Munhall, PA -Carnegie of Homestead Music Hall
29 – Wabash, IN – Honeywell Center
31 – Milwaukee, WI – Pabst Theater
NOVEMBER
2 – Burnsville, MN – Ames Center
5- Chicago, IL – Copernicus Center
7 – Tulsa, OK – Club Brady
9 – Detroit, MI @ Detroit Music Hall
10 – Peoria, IL – Monarch
12 – Louisville, KY – Mercury Ballroom
14 – Columbus, OH – Newport Music Hall
16 – Cleveland, OH – Hard Rock
17 – Morgantown, WV – Metropolitan Theatre
---
Don't forget to follow our Spotify Playlist: