Joe Bonamassa premieres 'The Valley Runs Low' live video
|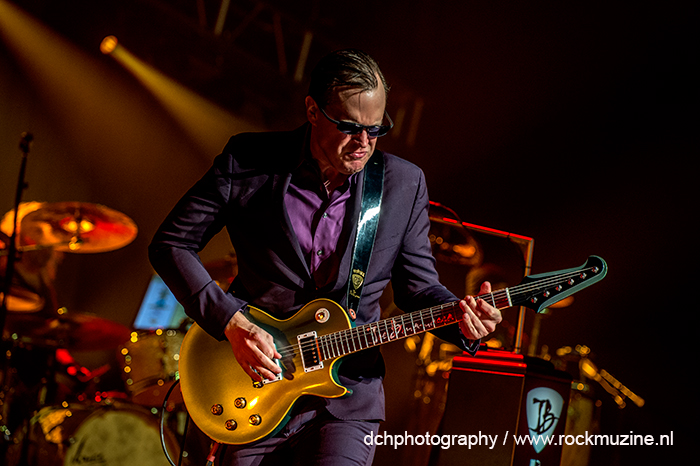 On January 21-22nd, 2016 world-renowned platinum-selling and Grammy nominated blues-rock singer-songwriter and guitarist Joe Bonamassa performed two unique all-acoustic shows at the iconic Carnegie Hall in New York City.
Both performances were filmed and made into "Joe Bonamassa Live At Carnegie Hall – An Acoustic Evening", which will be released on CD, DVD, Blu-ray and Vinyl.
To celebrate the release of this extraordinary album including new arrangements of favourite songs as well as brand new, never-before-heard songs, Joe Bonamassa premieres the acoustic video of him performing "The Valley Runs Low" live at Carnegie Hall.
Bonamassa comments: "Despite being among the most ambitious things I've done – I played with a 9 piece acoustic band – It came out great. It was a typical Joe freak show."
The line-up is completed with Reese Wynans (piano), Anton Fig (Drums) Eric Bazilian (mandolin, hurdy-gurdy, saxophone, acoustic guitar, vocals), and three Australian backing vocalists, Mahalia Barnes, Juanita Tippins and Gary Pinto.
"JOE BONAMASSA LIVE AT CARNEGIE HALL – AN ACOUSTIC EVENING" – TRACKLISTING
1. This Train
2. Drive
3. The Valley Runs
4. Dust Bowl
5. Driving Towards The Daylight
6. Black Lung Heartache
7. Blue And Evil
8. Livin' Easy
9. Get Back My Tomorrow
10. Mountain Time
11. How Can A Poor Man Stand Such Times And Live
12. Song Of Yesterday
13. Woke Up Dreaming
14. Hummingbird
15. The Rose
---
Don't forget to follow our Spotify Playlist: