Weezer To Reissue First Six Albums On Vinyl
|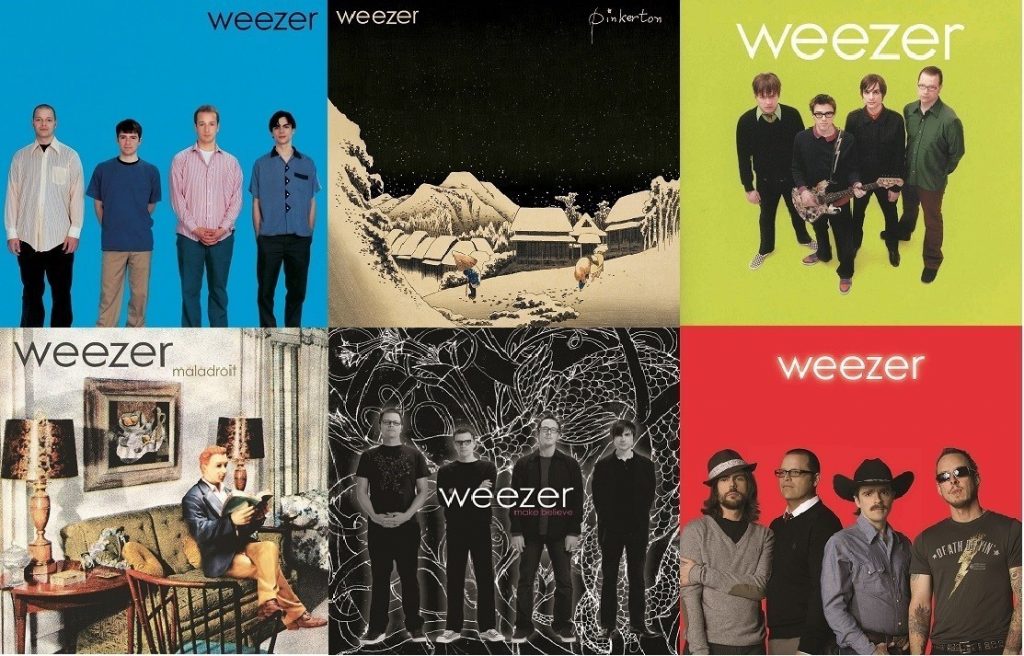 Few bands emerged as fully formed as Weezer, the Southern California band that would quickly shake the world with its reimagined vision of rock 'n' roll. With 17 million albums sold worldwide, and two LPs on Rolling Stone's list of most influential ever made, the L.A. quartet helmed by singer-guitarist Rivers Cuomo proved to be as popular as they are pioneering. Weezer's music continues to shape the sound of rock to this day, well after the release of its first album, the triple-platinum Weezer (The Blue Album), one of rock's most auspicious debuts.
Geffen/UMe is reissuing Weezer's first six albums on standard 140-gram vinyl on October 28. The quartet's incredible run of Geffen Records releases – 1994's Weezer (The Blue Album), 1996's Pinkerton, 2001'sWeezer (The Green Album), 2002's Maladroit, 2005's Make Believe and 2008's Weezer (The Red Album) – helped redefine the genre, mixing guitar hooks with a sense of geek-smart humor that radiated into the band's popular live act and multitude of cutting-edge videos and visuals.
The news comes two days before Weezer's dark, conflicted sophomore album, Pinkerton, celebrates its 20thanniversary on Saturday, September 24. Almost exactly 20 years later, the record has just been certified platinum in the US for sales of 1 million records.
Like all Weezer albums – including their critically-acclaimed newest, Weezer (The White Album), released this spring – the songs on these vinyl reissues truly speak for themselves; chances are, you already know quite a lot of them, from Maladroit's "Keep Fishin'" (whose video epically featured the band in an episode of The Muppet Show) to Weezer (The Red Album)'s "Pork and Beans" to Make Believe's Aughts-defining anthem "Beverly Hills," and more. These vinyl reissues serve as a brilliant refresher course for the story of band who are still making an indelible mark on music today.
WEEZER (The Blue Album) (1994)
SIDE A
1. My Name Is Jonas
2. No One Else
3. The World Has Turned And Left Me Here
4. Buddy Holly
5. Undone – The Sweater Song
6. Surf Wax America
SIDE B
7. Say It Ain't So
8. In The Garage
9. Holiday
10. Only In Dreams
PINKERTON (1996)
SIDE A
1. Tired of Sex
2. Getchoo
3. No Other One
4. Why Bother?
5. Across The Sea
SIDE B
6. The Good Life
7. El Scorcho
8. Pink Triangle
9. Falling For You
10. Butterfly
WEEZER (The Green Album) (2001)
SIDE A
1. Don't Let Go
2. Photograph
3. Hash Pipe
4. Island In The Sun
5. Crab
SIDE B
6. Knock-Down Drag-Out
7. Smile
8. Simple Pages
9. Glorious Day
10. O Girlfriend
MALADROIT (2002)
SIDE A
1. American Gigolo
2. Dope Nose
3. Keep Fishin'
4. Take Control
5. Death And Destruction
6. Slob
SIDE B
7. Burndt Jamb
8. Space Rock
9. Slave
10. Fall Together
11. Possibilities
12. Love Explosion
13. December
MAKE BELIEVE (2005)
SIDE A
1. Beverly Hills
2. Perfect Situation
3. This Is Such A Pity
4. Hold Me
5. Peace
6. We Are All On Drugs
SIDE B
7. The Damage In Your Heart
8. Pardon Me
9. My Best Friend
10. The Other Way
11. Freak Me Out
12. Haunt You Every Day
WEEZER (The Red Album) (2008)
SIDE A
1. Troublemaker
2. The Greatest Man That Ever Lived
3. Pork And Beans
4. Heart Songs
5. Everybody Get Dangerous
SIDE B
6. Dreamin'
7. Thought I Knew
8. Cold Dark World
9. Automatic
10. The Angel And The One
---
Don't forget to follow our Spotify Playlist: