Mariah Carey Announces Final Shows Of "#1 TO INFINITY,"
|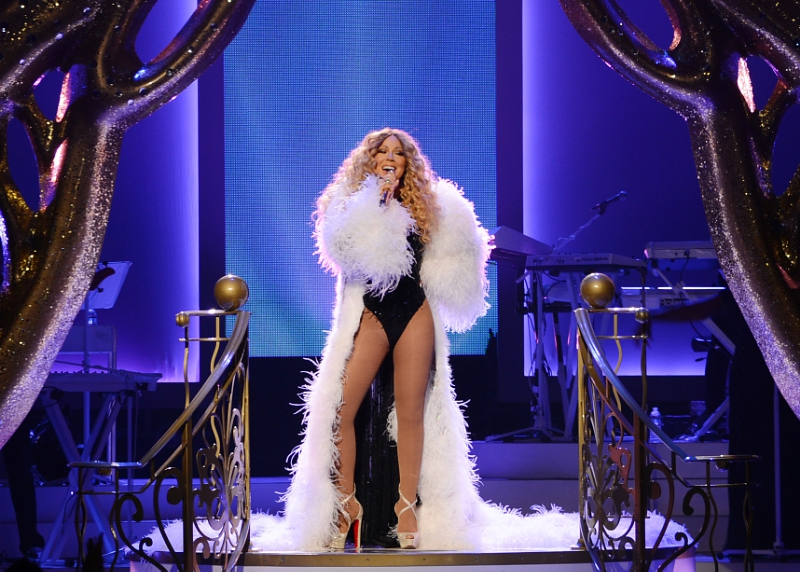 International music superstar, Mariah Carey, has announced the end of "#1 TO INFINITY", her first two-year Las Vegas residency at The Colosseum at Caesars Palace, with her final performance scheduled on May 13, 2017. Since its premiere in May 2015, "MARIAH #1 TO INFINITY" has been met with praise and acclaim from fans and critics alike. The final run of nine shows, April 26 through May 13, 2017, is on-sale now.
"Mariah is a phenomenal talent with ecstatic, global appeal," said John Nelson, Sr. Vice President of AEG Live Las Vegas. "We adore Mariah and are honored she has called The Colosseum home over the last two years. We look forward to working together again in the future."
"Over the past 50 years, Caesars Palace has served as home to the most iconic entertainers and we couldn't be more proud to have Mariah Carey as part of our rich history, " said Jason Gastwirth, Caesars Entertainment senior vice president of marketing and entertainment. "With each performance embodying a true Vegas spectacular, Mariah Carey reigns among the city's long roster of legendary talents."
The final "MARIAH #1 TO INFINITY" dates going on sale Friday, Sept. 23 at 12 p.m. P.T. are:
Apr.: 26, 28, 29
May: 2, 5, 6, 9, 12, 13
Tickets may be purchased in person at The Colosseum at Caesars Palace Box Office, by calling 866-320-9763, or online at thecolosseum.com or axs.com. Orders are subject to additional service charges and fees. Ticket prices are $250/$175/$140/$95/$55 (prices include 9% Live Entertainment Tax). Exclusive VIP experiences and packages are also available. For groups of 10 or more, call 866-574-3851. All shows are scheduled for 8:00 p.m.
"MARIAH #1 TO INFINITY," embodies the true meaning of Vegas glitz and glamour. Designed exclusively for The Colosseum, the breathtaking production features 18 of Mariah's timeless and beloved Number One Hits performed in chronological order taking fans on a spectacular journey through her life and career in an unforgettable evening. "Vision of Love," "Hero," "Fantasy," "We Belong Together" and "Touch My Body" to name a few, are among Mariah's 18 songs to reach #1 on the Billboard Hot 100 No. 1 singles (17 self-penned), a feat that has not been achieved by any other solo artist in music history.
Mariah Carey is the best-selling female artist of all time, with more than 220 million records sold. As a singer, songwriter and producer, Carey has been recognized with five Grammy Awards, 21 American Music Awards, and 14 Billboard Music Awards among myriad others. Her docuseries "Mariah's World" will premiere internationally this fall on E! and takes a look behind the scenes in her busy life. She has made substantial marks in film with critically acclaimed roles in Precious (2009), Lee Daniel's The Butler (2013) and last year Mariah made her directorial debut in A Christmas Melody, a special festive feature for Hallmark, in which she also starred. A Congressional Award recipient, Mariah has generously donated her time and energy to a range of philanthropic causes near to her heart including Save the Music, the Make-A-Wish Foundation, World Hunger Relief, and the Elton John AIDS Foundation, among many others. A tremendous supporter of children's charities, both domestic and international, Mariah founded Camp Mariah in partnership with the Fresh Air Fund, a retreat for inner city children to explore career development.
---
Don't forget to follow our Spotify Playlist: