AndersonPonty Band Feat. Music Icons Jon Anderson & Jean Luc Ponty To Tour North America
|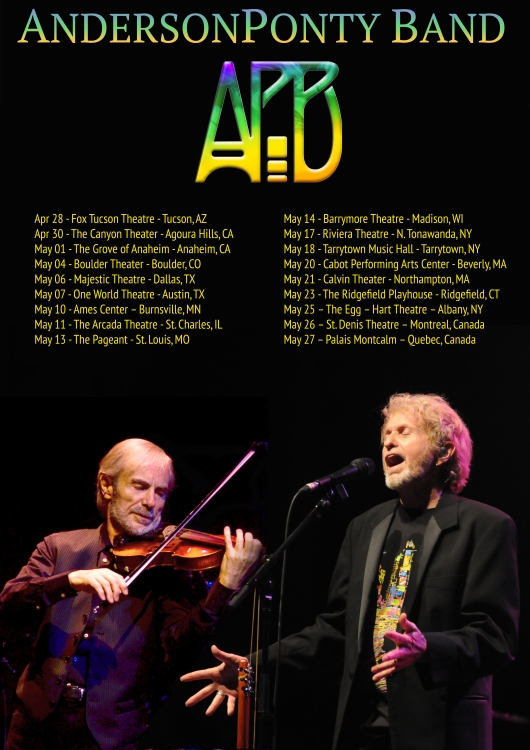 In support of their critically acclaimed CD/DVD release "Better Late Than Never", the AndersonPonty Band, featuring music icons Jon Anderson and Jean Luc Ponty, will be touring North America in Spring 2016! The band played a series of successful US dates in the Fall of 2015 and are excited to bring their music to the fans once again.
One of the most eagerly awaited releases of 2015, the AndersonPonty Band's "Better Late Than Never" features outstanding performances by the group from September 2014 at the Wheeler Opera House in Aspen, Colorado, as well as some innovative production.
Along with some breathtaking new musical compositions, "Better Late Than Never" also showcases rearrangements of classic YES hits like "Owner Of A Lonely Heart", "Roundabout" and "Wonderous Stories". The album also includes some of Jean Luc Ponty's beloved compositions, with Jon's lyrical vocals and melodies enhancing the music and creating a very special and unique sound such as "Infinite Mirage" a new song incorporating Jean Luc's classic tune "Mirage".
YES's original singer/songwriter for 35 years, Jon Anderson has had a successful solo career, which includes working with such notable music artists as Vangelis, Kitaro, and Milton Nascimento. International violin superstar Jean Luc Ponty is a pioneer and undisputed master of his instrument in the arena of jazz and rock. He is widely regarded as an innovator who has applied his unique visionary spin that has expanded the vocabulary of modern music. Together these two music legends have formed a musical synergy that is unparalleled!
"A breakthrough feeling came as I sang with Jean Luc's music, to be in a band again is very exciting on many levels, we will play and sing our way around the world and have fun, for music is pleasure, music is all that is." – Jon Anderson
"Collaborating with Jon who is such a creative singer/songwriter is unlike any project I have done before. I knew that we had plenty of musical affinities to make it work, but the result is way beyond my expectations. It is also a lot of fun to reunite with these excellent musicians who played with me in the past, they really put their heart in this project and with Jon's creative input we are not just rehashing the past but giving a new life to the music we started developing decades ago." – Jean Luc Ponty
The AndersonPonty Band also includes Jamie Glaser on guitars (Jean Luc Ponty, Chick Corea, Bryan Adams and Lenny White); Wally Minko on keyboards (Pink, Toni Braxton, Jean Luc Ponty, Tom Jones, Gregg Rolie and Barry Manilow); Keith Jones on bass (Airto, Santana, Kenny Loggins and Jean Luc Ponty); and Rayford Griffin on drums and percussion (Stanley Clarke Band, George Duke, Jean Luc Ponty and Michael Jackson). The band visit the music created by Jon Anderson and Jean Luc Ponty over the years with new arrangements, virtuosic performances and new energy.
Jean Luc Ponty was originally approached by Jon Anderson with the idea of working together as far back as the 1980's. Now 30 years later the dream has become a reality!