Superband The Jelly Jam release new album
|
The Jelly Jam will release their epic new album Profit on 27th May 2016. The Jelly Jam featuring Dream Theater's John Myung, Dixie Dreg's /Winger's Rod Morgenstein and King's X Ty Tabor, will return in 2016 with a new album and their first ever world tour.
Profit is a glorious and affecting cinematic experience; full of suspense, the record follows the heroic yet daunting journey of The Prophet who, inspired by a deep sense of responsibility embarks on a mission to try and save the world, to open the eyes of Those Who Will Not See.

When asked about collaborative efforts of The Jelly Jam guitarist Ty Tabor describes John as, "The forefather of the band," and enthuses that "Playing with Rod has been a lifelong dream. I was a huge fan of his right out of high school and The Dixie Dregs transformed my idea of what a band could do. Rod was a huge part of the insanity on all of those early Dixie Dregs albums. It's just a joy to get to play with him."
The band's first album The Jelly Jam was released in 2002, followed by 2004's The Jelly Jam 2. The members' work with Dream Theater, Winger and King's X kept the band away from the studio until the critically acclaimed Shall We Descend in 2011 marked a triumphant return for the trio.
Guitarist Ty Gabor's musical pedigree is vast. Not only has he produced The Jelly Jam's four albums, he wrote all three of King's X top ten songs that include 'It's Love', 'Black Flag', 'Dogman' and toured the world with AC/DC, Pearl Jam, Scorpions, Iron Maiden amongst others. Honoured by VH1 as one of Hard Rock's Top 100 bands, they were also included in the 1991 movie soundtrack to 'Bill & Ted's Bogus Journey' and their 1994 appearance at the Woodstock Festival was hailed by USA Today, The Daily Show's Jon Stewart and Howard Stern as the festival's highlight.
Bassist John Myung is a founding member of Dream Theater who have sold over twelve million albums worldwide. Dream Theater have won many awards including the Spirit of Prog Award from Classic Rock Magazine, and were inducted into the Long Island Music Hall of Fame in 2010. The band have 2 Grammy nominations, while 'Metropolis Pt. 2: Scenes from a Memory' was voted the #1 Progressive Rock Album of All Time by Rolling Stone, whose readers also voted Dream Theater as one of The Best Prog Rock Bands of All Time. John was also voted the Greatest Bass Player of All Time by Music Radar "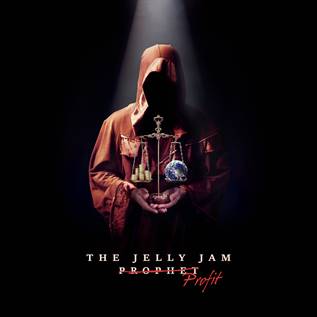 Drummer Rod Morgenstein began his illustrious career with The Dixie Dregs, who received 6 Grammy nominations, before becoming a darling of the '80s rock scene with Winger who achieved multiple chart topping singles including 'Seventeen', 'Headed For A Heartbreak' and 'Miles Away'. Rod has played with Platypus, The Steve Morse Band, Dream Theater's Jordan Rudess and is an Associate Professor at the prestigious Berklee College Of Music in Boston, Massachusetts. He has also been awarded Modern Drummer Magazine's Best Progressive Rock Drummer 5 years in a row, as well as the Best All-Around Drummer Award, and was inducted into the magazine's Honor Roll.
The Jelly Jam will support their latest album Profit with a full tour. As guitarist Ty Tabor explains, "This album is without a doubt the most special moment the band has ever had together and we must make touring real this year to support this album."
Guitarist Ty Tabor describes the album's concept as "a fight between progress and jobs at all cost and not thinking about any future payment that are going to have to be made." Adding further that, "Each Jelly Jam album is very different and we are most definitely discovering new ground. The first album was pretty straight ahead in its nature and vibe. The second album was more about the songwriting and had a very different feel. By the time we got to Shall We Descend, we were all at different musical places. It had more of a darker edge to it, but we finally realized that we had tapped in to something that was unique to us. There really is no Jelly Jam 'sound'. In order to make Profit the strongest album, we recorded a lot of excess music and chose songs that work together towards the general story idea. Musically and sonically we started experimenting a lot further than we had before. It stands on its own as an album beginning to end with a purpose. It's not just a bunch of songs thrown together. It's an entire journey through a story."
The Jelly Jam – Profit tracklist:
1. Care
2. Stain On The Sun
3. Water
4. Stop
5. Perfect Lines (Flyin')
6. Mr. Man
7. Memphis
8. Ghost Town
9. Heaven
10. Permanent Hold
11. Fallen
12. Strong Belief
Release: May 27, 2016
---
Don't forget to follow our Spotify Playlist: