Iggy Pop collaborates with Josh Homme for 'Post Pop Depression'
|
The existence of the sublimely secretive desert opus conceived by Iggy Pop and Joshua Homme was confirmed yesterday to an unsuspecting studio and home audience of The Late Show with Stephen Colbert.
And now the world at large can know: March 18 will see the release of Post Pop Depression (Rekords Rekords/Loma Vista/Caroline International), the 17th Iggy Pop album, and a worthy addition to the 22 album legacy spawned with the immortal trilogy of The Stooges, Fun House and Raw Power, spanning massively influential solo outings including 1977's opening 1-2 combo of The Idiot and Lust For Life, and 1990's gold-certified Brick By Brick.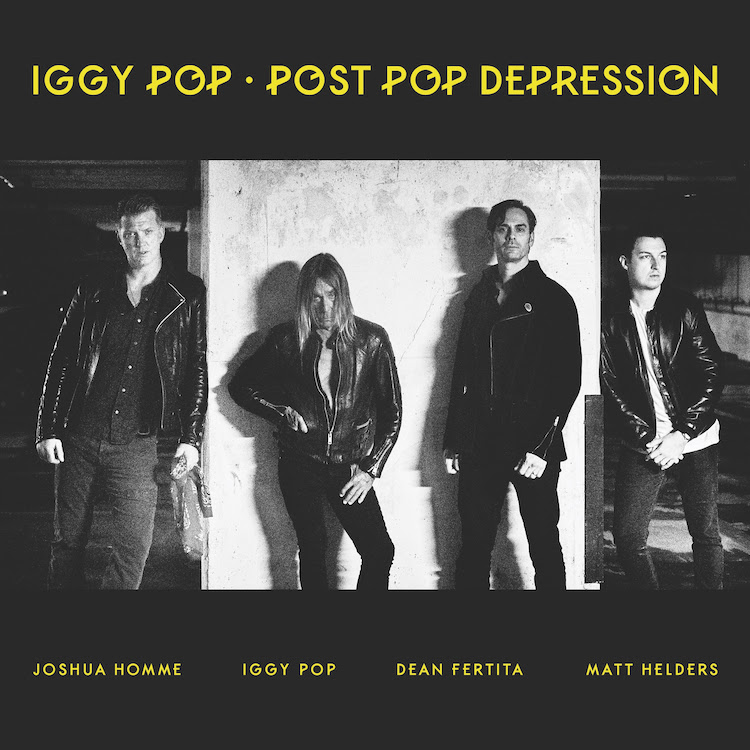 The first Iggy Pop album co-created with producer/guitarist/songwriter/multi-instrumentalist/bandleader Homme, Post Pop Depression began with a succinctly worded text from Iggy to Joshua, and was realized in seclusion with Homme's enlisted aid of his Queens Of The Stone Age bandmate and Dead Weather-man Dean Fertitia and Arctic Monkeys drummer Matt Helders. Both became instantly integral in creating and shaping the Detroit meets Palm Desert by way of old Berlin vibe of Post Pop Depression: Interweaving with and augmenting even more superhuman than expected Iggy vocal performances and Homme's tapestry of guitar, bass, piano and backing vox, Fertitia's talent for wringing the most out of only the most essential notes worked in seamless tandem with Helders' pushing himself and his new bandmates to unforeseeable heights and depths.
The result would be a timeless work, one that sounds as if it's always been there, has existed before any of the musicians were even born-yet imbued with the ramshackle energy of a garage band that threw itself together yesterday.
Post Pop Depression is now available for pre-order, with all pre-orders immediately receiving "Gardenia," debuted by Iggy, Joshua and crew on the Late Show. "Gardenia" is also available on all streaming platforms.
"I wanted to be free," recalls Iggy of the earliest germ of the partnership with Homme that culminated in Post Pop Depression. "To be free, I needed to forget. To forget, I needed music. Josh had that in him, so I set out to provoke an encounter-first with a carefully worded text, followed by a deluge of writings all about me. No composer wants to write about nothing. He got revved up and we had a great big rumble in the desert USA."
"This was to go where neither of us had gone before," adds Homme. "That was the agreement. And to go all the way."
Post Pop Depression is equal parts a dream come true for co-creator Homme as it is a record that defiantly takes its place in Iggy's storied discography alongside the twin towers of The Idiot and Lust For Life-two records and the mythic Berlin era of their creation canonized as much lyrically ("German Days") as sonically ("Sunday") on this new record. The album will be supported by a tour realizing Homme's ambition to assemble a live outfit worthy of both bringing the new album and doing justice to the gems and wreckage of the Ig's sprawling solo catalogue: The core band that recorded the album will be expanded by QOTSA's Troy Van Leeuwen and journeyman guitarist Matt Sweeney.
Post Pop Depression is a singular work that stands proudly alongside the best works of either of its principles, from The Stooges to Queens Of The Stone Age, bearing its creators' undeniable sonic DNA while sounding like nothing they've done before. It's a record that wouldn't exist without either Pop or Homme-and one that probably shouldn't in theory if you really think about it-but it does, and we and rock n roll are all the better for it.
---
Don't forget to follow our Spotify Playlist: