Apocalyptica brilliant in Amsterdam
|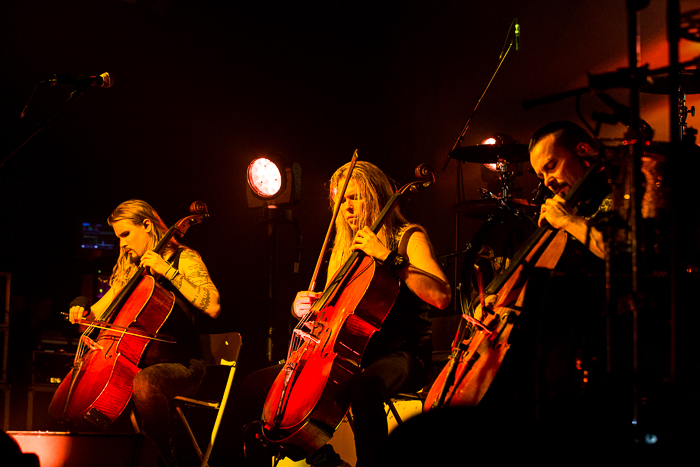 It's been a while since we've heard some news by Apocalyptica. Five years of relative silence (except of the Wagner Reloaded event, which barely fits into 'new' material per se). And then, the long-awaited new album 'Shadowmaker' was released and a European tour was announced. 23rd of October marked the return of Apocalyptica to Amsterdam in the Netherlands and the show was planned to hit the Melkweg. Tickets went on sale and slowly but steadily the concert got sold out. No wonder, to be honest, as typically Apocalyptica sells out venues quite bigger than the Melkweg. Australian stoner band 'Tracer' was the support of Apocalyptica. Quite a strange mix of styles, but as it turned out later on – it was worth seeing them live. The 3-man band played a 8 song set and nailed it perfectly. It was a decent warm-up, quite loud and lively, but unfortunately most attendees showed only a little sign of life. Well, maybe they were expecting Apocalyptica.
Soon after Tracer finished their gig it was time for the band of the night to make their appearance. It must be said that this tour was expected to be special in a way – it was the first tour with Franky Perez, the vocalist that actually recorded the last album of the band. Apocalyptica chose 'Reign of Fear' as the opener for today's event. An instrumental piece, quite in style of the band's works. This was showing the fact that even without vocals they kicked ass. It's almost a wonder they can produce a sound like this, with only cellos and drums. But it seems that without percussion they would still find a way to drum.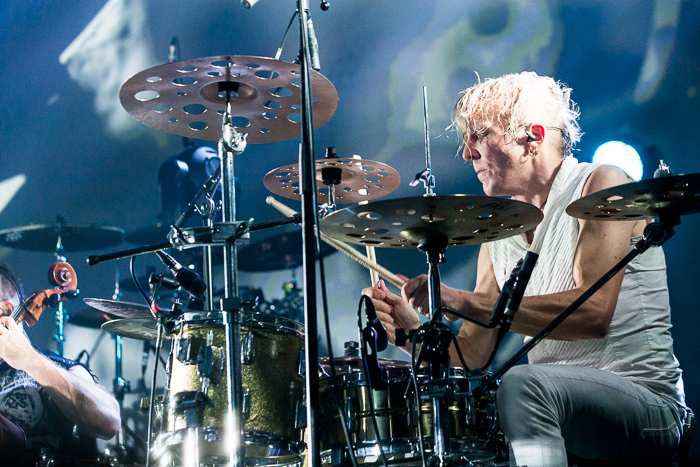 Then came a piece of older material, 'Grace', and it looks like it was chosen to get as loud as it could. The track is written by drummer Mikko and it seemed that the sound engineers paid courtesy to the author and maxed out the levels of the drum mics. The quite awaited moment arrived as Franky went out on stage for 'I'm not Jesus'. And while obviously Franky is not Corey Taylor – he nailed it perfectly. It quickly became clear that – live or not – Franky is nearly the perfect match for Apocalyptica.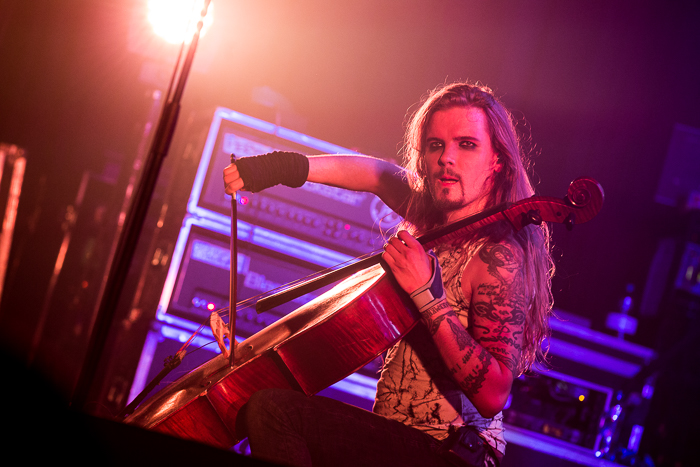 After 'House of Chains' started, the crowd was warmed up and more fans started to show signs of life. Just in time for 'Not Strong Enough', a classic from the '7th Symphony' album. It was time to remember the past and play some covers. Apocalyptica played instrumental covers of Metallica's 'Enter Sandman' and Sepultura's 'Inquisition Symphony' laid out violently and loud. How to play Sepultura with just the cello still escapes all understandings. With 'Bittersweet' and 'Harmageddon' it was all about the past. Nice impromptu by the cellists, with rhythm, bass and leading cello constantly changing places, it was a good showcase of equal skills.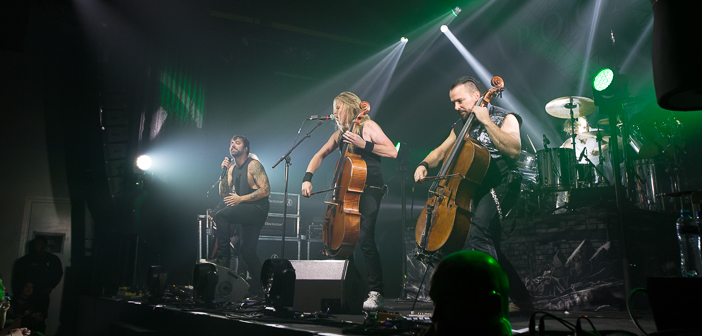 With 'Hope' it was time to hear some vocals again. And with Franky doing it his way – it lost a little bit of tragics present in that song and turned into more peaceful song. Well, it was fresh interpretation of the old song.
After rolling thunder of a drumming solo by Mikke, 'Riot Lights' kicked in with beautiful work of their light engineer. It is a wild composition from the new album, fast as hell, fading slowly away to the end to give a way to the title track of new album.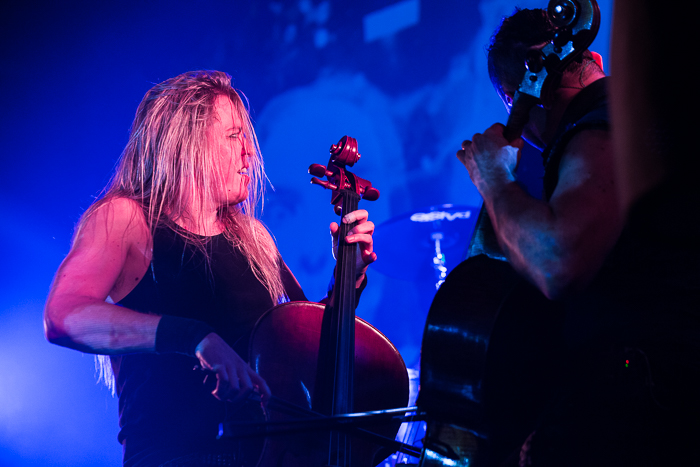 'Shadowmaker' got the madness to begin. An absolutely astonishing piece, craziness all over the stage, rolling and growling. The band gave it all during the instrumental part of the song. It couldn't be any better. Bit after such a blockbuster, the new lyrical poem 'Hole In My Soul' was a strange change of style. Quite a calm one after the storm, and a showcase of organically fitting vocals again was in place. The second part of the covers started with "The most homosexual song from Wagner", called 'Ludwig – Requiem' with wild projections of Wagner and the band going crazy at the background of the stage. It was quite a loud homosexual song, to be honest.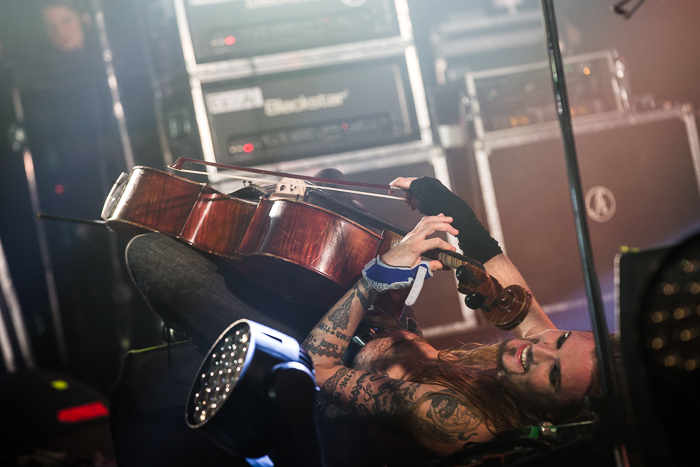 With another Sepultura cover 'Refuse/Resist' it became obvious that covering black metal would also be a possibility for Apocalyptica. Mindblowing how they made cellos sound like crazy guitars. More fans were taken into action by Metallica's 'Seek and Destroy' though. One of the cellists, Perrtu, was destroyed, as it seemed, lying on stage, breathless after slamming it all for the complete track. It would have been strange to hear Edward Grieg's classics, but, courtesy to the Netherlands, the Dutch anthem saved the situation. Nice, these gentlemen deserved stroopwafels.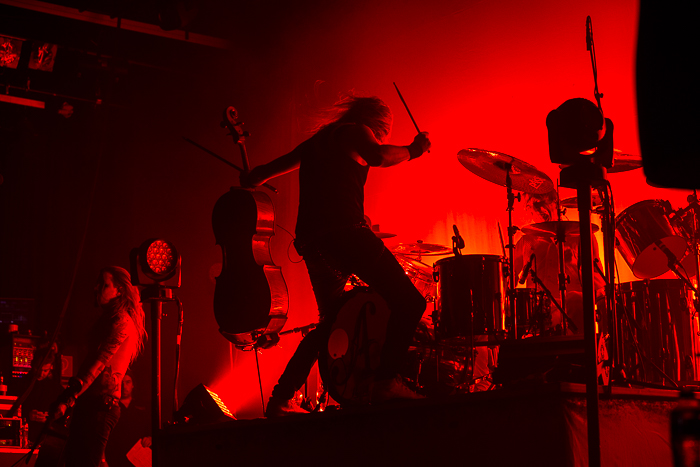 The end of the setlist, with bows and goodbyes, came and lights went out. But you can't trick experienced fans. The encore was well-designed, with the all-time favourite 'I Don't Care' starting it. Indeed, we couldn't care less that there was no Adam Gontier, as the new singer sang it perfectly, leaving the mood of this song untouched. The finale was the last track of new album called 'Dead Man's Eyes'. It was a very decent ending theme for such a thunderous event. Calm down, ladies and gentlemen, lights out.
Photo's (c) Sander Rijken
---
Don't forget to follow our Spotify Playlist: