A-HA continue Deluxe Edition series
|
Continuing an epic year for a-ha, the Norwegian trio marks the 25th anniversary of their fourth studio album East of the Sun, West of the Moon, with a series of remastered and expanded album reissues. Each reissue will feature the remastered original album, plus an additional disc of bonus content including demos, alternate versions and classic live performances. The sets are expanded further with new liner notes by renowned music journalist Kieron Tyler.
East of the Sun, West of the Moon will also feature a DVD of Live in South America, first released on VHS in 1993 and made available here on DVD for the very first time.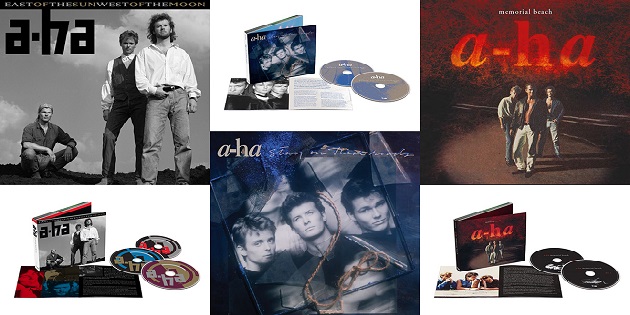 With nearly 50 previously unissued tracks across the three releases there is plenty to look forward to, including a selection of previously unheard gems with 'Umbrella,' 'I'll Never Find You In This Streetful City,' 'Thus Ended Our Love Affair,' and 'Evitar' newly issued on Stay On These Roads; 'Trees Will Not Grow On Sand' on East Of The Sun, West Of The Moon and 'Bar Room' on Memorial Beach.
TRACK LISTINGS
STAY ON THESE ROADS (DELUXE EDITION)
Disc 1
1. Stay On These Roads
2. The Blood That Moves The Body
3. Touchy!
4. This Alone Is Love
5. Hurry Home
6. The Living Daylights
7. There's Never A Forever Thing
8. Out Of The Blue Comes Green
9. You Are The One
10. You'll End Up Crying
Bonus tracks
11. Stay On These Roads (Extended Remix)
12. You Are The One (12″ Remix)
13. The Living Daylights (Extended Version)
14. The Blood That Moves The Body (Extended Remix)
15. Touchy! (Go-Go Mix)
Disc 2*
1. Stay On These Roads (Early Version)
2. The Blood That Moves The Body (Demo)
3. Touchy! (Original Mix)
4. This Alone Is Love (Demo)
5. You Are The One (Early Version)
6. Cold River (1987 Demo)
7. Hurry Home (Demo)
8. I'll Never Find You In This Streetful City (Demo)
9. The Living Daylights (Demo)
10. There's Never A Forever Thing (Demo)
11. Out Of The Blue Comes Green (Alternate mix)
12. You'll End Up Crying (Demo)
13. You Are The One (Alternate Version)
14. Touchy! (Demo)
15. Umbrella (Demo)
16. Thus Ended Our Love Affair (Demo)
17. There's Never A Forever Thing (Acoustic Version)
18. Evitar (Demo)
19. You Are The One (Demo)
20. Sail On My Love (Writing Session)
*All tracks previously unissued
EAST OF THE SUN, WEST OF THE MOON (DELUXE EDITION)
Disc 1
1. Crying In The Rain
2. Early Morning
3. I Call Your Name
4. Slender Frame
5. East Of The Sun
6. Sycamore Leaves
7. Waiting For Her
8. Cold River
9. The Way We Talk
10. Rolling Thunder
11. (Seemingly) Nonstop July
Disc 2
1. Early Morning (Early Version)*
2. East Of The Sun (Early Version)*
3. I Call Your Name (Instrumental Demo)*
4. Slender Frame (Demo)*
5. Waiting For Her (Demo)*
6. Cold River (Demo)*
7. Trees Will Not Grow On Sand (Demo)*
8. Rolling Thunder (Demo)*
9. I Call Your Name (NRK Live)*
10. Manhattan Skyline (NRK Live)
11. Early Morning (NRK Live)
12. Slender Frame (NRK Live)*
13. Rolling Thunder (NRK Live)*
14. Sycamore Leaves (NRK Live)*
15. Crying In The Rain (NRK Live)
16. East Of The Sun (NRK Live)
17. (Seemingly) Nonstop July (NRK Live)
18. I've Been Losing You (NRK Live)
* Previously Unissued
DVD a-ha – Live in South America
1. The Sun Always Shines On T.V.
2. Cry Wolf
3. I Call Your Name
4. Slender Frame
5. Touchy!
6. Scoundrel Days
7. Rolling Thunder
8. I've Been Losing You
9. Early Morning
10. Take On Me
MEMORIAL BEACH (DELUXE EDITION)
Disc 1
1. Dark Is The Night For All
2. Move To Memphis
3. Cold As Stone
4. Angel In The Snow
5. Locust
6. Lie Down In Darkness
7. How Sweet It Was
8. Lamb To The Slaughter
9. Between Your Mama And Yourself
10. Memorial Beach
Bonus tracks
11. Move To Memphis (Extended Mix)
12. Angel In The Snow (Acoustic Instrumental)
Disc 2*
1. Dark Is The Night For All (Demo)
2. Cold As Stone (Demo)
3. Angel In The Snow(Demo)
4. Locust (Demo)
5. Lie Down In Darkness (Demo)
6. How Sweet It Was (Demo)
7. Bar Room (Demo)
8. Lamb To The Slaughter (Demo)
9. Between Your Mama And Yourself (Demo)
10. Memorial Beach (Demo)
11. Dark Is The Night For All (Alternative Version)
12. Swing Of Things (Live March 17, 1994 at The Sentrum Scene/ Oslo,Norway)
13. Dark Is The Night For All (Live March 17, 1994 at The Sentrum Scene/ Oslo,Norway)
14. Move To Memphis (Live March 17, 1994 at The Sentrum Scene/ Oslo,Norway)
15. Cold As Stone/Sycamore Leaves (Live March 17, 1994 at The Sentrum Scene/ Oslo,Norway)
16. Shapes That Go Together (Live March 17, 1994 at The Sentrum Scene/ Oslo,Norway)
*All tracks previously unissued
---
Don't forget to follow our Spotify Playlist: