Funk Quartet Rock Candy Funk Party to Unleash "Groove Is King"
|
On July 31, funk and jazz band Rock Candy Funk Party (RCFP) will release their sophomore studio album Groove Is King, an aural kaleidoscope that mashes up funk, rock, dance, electronica, jazz and R&B into 14 original tracks and 2 covers full of space, texture, and virtuoso musicianship. Included is a bonus DVD with over 50 minutes of in-studio footage.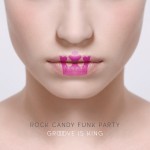 Powered by a lineup of world-renowned players, the group came together for the sheer fun of making music—and a mutual love of genre-blurring grooves, they are: album producer Tal Bergman (drums), Joe Bonamassa (guitar), Ron DeJesus (guitar), and Mike Merritt (bass).
Groove Is King —due out on Bonamassa's independent label, J&R Adventures— was recorded at Tal Bergman Studios in Los Angeles, California. Unlike RCFP's debut album We Want Groove (2013), which tipped its hat to Miles Davis' classic 1982 live instrumental LP We Want Miles, Groove Is King pulls away from the jazz-funk sounds of the first album into a modern sound, with focused compositions and arrangements and a slick production. "This time around, the concept was less jazz and more modern dance with layered grooves. The rhythm section laid the foundation and then we'd add in strings, synths and an incredible horn section, all while keeping it funky," says DeJesus.
Also new to this album are horn arrangements by Grammy-winning trumpeter Randy Brecker, and contributions from Daniel Sadownick (percussion), James Campagnola (saxophone), Ada Rovatti (saxophone), and Fred Kron (keys). Renato Neto, who played on RCFP's debut album, joins the lineup again on keys while ZZ Top's Billy Gibbons lends his trademark growl to the album as the master of ceremonies aka "Mr. Funkadamus." Together, these players weave into the mix heavier dance beats, rock, and pure unadulterated funk, citing influences such as Daft Punk, the Brecker Brothers, Mark Ronson with Bruno Mars, Massive Attack, Sade, Prince, and Led Zeppelin.
These influences can be heard in many of the tracks, including the more rock-driven "Don't Funk With Me" and "Uber Station," a couple of tight, funky tunes punctuated with horns that recapture some of that classic Brecker Brothers sound, while "Low Tide" and "Groove Is King" feature a more stripped down, guitar-driven funk. "There was a definite intention of making tracks that are danceable," said Merritt about "Don't Be Stingy With The SMPTE," "C You On The Flip Side," and the EDM mash-up "The Fabulous Tales Of Two Bands," which has traces of Prodigy's 1997 hit "Firestarter." "East Village" and "The 6 Train To The Bronx" both feature a cool, relaxed jazz feel while "Cube's Brick" has a world music groove reminiscent of Weather Report; a funky yet ethereal treatment can be found on a re-imagining of Peter Gabriel's "Digging In The Dirt."
RCFP grew out of Bergman and DeJesus' 2007 instrumental album Grooove Vol. 1, and subsequent live dates at L.A.'s storied jazz spot The Baked Potato. They encouraged other musicians to jam with them, including Merritt and Neto, who joined the line-up early on. Bonamassa made his RCFP debut in early 2012 during one of his rare breaks from the road when Bergman—who has toured with the guitarist—invited him to sit in on a pair of gigs.
To celebrate the release, RCFP will play two exclusive shows each night on July 24 and July 25 at 9:30pm and 11:30pm at The Baked Potato (3787 Cahuenga Boulevard, Studio City, CA 91604)
Groove Is King Tracklisting:
Introducing the Master of Ceremonies Mr. Funkadamus
Groove Is King
Low Tide
Uber Station
East Village
If Six Was Eight
Cube's Brick
And now a word from our find sponsors with Mr. Funkadamus
Don't Be Stingy With The SMPTE
C You On The Flip Side
Digging In The Dirt
Don't Funk With Me
The 6 Train To The Bronx
Rock Candy
Mr. Funkadamus thanks all the senors but especially the senoritas
The Fabulous Tales of Two Bands
---
Don't forget to follow our Spotify Playlist: