The Wombats (Melkweg – Amsterdam, 16-05-2015)
|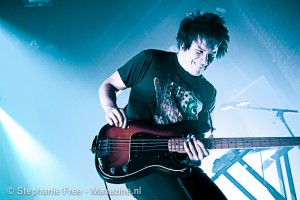 The boys are back after a long absence with a new record 'Glitterbug' thus with a new tour through Europe and the United States. For the concert in Amsterdam The Wombats brought two openingacts: Compny and Sundara Karma. 'Gently' swings from the first note and makes everybody dance, a good choise of Compny to start with this track. The voice changer gives several songs, like 'It All' something mysterious and the boys go with a bang with the last track 'Guitar is Home'. Screaming guitars and lots of energy. This is their first time in Amsterdam and I say they can come more often.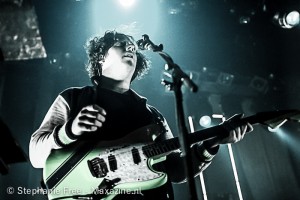 Sundara Karma is on second, but I don't think the Dutch audience is ready for this. It remains noisy when the band is on stage, a little tecnical problem with the bass, but they are ready to go when that is taken care of. Everybody is a bit surpriced about the singing and unfortunately not in a good way. It all sound good intrumentally, making it impossible not to move. The screeching guitars in 'Waves' shows us that they do know how to make music and the last song is a winner.
Finally it is time for what we came for.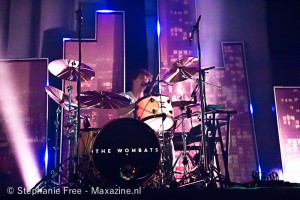 The first song The Wombats start with is on the new album Glitterbug, but for most of the fans an oldie. 'Your Body Is A Weapon' was released in 2013 because the record company was too enthusiastic about it we all can sing/jump along with the song. The Melkweg is shaking on the melodies of 'Moving To New York'. It is impossible not to be affected by the bassplayer Tord. Like a true punkrocker he is bouncing all over the stage with a big grin on his face. Although Murph is nog jumping like a madman, we can't notice any fatigue. Luckily the break in the afternoon worked.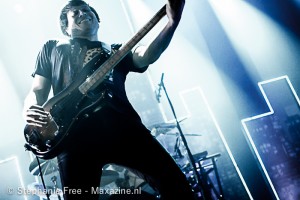 It is great to notice that The Wombats have an awesome fanbase in the Netherlands. 'Greek Tragedy' is instantly recognised by many and I can't help it, I have to sing along with this gorgeous song. This is the first single that is released after a long time and works extremely well. After this it is time for a song everyone can join in 'Laura'.
When Murph announces that they will play a complete new song we hear a mediocre cheer. On which he obviously says "You can get a little but more excited if you can" and he is completly right. Everybody listens attentively and take it all in. '1996' is another song that makes Tord jump all over the stage, the exhaustion afterwards is not that surprising. 'This Is Not A Party' is another track of Glitterbug that will be released soon and despite of the fact that no one knows this song it does make everybody dance and some even know the words at the end of the song. 'Headspace' is also a new track and like the title says some people are with their heads in the clouds. It is impossible to stand still.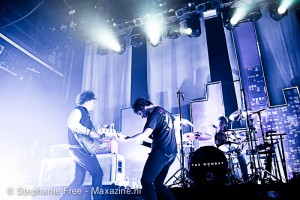 "Hopefully you know this song. Please feel free to go utterly insane" says Murph. The first notes of the keyboard are an instant cheermaker, the sounds of 'Tecno Fan' makes everybody scream, jumping is mandatory. It is by the way not a good idea to go to a Wombats concert if you have epilepsy, the flashing purple lights and a green skyline as a backdrop are very present. This is the first song a stagediver climbs on stage. According to Murph he is still going when the song is ended. 'The English Summer' is another new one and in aftermath of 'Techno Fan' even a mosh pit appears. Something the young girls don't always appreciate. The interaction between Murph, Tord and Dan are also nice to see, they really love to be on stage. Between the songs the men tell about experiences with other shows and according to drummer Dan there was a daredevil that jumped off the second or first balcony. Something not worth trying. After all the hustle and bustle it is time to take it a bit back. 'Little Miss Pipedream is according to Murph an oldie and obviously everybody sings along right away. you can tell that the men also like to play this song, because they now and then seem to be dreaming. We all can jump again when the guitars are back on stage for 'Kill The Director'. Magnificent to scream "This is no Bridget Jones" when the mic is pointed to the audience. 'Give Me A Try' is just released a week ago but already recognised by many and even the biggest fans know all the words. It is great to notice that they sing a long when the band is quit to listen to them all.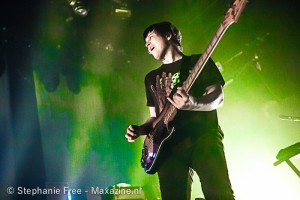 "When the smoke comes, you know this is gonna be epic" says Murph. And 'Tokyo' is definitely epic. The band is completely in tune with eachoter and know excactly when the intro needs to lead into the song. During this track a dude climbs on stage to give Murph a little kiss, too bad for him his dive wasn't that amazing. Ofcourse a girl also had to give the singer a hug.
When the men get back for the encore they are very pleased with the audience. "I don't know what is in the water in Amsterdam, you guys never let is down" says Murph. on which Dan replies "It is always a bit nerve wrecking playing new songs, but you guys have been amazing". 'Emoticons' en 'Let's Dance To Joy Division' are amazing songs to end this evening.
The record Glitterbug will be released in the UK on April 13th.
Photo's (c) Stephanie Free, Maxazine
If you want to see them live near you here is the tour schedule:
• MARCH 18 – BATSCHKAPP – FRANKFURT AM MAIN, GERMANY
• MARCH 19 – ALADIN MUSIC HALL – BREMEN, GERMANY
• MARCH 21 – POSTEN – ODENSE, DENMARK
• MARCH 22 – ROCKEFELLER – OSLO, NORWAY
• MARCH 23 – DEBASER STRAND – STOCKHOLM, SWEDEN
• MARCH 25 – GROSSE FREIHEIT 36 – HAMBURG, GERMAN
• MARCH 26 – ASTRA KULTURHAUS – BERLIN, GERMANY
• MARCH 27 – TONHALLE MÜNCHEN – MUNICH, GERMANY
• MARCH 29 – LKA-LONGHORN – STUTTGART, GERMANY
• MARCH 30 – E-WERK KÖLN – COLOGNE, GERMANY
• MARCH 31 – X-TRA – ZURICH, SWITZERLAND
• APRIL 2 – ORION – ROME, ITALY
• APRIL 3 – FABRIQUE – MILAN, ITALY
• APRIL 5 – ARENA WIEN – BEZIRK-LANDSTRASSE, AUSTRIA
• APRIL 8 – ACADEMY – BRISTOL, UNITED KINGDOM
• APRIL 9 – ACADEMY – MANCHESTER, UNITED KINGDOM
• APRIL 10 – ACADEMY – BIRMINGHAM, UNITED KINGDOM
• APRIL 11 – LEADMILL – SHEFFIELD, UNITED KINGDOM
• APRIL 13 – ACADEMY – LONDON, UNITED KINGDOM
• APRIL 15 – ACADEMY – OXFORD, UNITED KINGDOM
• APRIL 17 – BARROWLANDS – GLASGOW, UNITED KINGDOM
• APRIL 18 – ACADEMY – LIVERPOOL, UNITED KINGDOM
• APRIL 19 – O2 ACADEMY – NEWCASTLE UPON TYNE, UNITED KINGDOM
• APRIL 21 – LEE'S PALACE – TORONTO, CANADA
• APRIL 23 – UNION TRANSFER – PHILADELPHIA, PA
• APRIL 24 – HIGHER GROUND – BURLINGTON, VT
• APRIL 25 – THE MET – PROVIDENCE, RI
• APRIL 27 – WEBSTER HALL – NEW YORK, NY
• APRIL 28 – PARADISE ROCK CLUB – BOSTON, MA
• APRIL 30 – 9:30 CLUB – WASHINGTON, DC
• MAY 1 – THE HOLLOW BAR – ALBANY, NY
• MAY 2 – MONTAGE MUSIC HALL – ROCHESTER, NY
• MAY 4 – THE A&R MUSIC BAR – COLUMBUS, OH
• MAY 5 – DELUXE @ OLD NATIONAL CENTER – INDIANAPOLIS, IN
• MAY 6 – VARSITY THEATER – MINNEAPOLIS, MN
• MAY 8 – GRANADA THEATRE – LAWRENCE, KS
• MAY 9 – BLUEBIRD THEATER – DENVER, CO
• MAY 12 – LA FONDA THEATRE – LOS ANGELES, CA
• MAY 13 – HOUSE OF BLUES – SAN DIEGO, CA
• MAY 15 – CONSTELLATION ROOM – SANTA ANA, CA
• MAY 16 – THE FILLMORE – SAN FRANCISCO, CA
• MAY 18 – WONDER BALLROOM – PORTLAND, OR
• MAY 19 – THE CROCODILE – SEATTLE, WA
• MAY 20 – IMPERIAL – VANCOUVER, CANADA
• JULY 9 – NOS ALIVE 2015 – LISBON, PORTUGAL
• JULY 10 – T IN THE PARK – BLAIRGOWRIE, UNITED KINGDOM
• JULY 11 – T IN THE PARK 2015 – KINROSS, UNITED KINGDOM
• AUGUST 20 – FREQUENCY FESTIVAL – SANKT PÖLTEN, AUSTRIA
• AUGUST 28 – LEEDS FESTIVAL – LEEDS, UNITED KINGDOM
• AUGUST 29 – READING FESTIVAL – READING, UNITED KINGDOM
• AUGUST 30 – LEEDS FESTIVAL – LEEDS, UNITED KINGDOM
• SEPTEMBER 26 – ECHO ARENA – LIVERPOOL, UNITED KINGDOM
---
Don't forget to follow our Spotify Playlist: