Zöé : new album "Raise the veil" for entire streaming
|
A few months after unveiled its new album, "Raise the veil", for CD/Digital as a limited first shoot and then a worldwide release through Brennus Music, Zöé (70's hardrock vs modern stoner) unleashed a few days ago for full streaming on Bandcamp in addition to the long-awaited vinyl release.
Third full length effort by Zöé after "Make it burning" and "Dirty is a little sister", "Raised the veil" has been recorded by Olivier T'Servrancx at the Electric Box Studio (Glowsun) and then mastered by Göran Finnberg (In Flames, Meshuggah). In other news, after played on stage during the past years with bands like Lofofora, Nashville Pussy, The Lords of Altamont and some venues at BetizFest, Hellfest or Main Square Festival, the band is still spreading its rock'n'roll vibes on the road.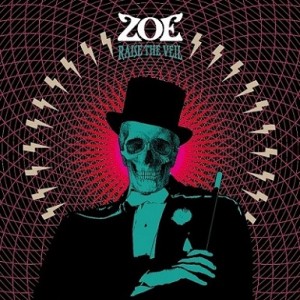 ZOE was born in the late 90's, in the North of France. Very soon, the rock musicians grind their set almost everywhere in the area, in front of public, a more and more enthusiastic one. They decide to attempt the first album; "Make It Burning" was born. A pure concentrated of stoner rock n roll with hard rock seventies influences, an improbable meeting between Motorhead and Queens Of The Stone Age. It is a success greeted by the specialist publications. To defend this first album, Zoe 's guys left on the road, for a marathon tour crossing among others France, Germany, Belgium, Switzerland, Spain, sharing the stage with bands such as Dio, Alice Cooper, The Bellrays, Lords Of Altamont, Loading Data, 7 Weeks, Tokyo Sex Destruction, Mudweiser, The Datsuns…
Three years later, ZOE raises the bar with its second album, "Dirty Little Sister". Olivier T'Servrancx of Electrik Box studio knew how to listen to the band and to retranscribe the live sound which ZOE delivers in every gig and which makes drunk us until the rock and roll trance. About the artwork, this time, ZOE 's members have called for Cap'tain Nico, a dabbler illustrator and graphic designer who has hoisted paintings for exuberant iconographic adventures for more than 20 years.
For this stopover, he throws the ink of a lively and sharpened line, and packs 12 powerful titles of "Dirty Little Sister" by creating a protean-dressed and fold out jacket, pushing away the limits of the CD format to let spread and expose itself a hybrid and (almost) mythological creature, a kind of fascinating "curvaceous octopus bad girl" whose threatening tentacles slam such as excited whips! "Dirty Little Sister" (Brennus Music) pushes the nail, always energetic, sincere. Then the band took the opportunity to cross guitars with Nashville Pussy, Sepultura, Bukowski, Lofofora and get the road of the festivals (Main Square fest, BetiZ fest, Raismes fest, Hellfest…).
---
Don't forget to follow our Spotify Playlist: