Japan label to release Teus Nobel's Legacy
|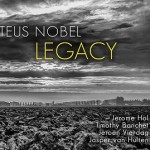 Jazz trumpeter Teus Nobel latest album Legacy (released in The Netherlands in December 2014), will now also be released on January 21, 2015 in Japan by P-Vine Records. This label had released albums by George Duke, John Scofield and Incognito and Dutch artists like New Cool Collective, Wouter Hamel and Gideon van Gelder. Japanese jazz critic and author Mitsuru Ogawa wrote the liner notes for the Japanese edition, which was also equipped
with new artwork.
'Legacy' is the successor of the debut album 'Flow' (2012). That album has put Nobel comfortably high on the ladder to international recognition as a jazz trumpeter. On 'Legacy' he honors each of his personal jazz heroes with a composition. No covers or imitations; on 'Legacy' Nobel and his new band play (with) the greats as Miles Davis, Roy Hargrove and Woody Shaw.
Besides the fixed band members Jerome Hol (guitar), Timothy Banchet (piano), Jeroen Vierdag (bass) and Jasper van Hulten (drums), 'Legacy' also features the participation of Ilja Reijngoud (trombone) and Ben van den Dungen (soprano sax).
---
Don't forget to follow our Spotify Playlist: