Ostrogoth loses guitarist Rudy 'Whiteshark' Vercruysse to cancer
|
On Saturday, January 3rd, 6PM local time, Ostrogoth guitarist Rudy 'WhiteShark' Vercruysse died peacefully at home, surrounded by family and close friends. Since last summer, WhiteShark fought an unfair fight against a too strong and invisible enemy, cancer. Together with drummer Mario 'Grizzly' Pauwels, 'WhiteShark' was the only band member to survive all the different line-up changes and to play on every single release, from 1983's 'Full Moon's Eyes' debut to the new 'Last Tribe Standing', scheduled for release on January 23rd.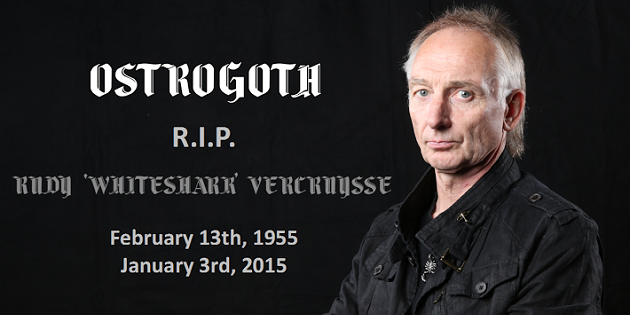 These past few weeks were like an emotional rollercoaster for the band. As they were preparing for their first release since 1987, they had to announce that guitarist WhiteShark was fighting liver cancer. Although the situation was very serious, there was initially an estimated life expectancy of two years. WhiteShark started chemotherapy in June of last year and was able to play the 2014 summer festival shows, in between the many hospital visits. WhiteShark was also present for the recordings of 'Last Tribe Standing' last September and everyone was looking forward to a very busy schedule for 2015. But in recent weeks the situation escalated fast, and the cancer was getting more grip on WhiteShark's body. Early December, the doctors had to bring down drastically the earlier life expectancy of two years to "a few weeks".
On December 6th, Sharky gave everything he had to put on a great show, when Ostrogoth played a sold out headline club show in Wippelgem, Belgium. It would be WhiteShark's last ever show with Ostrogoth.
Pragmatic and realistic as he was, WhiteShark had a scenario for the future from the day he was diagnosed with cancer. Ostrogoth never had to organize auditions to start looking for another guitarist. From day one WhiteShark told the rest of the band "I want that guy to be my successor… when the time comes". "That guy" was Geert Annys. In the '80s, Geert was part of Belgian bands Stainless Steel, Thunderfire and Universe and spent some time in Neo-Prophet several years ago, but he is best known for his work on the debut album by melodic hard rock band Mystery.
So all scheduled live shows for 2015 will go ahead as planned, including Ostrogoth's first ever visit to the US, on May 1st, at Ragnarökkr Metal Apocalypse in Chicago.
Ostrogoth will release 'Last Tribe Standing', on January 23rd 2015, both on CD and vinyl, through Belgian cult label Empire Records. 'Last Tribe Standing' is the first official Ostrogoth release since 1987 and features the current line-up that has been active since their return at Germany's Keep It True Festival, back in 2012. 'Last Tribe Standing' will feature four new songs and the four songs from the legendary 'Full Moon's Eyes' EP, in a 2014 live version, the way the current line-up plays these songs today. Old and new gathered in one. 'Last Tribe Standing' was produced by guitarist Dario Frodo and mixing technician Pete Mush and mastered by Jacob Hansen (Volbeat, Epica, Amaranthe, Evergrey, Pretty Maids).
---
Don't forget to follow our Spotify Playlist: