Iconic Rock Legends Foreigner Set To Release 'The Best Of Foreigner 4 & More' On December 16th
|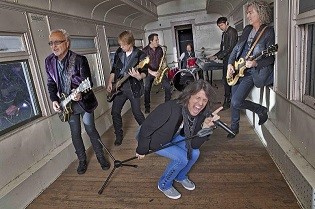 Foreigner–Mick Jones (lead guitar), Kelly Hansen (lead vocals), Jeff Pilson (bass, vocals), Michael Bluestein (keyboards), Tom Gimbel (rhythm guitar, sax, vocals), Bruce Watson (guitar) and Chris Frazier (drums) — is universally hailed as one of the world's most popular rock acts with a formidable arsenal of hit songs that continue to propel sold-out tours and album chart action. Now their latest album, "The Best of Foreigner 4 & More," is due out December 16th on Sony Music/CMG. This new collection includes brand new live high-definition recordings of songs from one of their most beloved albums, '4.'
'4' spent more weeks at #1 on the Billboard charts than any artist in the history of Atlantic Records, including AC/DC, The Rolling Stones and Led Zeppelin, and went on to sell more than nine million albums worldwide. The band re-recorded their most enduring anthems at the Borgata Hotel's Music Box venue in Atlantic City, NJ on October 3rd & 4th, 2014. The set features some of rock's best-known hits including "Feels Like The First Time," "Cold As Ice," "Hot Blooded" and Foreigner's iconic ballad, "I Want To Know What Love Is," along with a selection of best songs from Foreigner '4,' such as "Waiting For A Girl Like You," "Juke Box Hero," and "Woman In Black."
Fans can check out an exclusive stream of "Juke Box Hero" on USA TODAY's website which went live earlier today.
"Our music has touched a lot of people worldwide and we've unwittingly weaved our music into the fabric of people's lives," says Foreigner founder/lead guitarist, Mick Jones. Also serving as executive producer of the new album, this Songwriters Hall Of Fame member wrote or co-wrote every Foreigner song.
"Great songs, great performances and great production are timeless. '4' has all three in spades," says bassist and producer Jeff Pilson. "Bringing the album to life on stage with the energy and passion the band has always maintained, made us very happy. We're thrilled to give people a chance to really reflect on what a great and classic album '4' truly is."
Singer Kelly Hansen adds,"The idea for this recording came as a way to celebrate the original album. There are some tracks that were never previously performed live in this format, and it's wonderful to be in a group with people who really 'get it' and understand how fortunate we are to be playing and performing such great material."
In June 2013, Mick Jones was inducted to the Songwriters Hall Of Fame. A multi-talented and multi-dimensional "musician's musician," he has also written songs such as "Bad Love" with Eric Clapton and "Dreamer" with Ozzy Osbourne, and he has produced records for Billy Joel ('StormFront') and Van Halen ('5150').
Here's the complete track listing for "The Best of Foreigner 4 & More":
Night Life
Woman In Black
Urgent
Waiting For A Girl Like You
Break It Up
Girl On The Moon
Say You Will
Feels Like The First Time
Cold As Ice
Hot Blooded
I Want To Know What Love Is
Juke Box Hero
---
Don't forget to follow our Spotify Playlist: