Damon Albarn (Royal Albert Hall – London, 15-11-2014)
|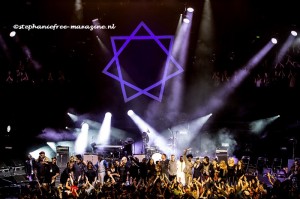 Damon Albarn brought with him many special guests for his two shows in the Royal Albert Hall in the weekend of november 15th 2014. The two shows are a milestone in his career as an artist now he is finally invited to play at the Royal Albert Hall. Albarn, who obviously enjoys every minute of his two hour show, makes the crowd go wild the minute he steps on stage. Wearing ripped jeans and Allstars sneakers Albarn obviously stands out from his bandmembers of The Heavy Seas. Who each are wearing a fitted suit for this evening.
After the openingtrack 'Spitting Out Of Demons', a B-side track from Gorillaz, we get to hear two songs from his solo record 'Everyday Robots'. Three violinists join the stage for 'Loney Press Play' and the titletrack. One would think that a huge venue like this would take away the intimacy of these ballads, but everybody is listning breathlessly at Albarn's voice.
"This is terrifying coming here" says Albarn during 'Slow Country'. "But we've decided it's just a really big pub". The first guests, Alef Bocoum and Kora player Toumani Biabaté, arrive on stage after 'Kids With Guns' and 'Three Changes'. "We're going to travel a bit" announces Albarn. They play a couple of songs of the 'Mali Music' record from 2002. "It's so wonderful to see Afro music in the Albert Hall, really. For me it's amazing" says an emotional Albarn after the songs 'Bamako City' and 'Sunset Coming On'.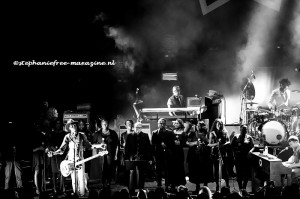 The setlist goes on with some Gorillaz songs, 'El Mañana' and 'Don't Get Lost In Heaven', as well as some Blur songs 'Out Of Time' and "All Your Life'. Meanwhile Albarn often shows his gratitude to be able to play at the Royal Albert Hall and he also apologises for the fact that the people seated behind him has to look at his back most of the show. He asks the audience for a big round of applause for the RAH "this rediculously incredible, spiritual place. Giving people so much amazing music over the years".
After a short break Albarn reappears on stage with his good friend and Blur bandmate Graham Coxon. 'End Of Century' is played acoustically with Graham on the guitar, Albarn on the organ and a trumpeter. The next song 'The Man Who Left Himself' is a gorgeous surprise. Albarn tells the audience that they will play a song that has never been played live before and that he can't remember for what song this would have been the B-side track. Coxon adds "this is probably something from the mid to late 90's". The quick reply from Albarn "oh our difficult period" makes everybody laugh. Ofcourse we all wait for Blur's song 'Tender'. "It's just a sing along from now on" and Albarn let's the Leystone choir join the stage. This choir is from the same neighborhood Albarn grew up and where he got most of his inspiration for his solo record.
The second interval and last encore starts when De La Soul is introduced to play 'Feel Good Inc' by Gorillaz in it's original version. Mc Maseo askes the audience to be silent. The audience goes mental and starts to jump up and down when his evil laughter fills the room. The London rapper Kano joins the stage for the next Gorillaz song 'Clint Eastwood'.
The 130 minute show ends with a song of Albarn's solo record 'Heavy Seas Of Love'. On this record the verses are song by Brian Eno who also happens to be the last guest of the evening. "The next person has been a huge influence for me an he's not usually seen in public places like this" announces Albarn. This encore is very special when you realize that Eno rarely sings and usually only intrumental music makes.
In conclusion. What should have been a modest seated concert has become a very energetic party filled with surprises and everybody off their seats. For the ones who want to experience these shows that's possible. Both nights are recorded by Abbey Road Studios and are available on record.
Translation from Dutch: Samantha Hol
Photo's (c) Stephanie Free
---
Don't forget to follow our Spotify Playlist: