Jimi Hendrix jams with Stevie Marco and the Rasta Rock Opera
|
The Jim Hendrix Foundation has endorsed the debut album of the Rasta Rock Opera titled "Respect and Love Revolution" as the most important musical score of this generation. As a preview to the upcoming Rock Opera release, a Hendrix style version of the Star Spangled by Stevie Marco, with Jimi Hendrix live footage superimposed, was released on YouTube on July 1st 2014. This stunning production by acclaimed director Brad Baerwald of Studio 51, Dunkirk Md., accompanied by entertainment photographer Teo Lee, has utilized the newest technology to merge the two epic performances into one.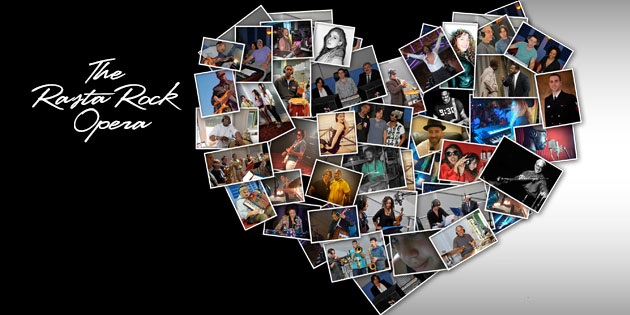 Film clips of Hendrix at the Monterey Pop Festival in 1967 where he lit his guitar on fire and smashed it, as well as live performances from Woodstock, Berkeley, and with the Band of Gypsy's are featured in this Epic film.
The soundtrack of the guitar performance of the Star Spangled Banner is all Stevie Marco as he appears opposite Jimi playing his version of our national anthem, "Hendrix style" in a glorious tribute to our country and the immortal Jimi Hendrix. Clips of drummer Mitch Mitchell also appear with Hendrix opposite Conrad Osipowicz on drums with Stevie Marco.
The "Respect and Love Revolution" album is to be released on the birthday of Jimi Hendrix, November 27th 2014 and consists of 11 compositions within 21 musical movements. The album took over 160 sessions to complete and was recorded at the Blue Room Music Studio in Bethesda Maryland.
"The upcoming release is going to ignite the youth with a new sound that has a positive message behind it," said Conrad Osipowicz who recorded and co-produced the Respect and Love Revolution Album with Stevie Marco.
Fifty one musicians including established stars like Cindy Blackman Santana, Joe Brotherton, Buster Williams, and violinist Karen Briggs join fresh new talent from around the globe in this modern day masterpiece.
"The music vibes are like Bob Marley met Jimi Hendrix," says Stevie Marco who is the primary composer and lead guitarist for the Rasta Rock Opera.
---
Don't forget to follow our Spotify Playlist: