Keith Urban Beats His Own Record At HSN With Second Successful Appearance
|
Four-time GRAMMY Award® winner and American Idol® judge Keith Urban returned to entertainment and lifestyle retailer HSN on Sunday, May 18 to sell more than 22,000 of his limited edition "Light The Fuse" and "Phoenix" URBAN guitar packages. The world renowned guitar-playing superstar bested his previous record of 20,000 guitars that was set during his sellout debut on HSN last November. Urban introduced his "Light The Fuse" guitar series on Sunday as part of his highly popular URBAN™ line of guitars that is found exclusively on HSN's multiple platforms including TV, online and via mobile.
In true Keith fashion, the music mega star took a moment from his record-setting day for a surprise impromptu jam session with adoring fan Tori Fuson at HSN's studios. The two posed for photos and Keith ended the session by autographing her URBAN guitar.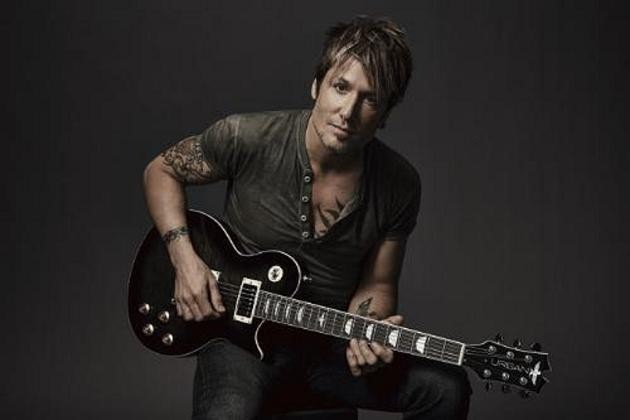 "Keith's ability to inspire people through music and encourage them to find their own song is simply amazing," said Joy Mangano, President of Ingenious Designs, an affiliate of HSN. "I am thrilled to congratulate Keith on yet another tremendous appearance on HSN and am excited to work with him on the next phase of this incredible musical journey."
The "Light The Fuse" limited edition series is inspired by Keith's hugely successful, chart-topping album FUSE and "Light The Fuse" tour that kicked off in 2013. The "Light The Fuse" Collection features two versions of the "Light The Fuse" guitar — all wood electric or acoustic-electric — and comes in five gorgeous flame maple burst color ways – Brazilian, Ebony, Brazilian Blonde, Cherry Red and Teal Burst. It is part of a 21-piece set that includes a powerful 15 watt amplifier; extra set of comfort coated strings; carrying case; signature guitar picks; and a double-lesson DVD. This DVD features Keith Urban as he personally walks you through one-on-one lessons. The complete package, with double-lesson DVD, is part of Keith's mission to bring music into the lives of others and "inspire and help you to discover the creativity that will set you on your musical journey."
Urban recently released his seventh studio album FUSE, which is his fourth #1 album. It marked the first time that ANY country artist has simultaneously debuted at #1 on the all-genre charts in the United States, Canada and Australia. Urban has sold more than 15 million albums. He's the first country artist to be named an American Idol judge and is a four-time GRAMMY Award winner. Urban has won a People's Choice Award and an American Music Award and has been nominated for a Golden Globe. He received three Academy of Country Music® Awards last month, bringing his total to twelve, and has had 16 No. 1 singles and five consecutive platinum or multi-platinum albums. In 2012, he became a member of the Grand Ole Opry.
---
Don't forget to follow our Spotify Playlist: