The briliant location of Brutal Assult Festival in Jaroměř, Czech Republic
|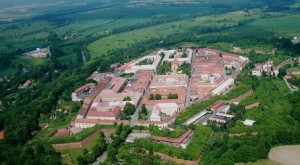 The 19th edition of the Brutal Assault Festival will be held from the 6th until the 9th of August 2014 in the Old Army Fortress Josefov in the Czech Republic. The festival location is a large historic defence complex of 18th-century military architecture, built between 1780-1790, in eastern Bohemia, Czech Republic by Emperor Joseph II on the left bank of the Elbe and Mettau rivers near Jaroměř. The two concert stages are built against the outer walls of this huge fortress. The fortress features extensive, three-story deep underground corridors formed in cretaceous rock, creating a labyrinth running for 45 kilometres (28 miles).
The Josefov fortress was originally named Pies, and only later, in 1793, was it renamed Josefov. In 1948 the fortress town was incorprorated into Jaroměř and today, both fortress and town, are part of a national conservation area preserving 18th century, military building trechniques and classicist urbanism.
The approximate capacity of the current location of Brutal Assault is 15,000 visitors. The change of location was a controversial issue with the organizers for several reasons. The historical fort is a unique place for performing extreme metal music and, more importantly, it is a much appreciated bonus for the performing bands. In comparison, many other rock or metal festivals in Europe take place on a field or an airport. The bands actually have part of their backstage area inside the fortress. Also, the political representatives of Josefov and Jaroměř have reacted very positively to the presence of the music festival, as have most of the local inhabitants. The festival provides an enormous economic opportunity for a couple of days each year.
The biggest extreme metal music festival Brutal Assult takes place here each August, with the music stages built against the outer walls. Metalheads from all over Europe occupy the fortress for three days each year.
Main source: Wikipedia
---
Don't forget to follow our Spotify Playlist: