Reading And Leeds Festival 2014 Announce Arctic Monkeys To Headline
|
It's shaping up to be a big summer for Reading & Leeds Festivals. Having already announced headliners Blink-182 in their only UK shows of 2014, as well as Jake Bugg, Disclosure, Metronomy, Of Mice & Men, Wilkinson and I Am Legion, even more names have now been revealed! Just announced to join the line-up are headliners Arctic Monkeys with an exclusive Festival headline set in England and Wales, Courteeners, The 1975, You Me At Six, SBTRKT, Warpaint, Netsky, Annie Mac, Royal Blood, Hozier,Architects, Issues, Pusha Tand Krept & Konanacross the weekend.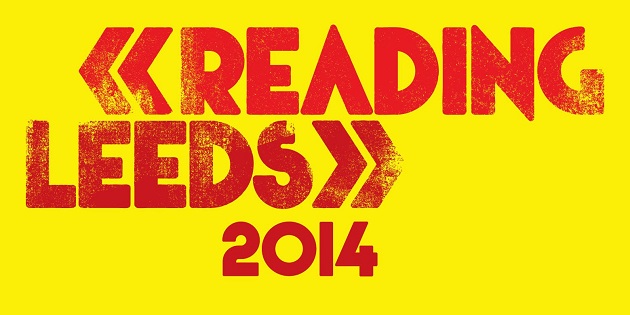 Reading & Leeds are thrilled to welcome global superstars and bonafide rock heroes Arctic Monkeys back to headline the Festivals this summer. Nominated for 'Best British Band' at the upcoming BRIT Awards and 'Best Live Band' at the NME Awards, they need no introduction to the Reading & Leeds audience. First performing on one of the smaller stages in 2005 prior to the release of their debut album 'Whatever People Say I Am, That's What I'm Not', they took their rightful place on the Main Stage in 2006, returning to headline the Festivals with an electrifying set in 2009. Voted as NME's 'Album of The Year' in 2013, 'AM' saw the band return more confident than ever, with hits including debut single and instant classic 'Do I Wanna Know?', 'Why'd You Only Call Me When You're High' and 'R U Mine?'. One if the most important bands of our time, and with Zane Lowe citing the band as 'the last defining moment in rock and roll', this summer the Arctic Monkeys return to Reading & Leeds for an unmissable exclusive Festival headline set in England and Wales.
Speaking to NME about Reading & Leeds, Matt Helders said: "We've got a lot of history with the festival. It's the first festival I ever went to – we all went together as kids, with Nick as well. We were 15 or 16 and it was a big deal going to a festival like that on your own".
After announcing a brief hiatus back in December, Manchester's Courteeners will be heading to this year's Reading & Leeds for an exclusive festival performance in England and Wales. Having first burst onto the scene with 2007's 'St Jude', last year saw the band release their third Top Ten album 'ANNA' to their devoted throng of fans, as well as selling over 100,000 tickets. Their Reading & Leeds performances in 2009 and 2012 were highlights, with the crowd going mad for hits including 'Not Nineteen Forever' and 'Lose Control', and festival goers can expect even more from their sets this year.
One of the breakout acts of 2013, The 1975 will return to this year's Reading & Leeds Festivals. Following their huge success last year with a string of hits – 'Chocolate' voted 'Number One Hottest Record of 2013' by BBC Radio 1 listeners, 'The City', 'Sex' and 'Girls' – and a Number One debut album, the band are set to continue their ascendancy throughout 2014. Having sold out every UK gig put on sale to date, The 1975 will be a firm favourite on the bill this summer.
The band comment: "We grew up going to Reading & Leeds Festival. It's so humbling knowing we are going to play such a prestigious slot there this year. Cannot wait!"
With their incredible newly released fourth album 'Cavalier Youth', Surrey born rock quintet and Reading & Leeds veterans You Me At Sixhave catapulted in at Number One in the UK Album Charts this week. It would be no exaggeration to state that the band has done some growing up at Reading & Leeds over the years. 2014 marks their fourth appearance at Reading & Leeds, and this year their show will be anexclusive festival appearance in England and Wales. With three gold records full of undeniable anthems in tow, the UK's brightest young rock band may well make this their year.
SBTRKT is an alias used to support the concept of anonymity and has explained that he would prefer the music to speak for itself. To further support his anonymity, SBTRKT wears modern interpretations of native society ceremonial masks designed by Hidden Place. His music pulls off a series of impressive feats: it's bursting with fresh ideas, and yet sounds immediately familiar. Its influences are incorporated with subtlety and sophistication: dense enough to interpret, light enough to dance to.
From their much-loved 2010 debut 'The Fool' through to their recently released Top Ten self-titled full length, produced by Flood and mixed by Nigel Godrich, female quartet Warpaint have positioned themselves as one of the most highly regarded indie-rock bands on the planet. The LA group create a deeply personal and ambitious mix of reverb-soaked pop and shimmering post-punk that makes them a truly exciting live prospect, a perfect addition for the Reading & Leeds audiences.
One of the hottest acts in electronic music today, Belgian super producer and DJ Netsky brings his blend of uplifting melodies and potent dancefloor beats to the Festivals this summer. Netsky has risen through the ranks of drum & bass at a stratospheric pace, with his second full length record reaching No.24 in the UK Albums Chart in 2012 and a third highly anticipated album due out later this year. Don't miss the chance to see him transform Reading & Leeds into a rave with his summer-and-festival-ready tracks this August bank holiday weekend as he headlines the Dance Stage.
One of the most in-demand DJ's currently on the festival and club circuit, BBC Radio 1 DJ Annie Mac is a globally renowned name in the world of dance music. With her finger held firmly on the pulse she is a genuine champion of true underground electronic music and herFriday night BBC Radio 1 show is a testament to that. Annie is a welcome addition to the Dance line-up at Reading & Leeds Festivals; she is sure to play to packed out crowds and will no doubt be one of the highlights of the weekend!
Annie adds: "Reading & Leeds Festival is close to my heart and I went religiously back before I was a DJ. It's been a dream to play there and I'm really looking forward to it."
Brighton duo Mike Kerr and Ben Thatcher make up the two halves of Royal Blood. Despite their minimal line-up of drums, bass and vocals the pair create melodic, riff-heavy power rock that has, since their recent 2013 inception, seen them championed by the likes of BBC Radio 1 & included in the BBC Sound of 2014 longlist. Expect this to be one of the most anticipated sets of the weekend.
Hozier was raised on the building blocks of popular music: rhythm and blues, soul, jazz and the deep dark stuff stretching from Chicago to the Delta. He joined his first band when he was 15 years old, fronting a soul band with some older heads. Having taught himself to play guitar and piano, he went to Trinity College to study music, but dropped out to concentrate his talents on the creative process full time. Hozier would go on to forge a musical identity he could call his own. A place where Stevie Wonder and Billie Holiday are revered alongside James Joyce and Oscar Wilde. Singer of songs, teller of tales, Hozier's new EP is expected this spring. It all begins here.
Having recently announced that Daniel P Carter, host of BBC Radio 1's Rock Show, will curate the dedicated rock stage in 2014, fans were given the chance to make Reading & Leeds history by suggesting a new name for this stage. Three fan nominated names made the shortlist – The Pit, The Lockdown and The Meltdown Stage, in addition to Daniel's suggestion The Riff Haus and headliners Of Mice & Men's The Hyphy Stage. With over 5000 votes cast, the winning name chosen by you is The Pit. Congratulations to the winners who were the first to submit the name, who will not only receive VIP upgrades for themselves and a friend, but will also get amazing side of stage access to watch a band on their newly named stage!
Reading & Leeds are proud to welcome Brighton metalcore titans Architects to The Pit and back to the Festivals this summer. Following their signing to Epitaph, the band release their hotly anticipated sixth full-length album 'Lost Forever // Lost Together' this March, and will bring their ferocious vocals and complex guitar riffs to Reading & Leeds for one of the most exciting sets of the weekend.
Lead vocalist of Architects, Sam Carter, says: "We're delighted to be playing Reading & Leeds again this year! Reading festival was a huge part of our musical upbringing and it was the first festival that any of us attended. It's an honour to be part of such a huge and prestigious festival – August can't come soon enough!"
Rise Records six-piece Issues will this year make their inaugural trip to Reading & Leeds. Fusing crushing metal with pop sensibilities, the band release their self-titled debut album later this month and are a truly exciting addition to the Reading & Leeds line-up.
Rising to prominence as one-half of preeminent hip-hop duo Clipse, GOOD Music signee Pusha T has carved a rap career all of his own. Following his astounding appearances alongside mentor Kanye West on 2012's label record 'Cruel Summer', 2013 saw the ferocious Virginia MC destroy the competition with the release of his long-awaited solo album. With the release of singles 'Nosetalgia' featuring Kendrick Lamar and 'Numbers on the Board', Pusha T has placed himself at the forefront of real hip-hop and this summer will bring his uniquely tense delivery to Reading & Leeds.
Championed by BBC Radio 1Xtra, MOBO award winning South London MC's Krept & Konan have been making waves on the UK rap scene. Turning heads last year when their 'Young Kingz' mixtape entered the UK Top 20 independently with only limited promotion, the duo have been giving established commercial acts a run for their money. Be sure to catch their uniquely evocative brand of hip-hop at the Festivals.
The award-winning Reading & Leeds are the natural home for music lovers seeking the best acts, with the best atmosphere, surrounded by like-minded fans. With the latest names just announced for the Festivals 2014 is already shaping up to be an incredible year.
---
Don't forget to follow our Spotify Playlist: