DJ Snake And Lil Jon Release International Hit Single "Turn Down For What"
|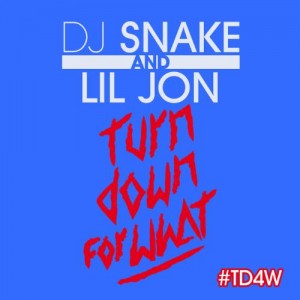 Internationally renowned platinum producer/DJ Snake and Grammy Award winning/multi-platinum producer Lil Jon have teamed for the new single "Turn Down For What," released via Columbia Records, listen here: http://smarturl.it/TD4Wstream.  Initially a viral hit in the summer of 2013, "Turn Down For What" has become a major staple at clubs and sporting events around the world and was released digitally in December 2013. Upon release, "Turn Down For What" immediately shot to the top of the iTunes US dance chart and has already reached GOLD status, selling over 500,000 singles globally in the first few weeks. "Turn Down For What" has earned the first top 5 entry for both Lil Jon and DJ Snake as the song entered the top 5 on the Billboard Dance/Electronic Songs Chart at #4 and entered the top 40 on the overall Billboard Hot 100.
"When I hit up the big homie Jon and asked him if he wanted to be on the track, he heard the beat and was instantly down with the vision. What he sent me back, though, absolutely blew my mind. I knew Jon was one of the best to do it when it comes to hooks, but he absolutely killed it on this joint." – Dj Snake
"When DJ Snake sent me the track with a sample of Redman saying 'bang the underground,' he wanted me to redo it with my voice. When I heard the song I was like this beat is too crazy for that sample. I wanted to make it hip and current and the first thing that came to mind was the phrase 'Turn Down For What!'" – Lil Jon
"Turn Down For What" is just a taste of what's to come from iTunes and FUSE  TV's 2014 artist to watch DJ Snake as FUSE boasts "DJ Snake is what all trap music should be. Anything this French producer touches turns to gold." The Paris producer worked alongside Mad Decent's Diplo to release his debut single "Bird Machine" and has produced on Lady Gaga's 'Born This Way' and 'ARTPOP' albums earning him a Grammy nomination for Album of the Year, he has also remixed for the likes of Kanye West, Zedd, and Major Lazer.
For the last decade, the words "Yeah," "Ok," and "What" have been synonymous with Grammy award winning artist Lil Jon. He has been one of the most prominent figures in music and pop culture alike, performing for hundreds of thousands of fans with Afrojack, Steve Aoki and Sydney Samson at Ultra Music Festival. The last few years have proven that he's a mainstay in music as he went back to his DJing roots – with a residency at The Wynn/Encore in Las Vegas – bringing his "Let's F**** Lose It" tour all across the country and over-seas. The success of his Vegas residency is evident, even being named the Las Vegas Resident DJ of The Year (Surrender, Tryst, XS).
DJ Snake has announced a 2014 residency at Surrender in the Wynn Las Vegas; see below for full list of US tour dates and visit www.djsnake.fr and www.liljonyeahh.com for international dates.
---
Don't forget to follow our Spotify Playlist: