Kanye West voted worst neighbor of 2013
|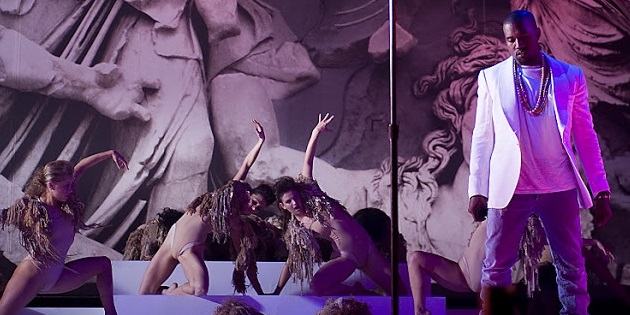 U.S. adults would most like to be neighbors with comedian and late-night-show host Jimmy Fallon in 2014, according to the seventh annual Zillow® Celebrity Neighbor Surveyi. Newly engaged couple Kim Kardashian and Kanye West were named the least desirable neighbors of 2013.
Meanwhile, 34 percent of surveyed adults said they would not want to live next to any celebrities listed in the poll, down from 45 percent last year. This is the largest drop in the survey's history. The annual Zillow survey asks U.S. adults which celebrities they would most like to be their neighbor, and with whom they wouldn't want to share a fence.
Most Desirable Neighbors for 2014
Fallon was the top choice for a neighbor in the coming year, earning 11 percent of surveyed adults' votes. The comedian's popularity was highest among young adults surveyed (14 percent), and slightly more popular among females (12 percent) compared with males (10 percent).
Last year's winners, Miranda Lambert and Blake Shelton, tied for second place along with Jennifer Lawrence, each receiving 10 percent of the votes. However, young adults surveyed (ages 18-34) preferred to live next to "Hunger Games: Catching Fire" actress Lawrence (17 percent) rather than the country music couple (8 percent).
Worst Neighbors for 2013
Reality-TV personality Kardashian and her music mogul fiancee West topped the list of worst neighbors for the year. One-quarter of surveyed Americans found the couple, who had a baby and got engaged this year, to be the most undesirable neighbors of 2013. Only 2 percent of respondents said they would prefer to live next to 'Kimye' in the coming year.
Eighteen percent of respondents found the cast of the reality TV show 'Here Comes Honey Boo Boo' to be the worst neighbors, down slightly from topping last year's worst neighbor list at 21 percent of the votes. Singers Justin Bieber and Miley Cyrus tied for the third worst neighbors of 2013 (16 percent), and ranked higher on the list by large margins compared to competitors Lady Gaga (4 percent), Alex Rodriguez (2 percent) and Lebron James (1 percent).
"It's been a landmark year for Jimmy Fallon. He had his first baby, headlined a successful comedy tour and was named Jay Leno's successor to 'The Tonight Show.' He carries a positive, funny and relatable vibe, which people would love to have in a neighbor," said Zillow Chief Marketing Officer Amy Bohutinsky. "Kim Kardashian and Kanye West, on the other hand, have a reputation for living an over-the-top lifestyle, with drama and the paparazzi never too far behind. No one wants to live next door to a family who has cameras following them everywhere and seems to seek out as much attention as possible. However, with more than one-third of surveyed Americans preferring a non-celebrity neighbor, what remains clear is that many people don't want to live next to any celebrity, regardless of why they are famous."
The list of worst neighbors also features Justin Bieber, Miley Cyrus and Lady Gaga in the top5, following the runners up, the cast of "Here Comes Honey Boo Boo".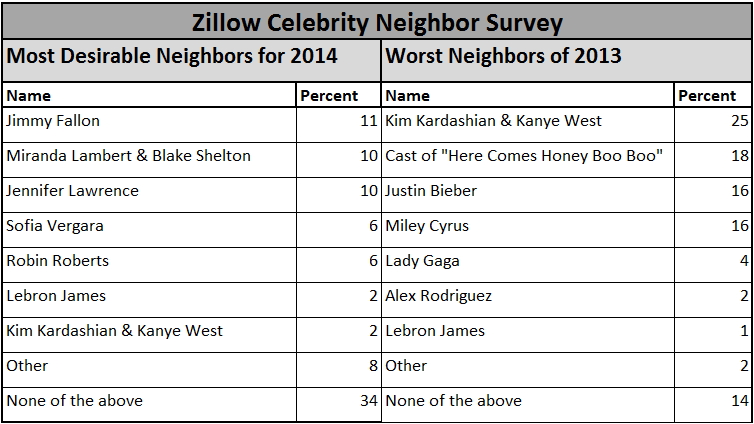 ---
Don't forget to follow our Spotify Playlist: