Miley Cyrus to Host the Premiere Of Beacher's Madhouse Las Vegas
|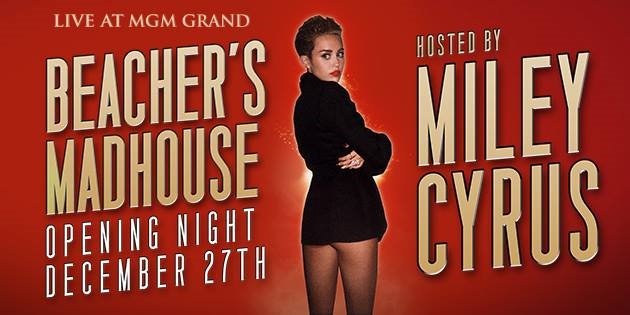 Global superstar Miley Cyrus will unveil the highly anticipated Las Vegas return of Beacher's Madhouse on Friday, December 27 at MGM Grand Hotel & Casino. Legendary showman Jeff Beacher, creator and host of Beacher's Madhouse, will kick off a triumphant New Year's weekend with Miss Cyrus. With the energy of a circus and the atmosphere of an A-list Hollywood party, the world's most outrageous and over-the-top Vaudeville-inspired show will reach new heights of madness.
Beacher, who Rolling Stone magazine declared the "Best Showman on the Strip," is best known for his ability to push the boundaries of entertainment and fantasy. "Expect the unexpected. I'm going to take the Madhouse and live entertainment to new levels with never-before-seen acts. And there's no better place to debut my masterpiece than at the famed MGM Grand and with the most beautiful and talent music goddess on the planet, Miley Cyrus," said Beacher.
Miley Cyrus has taken the world by storm with her newest album, Bangerz. Bangerz debuted at #1 on both the Billboard Top 200 Chart and the Digital Album Chart in the U.S., in addition to hitting #1 on iTunes in more than 70 countries. Both singles, "Wrecking Ball" and "We Can't Stop," off Bangerz have already sold 4.3 million copies in the US alone. Next, Miley will embark on the highly anticipated Bangerz tour. The 38 city tour kicks off on Valentine's Day February 14, 2014 in Vancouver, BC and visits Las Vegas on March 1. Tickets are on sale now.
Guests will be taken on a sensory journey into the unconventional world of Beacher's Madhouse from the moment they first enter the 8,500-square-foot performance theatre. To join the madness, experience seekers enter the theatre through an inconspicuous speakeasy-like passageway hidden behind a library bookcase, and travel through a tunnel leading them from their ordinary existence into a fantasy-filled realm filled with world-renowned spectacles and all-new dramatic performances.
The Rat-pack-like ambiance of the theatre will include 15 stages throughout the venue in addition to the one main stage. Shows will be held five nights a week – Wednesday through Sunday with an early show at 8:00 p.m. and late night shows Wednesday through Saturday from 10:30 p.m. to 4 a.m.
Beacher's Madhouse has been a favorite of some of the world's most notable A-list celebrities. Guests including Johnny Depp, Kim Kardashian, Leonardo DiCaprio, Demi Moore, Ryan Seacrest, Jamie Foxx, Minka Kelly, Eva Longoria, Mel Gibson, Zac Efron, Mila Kunis, Kevin Spacey, Gerard Butler, Bradley Cooper, and Ashton Kutcher, amongst so many others have all enjoyed the non-stop, limitless entertainment that the Madhouse has become known for.
---
Don't forget to follow our Spotify Playlist: