New Nashville Pussy album "Up The Dosage" in 2014
|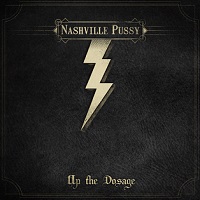 One of the most unusual and charismatic rock acts of our time have announced the release of their latest studio album for January 2014. More precisely: the American quartet Nashville Pussy are set to present their new studio recording "Up The Dosage" on 20 January 2014 (Germany 17 January 2014, USA 21 January 2014), picking up seamlessly where their 2009 release "From Hell To Texas" left off. See album artwork below.
And what is more: their five-year hiatus seems to have done frontman Blaine Cartwright (vocals, guitar) and Ruyter Suys (guitars) good – all 13 new songs (plus two bonus tracks) – mixed by Rick Beato (Shinedown) – sound like they were catapulted into to the public from a fountain of youth, rocking in typical Pussy style.
Blaine Cartwright is rightly proud of and unmistakably happy about the new material: "None of the previous Nashville Pussy albums has been as diverse and at the same time consistent. Everything sounds even bigger and better, yet raw and authentic through and through. This is our Back In Black!"
Nashville Pussy came together in 1996. Ever since, the band has been performing a strenuous annual gig marathon, touring with acts like Lynyrd Skynyrd, Reverend Horton Heat or ZZ Top and played festivals all over. Albums such as "Let Them Eat Pussy" (1998), "High As Hell" (2000), "Say Something Nasty" (2002) or "From Hell To Texas" (2009) have caused an international stir, and their single release 'Fried Chicken And Coffee' earned the band a Grammy nomination in the late Nineties in the category 'Best Metal Performance'.
"Up The Dosage" will be released through SPV/Steamhammer as a limited digipak edition (incl. 2 bonus tracks + poster), double gatefold LP edition with coloured vinyl, standard CD version and as download.
---
Don't forget to follow our Spotify Playlist: