First major K-Pop Festival in Europe, KPOP-FLEX
|
It's unbelievable that a style like K-pop never had its own place in Europe before. The KPOP.FLEX Festival, last weekend in Frankfurt was finally the first of its kind. Two days of K-pop and other Korean delicacies brought about 65,000 K-pop fans to the Deutsche Bank Park in the German city.
KPOP.FLEX brought names that currently dominate K-pop such as Ive, Enhypen, AB6IX, (G)I-DLE, Mamamoo, NCT-Dream, Kai, Dreamcatcher and Monsta-X to Europe. AND they knew that. Of course the acts in their own country have been drawing full houses for years, for Europe K-pop is still a bit unfamiliar, although the atmosphere was good. With a sold-out Saturday and an equally well-filled Sunday, the bands could certainly not complain about the popularity in Europe. It is not for nothing that after the festival was only supposed to last one day, a second day was booked, in order to give as many fans as possible the opportunity to enjoy the acts. Unfortunately, not all bands could attend both days, so for several fans the festival just took an extra day to see all the artists.
IVE attracted a large audience. Of course, because the girl group has become a true crowd favorite in the genre at an extremely fast pace. The festival was the group's first trip to Europe, but captivated the crowd for two days with their latest single 'Love Dive', but also 'Royal' and debut single 'Eleven', which were very popular in their home country.
Enhypen also went to Europe for the first time for KPOP.FLEX. The Korean boy band, like IVE, has not been around for very long, but with their strong OT7 version of Mix & Max's 'Bleeding Darkness' and extremely strong dance moves, they quickly convinced the audience. With songs like 'Drunk-Dazed' and 'Fever', Enhypen quickly won over the audience, and rightly so.
AB6IX delivered hits like 'Close', 'Breathe', 'Cherry' and the enchanting 'Do You Remember?', while the girl group (G)I-DLE proved that they are among the top acts of the festival. The ladies set KPOP.FLEX on fire with their rock-infused 'Tomboy', 'LATATA', 'Oh My God' 'My Bag' and even a cover of Justin Bieber's 'Love Yourself'. A strong performance from the girls.
Mamamoo usually already knew the audience well, that's how experienced and well-known the group is. It was fortunate, however, that the four appeared on the scene together, as the group has not officially broken up, yet they perform very rarely. Frankfurt was lucky and hits like 'Aya', 'Gogobebe', 'HIP' and 'Mumumumuch' were a highlight of the festival.
Another highlight was Kai. The headliner of KPOP-FLEX came to Frankfurt with his latest single 'Peaches', but also with hits such as 'Vanilla', 'To Be Honest' and 'Mmmh'. The Korean singer, also known for the Chinese-Korean boy band EXO, made girls' hearts beat faster and ensured a more than perfect end to the K-pop festival. The first in Europe, but already such a success that it will return to Frankfurt in 2023, but will also make a trip to London. It indicates the popularity of K-pop.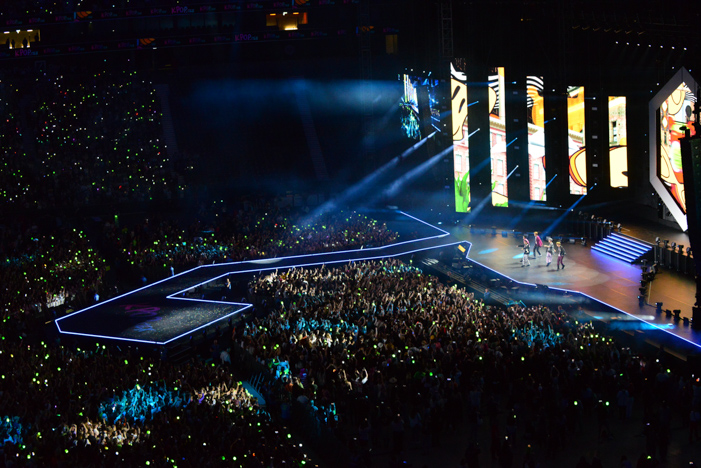 ---
Don't forget to follow our Spotify Playlist: