The Delines – The Sea Drift
|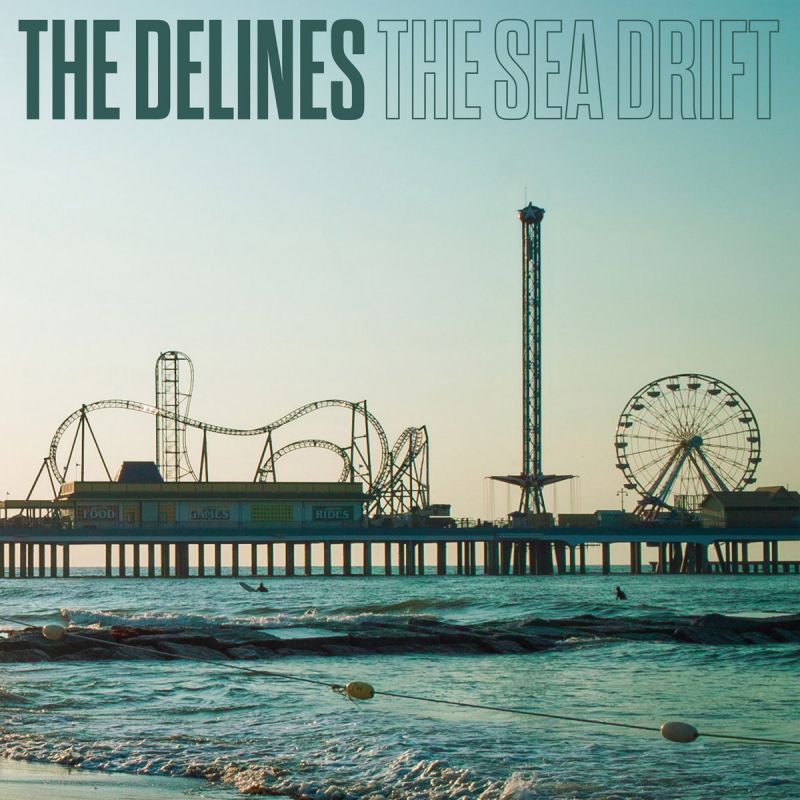 That the Delines make beautiful music that completely captivates people has been amply proven by now. While they did not really reach the general public in 2014 with their album "Colfax", with the now legendary long player "Imperial" (2019), the band has established a name among fans of Americana, blues and soul from the second half of the last century.
Even before the Delines started recording material, singer Amy Boone was working with The Damnations with whom she recorded two albums "Where It Lands" and the Iive album "Live Set". Boone is far from a pop star. You will not easily find a singer more authentic than Amy Boone. She has a voice that can touch you to the very depths of your soul, simply and only by singing. More beautiful has rarely been heard.
It wasn't until Boone teamed up with writer Willy Vlautin, who we know from Richmond Fontaine, that the magic really kicked in in the Delines. Colfax features the song "Oilrigs at Night" that tells the listener in its simplicity and sincerity about the impossible love of a woman for a man. You could actually see this as the blueprint for the success of the Delines. The band does not make happy songs, but they are all stories about people on the fringes of society, who often ended up there because of the fate that can sometimes be served so heavily by life.
On "Imperial" the band took this to an unprecedented high level. During the recording, Amy had a terrible car accident from which she had to recover for years. It never quite worked out again. To date, Amy enters the stage using crutches and stands still, eyes closed, singing behind her microphone.The album yielded timeless classics such as "Eddy & Polly" and "Imperial". For a long time it was uncertain whether Amy would come back at all, but now there is finally the new album "The Sea Drift".
Eleven beautiful songs, written by Willy Vlautin, playing guitar in the band, but in another life a successful novelist, who proves like no other to write narrative songs about how hard life can be. Songs that are tailor-made for Amy Boone, who knows how to interpret them to perfection. As a human being you almost have to be made of ugly gray granite if you don't feel this music to the depths of your pores.
The songs on "The Sea Drift" are more richly orchestrated and arranged compared to "Imperial". In essence, the band does stay true to their style. It immediately starts with the beautiful opening track "Little Earl", with a beautiful horn arrangement next to Amy's voice. The story of Earl, who drives around with his bleeding brother in the back seat of his uncle's car, not knowing what to do, probably on the run, is poignant and sets the tone for the rest of the album.
Amy sings about all this misery like it's just part of life. Always looking at it from the third person, as if she's telling you the story in a bar, while you're tapping down a bourbon together. I can't help but fall madly in love with this queen of interpretation and deliverance. What a singer.
"Kid Codeine" then. About the girlfriend of a boxer who runs a lounge at Lombard Street, the famous hairpin street in San Francisco. Vlautin colors his lyrics with free technicolor images that you automatically get in your head when you listen to them. Perhaps the happiest song on the album.
The album approaches, even more than "Imperial" perfection. I don't mean musical perfection, but a holistic perfection in which music, lyrics and interpretation are catapulted to a rarely heard level by the palpable magic between Vlautin and Boone. "This ain't no getaway", a song that gets better every time you listen to it and gives you goosebumps. "Hold me slow" the ultimate love song, which isn't about fiery, horny love, but gets under the skin. 'I feel so good but I just been hanging on,' Amy sings. You take her at her word.
The epic "The Gulf Drift Lament" closes with a particularly beautiful spherical image. Lonely piano chords provide a slightly sad basis for a beautiful, Chet Baker-esque trumpet melody that you automatically close your eyes to enjoy. What a trip.
"The Sea Drift" has become a beautiful album. A new crown on the work of the Delines.Whether it can become a true timeless masterpiece, just like "Imperial" was? That question cannot be answered. "Imperial" struck the listener because who knew the band? Now the expectations are very high, and those high expectations are certainly fulfilled on this album. Blood-curdlingly beautiful is the qualification that best suits it. The first masterpiece of 2022. Grab the chance to see the band live! (9/10) (V2 records)
---
Don't forget to follow our Spotify Playlist: